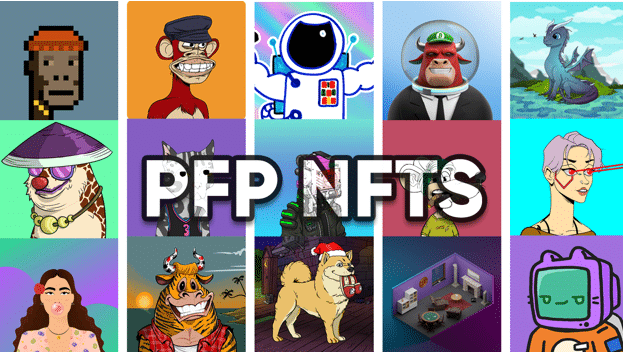 The crypto bull market of 2021 catapulted non-fungible tokens (NFTs) to the forefront of the crypto space. It is undeniable that PFP NFT projects spearheaded this move. Most projects that have seen mainstream adoption in the NFT market are PFP NFTs. Celebrities and NFT enthusiasts mostly use PFP NFTs as profile pictures on their social media accounts. These NFT profile pictures are very common on Twitter, especially those from the Bored Ape Yacht Club (BAYC) collection. This article is a beginner's guide to PFP NFT collections.
What is a PFP NFT?
We can break down the entire term into two. "Profile picture" is a well-known acronym on social media. NFTs, or non-fungible tokens, are assets stored on the blockchain with a unique, digital identity.
PFP NFTs are digital collectibles, often static, 2D images created to be displayed on social media. However, as the blockchain continues to evolve, new trends related to NFT projects usually emerge. Some developers have built full-body PFP NFT collections and even animated some PFP projects.
Most PFP NFT projects are generative artworks. They are created by computers through a generative algorithm, but there are also hand-drawn PFP NFTs.
Generative PFP NFT collections usually have thousands of NFTs, mostly up to 10,000. These NFTs feature a character which can be an ape, an alien, a robot, or a person. The characters are normally shoulder-length or neck-length figures with various traits that differ from one PFP NFT to another.
Some of these traits include background color, hair, accessories, fur color, or changes in the character's expression, making each character unique. The PFP NFTs have rarity rankings depending on which traits each character has, and the rarity of each PFP NFT determines its value.
History of PFP NFTs
PFPs were among the first non-fungible tokens within the NFT space and the CryptoPunks started the concept of NFTs as digital avatars.
CryptoPunks was the first PFP NFT project and it played a major role in expanding the NFT market. The collection was launched in 2017 by Larva Labs. It featured thousands of pixel art images of stylized humanoid figures named punks.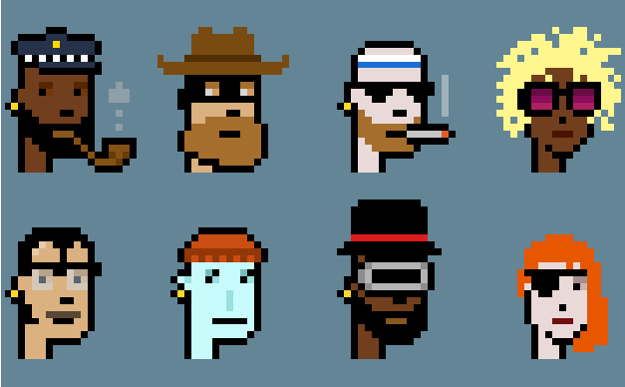 Larva Labs introduced some of the initial prototypes of NFTs as a way of representing ownership of the punks on the Ethereum blockchain. NFT collectors started using their CryptoPunks as profile pictures on Twitter and Discord immediately after their launch. However, it took some time for the Punks to receive mainstream adoption.
PFP NFT collections became massively popular after celebrities and other members of the NFT community started adopting them. The massive popularity of the CryptoPunks paved the way for the emergence of other PFP NFT collections, including the famous Bored Ape Yacht Club.
How PFP NFTs Work
It is easy for both experienced NFT collectors and individuals new to the NFT space to obtain an NFT PFP. You can mint tokens from the official website of the PFP NFT collection of choice or buy one from a secondary NFT marketplace. Owners can view their PFP NFTs using a compatible NFT wallet.
You can then display your newly acquired PFP NFT on your profiles, just like others in the NFT community. Social media platforms such as Twitter and Instagram support the use of PFP NFTs as profile pictures.
How to use PFP NFTs
The basic functionality of a PFP NFT is its role as a profile picture. Profile picture NFTs are also a source of prestige, a core aspect of the NFT and the broader crypto space. Digital collectibles thrive on exclusivity and rarity and PFPs let their owners showcase their assets. Some PFP NFT collections enable NFT collectors to gain access to a wider range of utilities.
Artists are very keen when introducing utility to their NFT projects since NFTs are key for the monetization of creative art. Most artists and creators don't give NFT holders intellectual property rights to their works.
Features such as community orientation make an NFT project popular. Most PFP NFT projects let holders join a community where other than using their NFTs as profile pictures, they can take part in decision-making through voting. A strong community also creates an opportunity for networking.
Some PFP NFT projects give their users Metaverse utility. The Metaverse is a virtual world and it grew into popularity alongside NFTs. Virtual worlds have made PFP NFTs popular as they can be used as avatars in the digital world.
An NFT PFP collection such as the Bored Ape Yacht Club grants its holders exclusive access to a personalized utility, a feature also offered by the Mutant Ape Yacht Club. PFPs may also enable holders to enjoy perks that exist in the real world.
Top PFP NFT Projects
The following are the top PFP NFT collections that continue to make headlines in the NFT space:
CryptoPunks
CryptoPunks was the PFP project that created the avatar craze. The CryptoPunks were generated by a software program created by Larva Labs' founders John Watkinson and Matt Hall. Each character in the collection has varying features, and each CryptoPunk NFT seems to have a stylized persona that new owners can enjoy.
The collection has a total supply of 10,000 PFP NFTs. At the time of writing, the collection had a floor price of 43.6 ETH and a 24-hour trading volume of 615.08 ETH.
Bored Ape Yacht Club
Bored Ape Yacht Club is a collection of 10,000 PFP NFTs in the form of cartoon apes. It was created by Yuga Labs. The PFPs were released in 2021 and hit the headlines after they were sold out only a few days after their launch.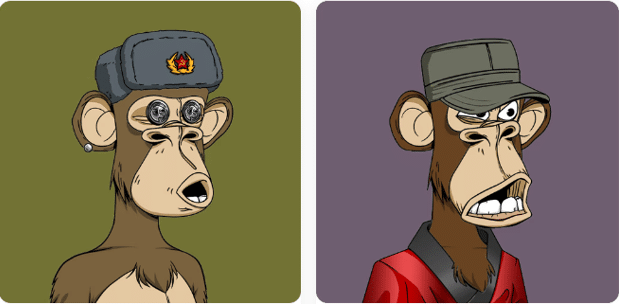 Each BAYC PFP NFT grants its holder perks such as an exclusive members-only area, limited edition merch, and access to real-world events. They also get free drops from related NFT projects such as the Mutant Ape Yacht Club and the Bored Ape Kennel Club. The holders are given full commercial rights on their tokens and they can monetize them. Celebrities such as Justin Bieber and SNL's Jimmy Fallon have spent millions of dollars to acquire BAYC NFTs.
Cool Cats
Cools Cats is a PFP NFT collection featuring 9,999 randomly generated NFTs on the Ethereum blockchain. The project focuses on a blue cartoonish cat, but there are more than 300,000 trait options.
Each Cool Cat has between 3 and 10 points depending on its uniqueness. Other than being used as PFPs, the Cats have other utilities, for example, the points can give the holders an edge during raffles and contests. The team is also seeking to introduce a breeding feature, which will allow holders to generate new NFTs by inheriting traits from their parent NFTs.
Cool Cats NFT PFP collection will also be part of a play-to-earn (P2E) gaming ecosystem named Cooltopia. The ecosystem will promote greater interaction, brand collaborations, community rewards, and other improvements.
Doodles
Doodles is another PFP NFT project that comprises 10,000 hand-drawn characters. The collection features playful human characters as well as non-human figures such as cats, aliens, pickles, skeletons, and apes.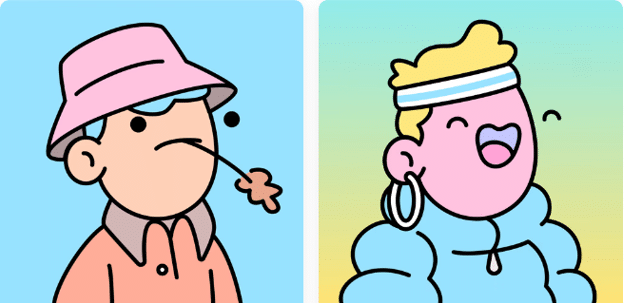 The collection was founded by Scott Martin, Evan Keast, and Jordan Castro aka Tulip, Burnt Toast, and Poopie in 2021. The unique features of the collection were designed by Martin. The founders were well-known in the NFT space as they had launched the CryptoKitties NFT collection.
Moonbirds
Moonbirds is a relatively new PFP NFT collection, with the possibility of becoming a blue-chip NFT project like the BAYC. The PFP NFTs from this collection provide their holders with a ton of perks. The NFTs serve as access cards to a private members club.
It has a unique feature known as nesting, through which NFTs accrue more rewards as buyers hold onto them.
Buy and Sell NFTs for a Profit
You can grow your crypto earnings by buying NFTs and selling them for a profit. NFTCrypto.io has made this even easier for you via their NFT signals trading system. They find profitable flips in the NFT market and share the signal with you in real time. Join NFT Signals now and become a successful NFT trader. The platform users have so far earned a total group profit of over $1 Billion.