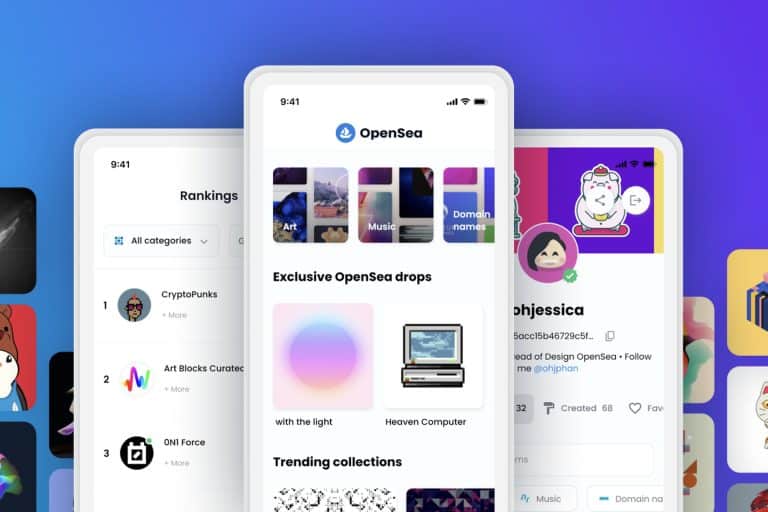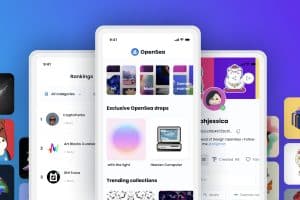 NFTs, or non-fungible tokens, are unique digital assets that are stored on a blockchain network. NFT applications provide investors with a quick and simple approach to take advantage of this quickly growing market. Additionally, NFT apps offer a more streamlined outlook and let investors complete the transaction. These applications serve as a link for investors and transactions. Above all, NFT apps provide a tool to easily acquire and enrich original digital works. These NFT applications also have a significant influence on tokenomics.
The NFT apps frequently demand a fee in exchange for facilitating the promotion of NFT exchanges on their platform. Most apps just charge the seller a fee for completing the trade. However, certain NFT programs charged fees from both the buyer and the seller.
Best NFT Apps 
NFTs are becoming more mainstream, and there are now several NFT apps available that allow users to buy, sell, and trade NFTs. In this article, we will explore the best NFT apps available today.
OpenSea
OpenSea is one of the largest NFT marketplaces, where you can buy and sell NFTs on multiple blockchains, including Ethereum, Polygon, and Binance Smart Chain. The platform allows users to search for specific NFTs or browse a curated selection of digital assets. It consists of a huge category of NFTs, such as photography, trading cards, sports, music, and much more.
Jump Start your NFTs Success by getting early on game-changing Projects
Join our Discord Channel Today!
You get access to more than 700 NFT projects through OpenSea. It offers a minting tool that enables developers to directly mint and sell their NFTs. Even better, using the minting tool doesn't require knowing a single line of code making it user-friendly. The platform has a simple interface, making it easy to use for both new and experienced users.
Pros:
 Competitive commissions

Many unique collectibles

A user-friendly and secure platform
Cons:
Users must have a cryptocurrency wallet for trading.
Read also: Is Flipping NFTs Profitable?
Rarible
Rarible allows creators to mint their NFTs and sell them on the platform. It gives users a place to buy and sell products for video games, collectibles, and several more categories. The platform allows for the completion of transactions in the NFT app using Texos, Flow, and Ethereum. Rarible adopts a decentralized approach due to its internal management.
 Additionally, the platform has introduced its native cryptocurrency called RARI. RARI holders can vote on recommendations for ecosystem upgrades and take part in content curation. Users that trade in NFTs on Rarible can also receive RARI as a reward.
Pros:
Gives creators the option to select up to 50% of future royalties

A non-custodial market is offered by a decentralized mindset

NFTs are simple to produce and sell
Cons:
Crypto.com
Crypto.com NFT is the top NFT application. Payments in this application can be made with credit cards and cryptocurrency. The available collections and tokens can be looked upon on Crypto.com. No transaction fees are charged to users when they buy NFTs through this platform. The payout for creators and sellers is 1.99%, which is extremely competitive. The Ethereum blockchain network has recently been incorporated with Crypto.com. As a result, consumers can now choose from an extensive variety of NFTs on the market.
Additionally, while the auctions are running, sellers have the choice of a "buy now" price. As a result, customers may instantaneously acquire the NFT they want without worrying that someone else will outbid them.
Pros:
 NFT purchases are free of charge

Gives choices for auction and buy now

Allows use of credit and debit cards for payment

Create recommended galleries from its collection.
Cons:
 Have a few NFT collections.
Jump Start your NFTs Success by getting early on game-changing Projects
Join our Discord Channel Today!
SuperRare
A high-end NFT app similar to Rarible is called SuperRare. It creates a market for digital artists and makes it simple for users to buy and sell. In the NFT ecosystem, it advertises itself as a rising art gallery. SuperRare is a curated NFT marketplace that focuses on high-quality digital art. The platform prides itself on showcasing unique and rare pieces of art that are created by some of the most talented artists in the NFT space. It also offers an exclusive collectors club that provides members with access to exclusive drops, events, and other perks.
 The application is the finest software to purchase NFT for artworks because it also offers art, films, and 3D paintings. Furthermore, it is a selective platform that prohibits "meme-style" collections from being submitted. Ethereum can be used by collectors to complete the artwork acquisition. On the Ethereum blockchain, the platform recently unveiled its native cryptocurrency with the same name.
Pros:
Provides original artists with royalties

The navigation is simple due to an intuitive user interface.

Offers high-grade works of art
Cons:
 High Commission

The only accepted payment method is ETH.
Related: The Best NFT Telegram Groups
Binance
Binance is another top-notch NFT software that allows investors and producers to mint, trade, and display stunning works of art and NFTs. In terms of volume traded, Binance, which was founded in 2017, is regarded as the leading cryptocurrency exchange globally. Above all, the platform makes it simple for artists and collectors to mint and exchange NFTs. Everyone is going crazy about this initiative, and the market is drawing a lot of people.
One of the unique features of the Binance NFT app is its integration with Binance's existing ecosystem of products and services, such as Binance Smart Chain and Binance Coin (BNB). Both Ethereum and the Binance Smart Chain are supported by Binance for NFTs. This integration allows for seamless and low-cost transactions, as well as access to a large user base. Users of the NFT app pay 1% of each transaction.
Pros:
Simple and convenient onboarding procedure

No deposit fees

Rapid transactions
Cons:
Private keys are available on the market.
Conclusion:
The rise of NFTs has led to the creation of numerous platforms and marketplaces that cater to the buying, selling, and trading of digital assets. Each NFT app offers a unique set of features and benefits, making it important for users to choose the platform that best suits their needs. The NFT space continues to evolve, and it will be exciting to see what innovations and developments emerge in the future. As the market grows and evolves, users need to stay informed and choose the platform that best aligns with their interests and goals.https://nftcrypto.io/