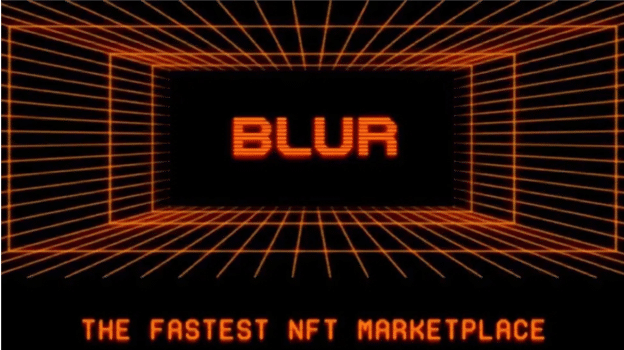 Currently, there are hundreds of NFT marketplaces where users can trade Non-Fungible Tokens (NFTs). From popular marketplaces such as OpenSea and Rarible to newer ones such as LooksRare and Blur NFT, the NFT industry is never short in supply of new NFT marketplaces.
Blur is one of the recent entrants into the NFT space. The Blur NFT marketplace has made headlines severally, even for flipping OpenSea in key metrics such as the daily trading volume, within five months after its launch. This article is a comprehensive guide for investors about the Blur NFT marketplace, including how to buy and sell NFTs on the platform.
What is Blur NFT?
Blur is an Ethereum-based NFT marketplace launched in October 2022 to cater to the needs of advanced NFT investors. The NFT Blur marketplace describes itself as the "fastest NFT marketplace," and it comes with features such as price-based NFT sorting and real-time NFT price feeds, portfolio management, faster NFT sweep and snipe, and zero trading fees for NFT sales.
Most NFT marketplaces focus on retail users, but Blur focuses on whale or pro traders. The platform gives NFT traders access to an NFT marketplace, an aggregator, and advanced tools for trading NFTs, all within one platform.
What Makes the NFT Blur Marketplace Unique?
Blur allows professional trades to browse and purchase NFTs and digital assets from other NFT marketplaces with instant liquidity, floor-sweeping transactions, and batch self, and order book NFT transactions.
The Blur NFT marketplace believes that its trader-friendly fee structure has made it more cost-effective and convenient than other NFT marketplaces. This structure helped the platform quickly get a major share of the NFT sales in the market.
After Blur removed the trading fees for both buyers and sellers, other NFT marketplaces such as OpenSea had to do the same.
Blur also honors creator royalties, just like the other NFT marketplaces. However, the platform has made creator royalties customizable, allowing NFT creators to set the desired percentage.
Blur NFT Marketplace Features
The following are the features offered by the Blur NFT marketplace:
#1: Speed
Other than lauding itself as the "fastest NFT marketplace," Blur claims to offer 10 times faster sweeping. Although this is debatable, Blur NFT is one of the fastest NFT marketplaces available today. The platform was built to facilitate fast purchases and batch minting.
The platform also updates NFT listings every 4 seconds and pending NFT transactions are displayed within a second.
#2: Sweep functionality
Sweeping is the process of buying many floor-priced NFTs in a collection. The process can be challenging based on the demand and popularity of the digital collectible. Advanced NFT traders mostly use bots to fasten the process. Blur NFT makes sweeping a collection easier. Other than its zero trading fees and optimized gas contracts via bulk listings, the marketplace has a floor-depth chart for each collection to help traders make more accurate projections.
#3: Listing options and analytics
Blur NFT marketplace users have access to a wider variety of cutting-edge portfolio options and NFT analytics. The built-in analytics features allow traders to manage their portfolios more effectively.
#4: Royalties
Creator royalties were a big debate in the NFT space last year. This led to many NFT marketplaces choosing between enforcing creator royalties and allowing the NFT buyers to choose whether to pay creator royalties or not. Blur introduces a new approach when it comes to enforcing creator royalties.
Blur NFT creators can specify the royalty percentage when listing NFTs on the platform. The platform users are incentivized to pay royalties and those supporting creator royalties receive loyalty points in the form of BLUR tokens.
#5: BLUR Tokenomics
The Blur NFT marketplace has a native token called $BLUR, which has a total supply of 3 billion tokens. The company's document on its tokenomics states that the minted tokens will become accessible over 4-5 years. In terms of allocation, 51% of BLUR tokens, which translates to about 1,530,000,000 BLUR tokens, will go to the community. 29% of the tokens will be for the past and future core contributors, with a vesting period of 4 years. 19% of the tokens will go to investors while 1% of the tokens will go to the advisors.
By March 2023, BLUR had a circulating supply of about 360 million, or 12% of the total token supply. A linear unlock of 1.2 million tokens will be done daily to the community treasury.
#6: $BLUR Token Airdrop
New NFT marketplaces usually offer a form of incentive to users as a marketing strategy. In 2022, the LooksRare NFT marketplace was launched with a "vampire attack" targeting OpenSea users. The platform was launched with an airdrop to wallets that had traded at least 3 ETH on OpenSea.
For the case of the Blur NFT marketplace, the platform concluded its season 1 of the $BLUR token airdrop in February 2023. Users were rewarded with "Care Pages" for trading on the platform and providing liquidity. It is reported that some traders made as much as $3 million in $BLUR tokens after the project was launched at a valuation of $400 million.
Blur NFT platform users are set to benefit from future airdrops.
Blur Rewards
The Blur NFT marketplace has offered traders the most rewards since its launch, incentivizing traders who sell NFTs on the platform. Compared to the other platforms, the first Airdrop 1 of Blur was opened to users who had traded NFTs over the past 6 months.
NFT traders who satisfied this requirement were awarded care packages in the airdrop. The care packages were in four packages of rarity, that is, Unrevealed, Uncommon, Rare, and Legendary. The rarity was calculated based on the value they had traded.
The second airdrop was ten times the first one and it was open to loyal users who had listed at least one NFT on the Blur NFT marketplace by November 2, 2022. Blur has also announced the season 2 airdrop, and there will be more rewards of up to $300 million.
Unlike the season 1 airdrop in which all traders benefitted, the new airdrop will benefit "loyal traders." Traders with 100% loyalty will have the highest chances of getting Mythical Care Packages, which are 100x worth the Uncommon Care Packages.
How to Buy and Sell Blur NFTs
Although the Blur NFT marketplace was designed for advanced users, it is easy to buy and sell Blur NFTs. It operates like most NFT marketplaces.
Blur NFT requires users to connect their crypto wallets before they can trade NFTs on the platform. You should visit the official website of the platform and click the "Connect Wallet" button located at the top right corner.
Currently, the platform supports four types of crypto wallets namely MetaMask, WalletConnect, Coinbase Wallet, and OKX Wallet.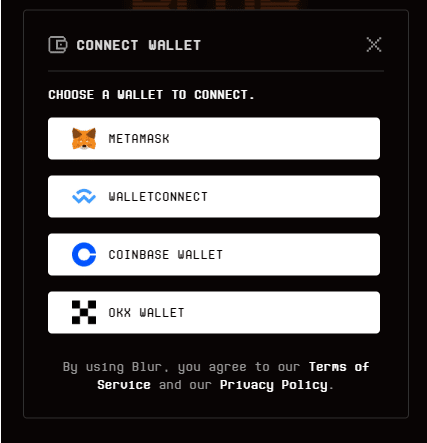 After a successful connection of the crypto wallet, users can browse through the top and trending NFT Blur collections or upload their assets to the platform to create Blur NFTs.
NFT traders can buy digital collectibles via Blur from NFT creators or fellow users. Blur's native marketplace requires traders to pay royalty fees to the NFT creators, which are also called "supply-side fees."
Blur marketplace users can also access features such as the aggregator which allows them to buy several NFTs at a time on different NFT marketplaces.
The Blur NFT marketplace currently offers two user modes: trader and collector. Trader mode users have access to more data, more charts, and a condensed view while the collector mode shows a cleaner view with a familiar interface and bigger images.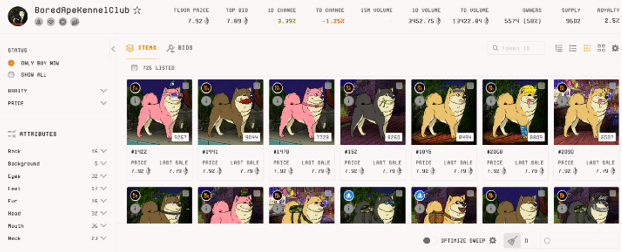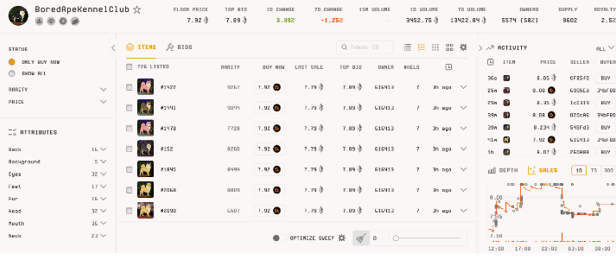 What are the Blur NFT Marketplace Fees?
The Blur NFT marketplace has one of the most competitive marketplace fees in the NFT space. However, as we have stated above, it doesn't charge any transaction fees for NFT sales. The platform however has a default 0.5% royalty rate for buyers, but this can be customized or even set to 0 if a user wishes.
Buy and Sell NFTs for a Profit
You can grow your crypto earnings by buying cheap NFTs and selling them for a profit. NFTCrypto.io has made this even easier for you via their NFT trading signal system. They find profitable flips in the NFT market and share the signal with you in real-time. Join NFT Signals now and become a successful NFT trader. The platform users have so far earned a total group profit of over $1 Billion.