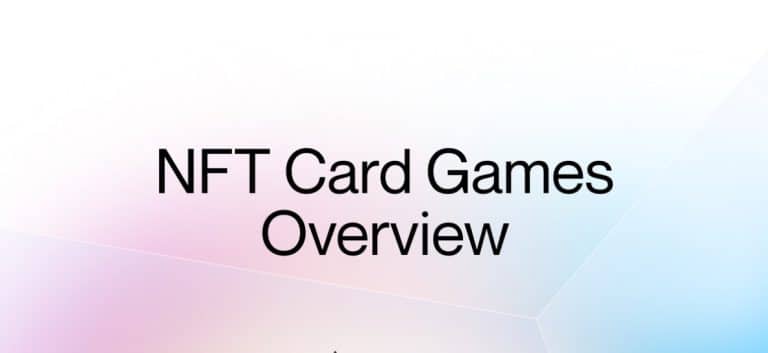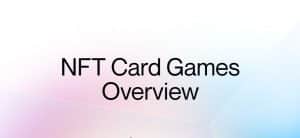 Welcome to the thrilling world of NFT trading card games! The days of merely collecting actual trading cards are long gone. Currently, the world of trading card games has experienced an exhilarating transition due to the development of blockchain technology. The way we play, collect, and sell trading card games has been revolutionized by NFTs or non-fungible tokens.
We'll discuss the top trading card games NFT in this article. You may enjoy immersive gameplay, gather expensive and rare cards, and interact with a lively gaming and collecting community. 
Get ready to join us on an exciting adventure through the top NFT trading card games sweeping the gaming industry, whether you're an experienced player or a curious newbie!
What are NFT Trading cards? 
Digital collectible cards are known as NFT trading cards. They are produced on blockchain networks as non-fungible tokens (NFTs). Unique digital assets, NFTs, signify ownership of a certain product or content. 
With the addition of the advantages of blockchain technology, NFT trading cards perform similarly to conventional trading cards in terms of how players acquire, trade, and utilize them in games.
NFT trade cards might be in the shape of characters, goods, spells, or equipment. Artists or game developers often make them. Each NFT trade card is individual and has unique stats, qualities, and rarity levels that might affect its value and collectability. 
Jump Start your NFTs Success by getting early on game-changing Projects
Join our Discord Channel Today!
Since they provide a new and intriguing method for players to interact with digital information, mix gaming with collecting, and participate in a developing ecosystem of NFT-based games and communities, NFT trading cards have been more popular in recent years. 
NFT trading cards have developed into an intriguing junction of gaming, art, and technology because of their special qualities and potential for value appreciation. This has created new opportunities for online connection and creative expression.
Related: 12 Best NFT Projects You Must Know
Top NFT Trading Card Games to Play Right Now: 
While players and gaming critics have generally praised each NFT trading card game, we'll discuss how their gameplay differs in a few key ways. Check out our list of the best NFT games if you're unfamiliar with NFT gaming.
Gods Unchained:
Popular NFT trading card game Gods Unchained blends the advantages of blockchain technology with the classic gameplay of trading card games. Gods Unchained, a game created by blockchain gaming company Immutable, allows players to acquire, trade, and engage in combat with virtual cards represented as NFTs on the Ethereum blockchain.
Players construct decks of cards in the game Gods Unchained that represent strong gods, monsters, spells, and artifacts, each with special traits and powers. The next step in the turn-based gaming structure is for players to participate in strategic fights against other players using their decks. The goal is to utilize a variety of tactics and methods to strategically use cards, manage resources, and lower the opponent's health to zero.
The possession and trade of NFT cards is one of Gods Unchained's distinctive elements. Gods Unchained's cards are all NFTs, ensuring users own their digital possessions. Players may buy, sell, and trade cards on the Gods Unchained market. The price of a card can change depending on its rarity, demand, and gameplay effectiveness.
Splinterlands:
Popular blockchain-based NFT trading card game Splinterlands offers players a distinctive mix of strategy, collectibility, and competitive action. The game was created by blockchain gaming startup Splinterlands and is set in a fantasy world where players build digital card decks to represent different monsters and compete with other players to strive for rewards and glory.
In Splinterlands, players construct decks of playing cards, each representing a unique monster with unique traits, skills, and rarity levels. Players strategically use their cards, manage resources, and employ special powers to overcome their opponents in turn-based combat with other players using these cards.
Players may climb the leaderboard and gain awards depending on their performance in battles in various game formats, including ranked matches, tournaments, and special events. The possession and exchange of NFT cards are one of Splinterlands' primary elements. Since each card in Splinterlands is an NFT, users have complete control over their digital possessions.
Related: Best Cardano NFT Projects
Dark Country:
Dark Country is a blockchain-based NFT trading card game with a dark, dystopian Wild West backdrop that blends strategy, role-playing and collectibility aspects. It is a blockchain-based game created by Dark Country Limited that gives players a distinctive and engaging gameplay experience centered around digital trade cards.
In Dark Country, players construct digital card decks that represent various people, things, and occasions in the game's shadowy and enigmatic Wild West setting. Players employ these cards tactically in battles with other players or NPCs to accomplish goals, complete quests, and explore the game's engaging story-driven campaign. These cards have a variety of traits, powers, and rarity levels.
Jump Start your NFTs Success by getting early on game-changing Projects
Join our Discord Channel Today!
The game's story-driven campaign offers players a deep and engaging gaming experience with its mystery, intrigue, and difficult confrontations. Dark Country provides a visually striking art style, hauntingly evocative soundtrack, strategic gameplay, and NFT trading systems, further enveloping players in its gloomy and enigmatic Wild West world.
The use of blockchain technology to generate distinctive and verifiable NFTs for each card is one of Dark Country's essential components. Players may now buy, sell, trade, and customize their decks in a decentralized and open marketplace since they own their digital assets.
Ether Legends:
A blockchain-based NFT trading card game called Ether Legends combines collectibility, strategic gaming, and ownership of digital assets. Lucid Sight, Inc created it. It provided users a distinctive and engaging gaming experience based on non-fungible tokens (NFTs) and digital trade cards on the Ethereum blockchain.
Players create decks of digital cards to represent different people, creatures, spells, and artifacts in Ether Legends, each of which has its own traits, powers, and rarity levels. These cards can be tactically employed in conflicts with human or artificial intelligence opponents in various game formats, including duels, tournaments, and campaigns.
In addition, Ether Legends has a cutting-edge crafting system that allows players to enhance and combine their existing cards to produce new, stronger cards. This enables players to alter their decks and test various tactics to win fights. In addition to its strategic gameplay and NFT trading methods, Ether Legends offers gorgeous graphics, a compelling backstory, and a thriving player base.
Spells of Genesis:
EverdreamSoft created the blockchain-based NFT trading card game Spells of Genesis, which mixes collectibility, strategic gameplay, and blockchain technology. It provides users a distinctive and engaging game experience centered on digital trade cards recorded on the blockchain as non-fungible tokens (NFTs).
Digital cards representing different monsters, spells, and artifacts are collected and traded by players in Spells of Genesis. These cards each have special traits, powers, and rarity levels. Players may use these cards to create decks and participate in tactical combat with AI opponents or other players in various game types, including campaigns, dungeons, and PvP fights.
Another unique gameplay element in Spells of Genesis is the employment of cards in strategic fights between players and their adversaries. Players must strategically deploy their cards and make tactical choices to overcome their opponents and accomplish the game's goals. Each card has its skills and traits.
Spells of Genesis includes appealing artwork, fascinating mythology, and a compelling tale in addition to the strategic gameplay and NFT trade systems. The game's artwork draws inspiration from various myths, fantasy themes, and brilliant colors to produce a visually appealing and unique gaming experience.
Last words: 
These top Non Fungible Token trading card games provide an engaging and immersive gaming experience if you enjoy trading card games and are interested in the possibility of blockchain technology and NFTs.
From battling mythical creatures in Gods Unchained to building powerful decks in Splinterlands, to exploring dark and mysterious worlds in Dark Country, to wielding magical spells in Spells of Genesis, to creating a deck of futuristic warriors in Metropolis Origins, or embarking on an epic journey in Ether Legends, there's something for every gamer and collector.
Therefore, these best Non Fungible Token trading card games are worth checking out if you're ready to dive into the realm of blockchain-based gaming and experience the excitement of trading, fighting, and accumulating digital assets. 
Non Fungible Token trading card games will take you on a thrilling voyage into the future of gaming as you join the expanding community of players, collectors, and traders in these virtual realms. Get ready to participate in the exciting world of NFT trading card games by immediately playing, trading, and competing!