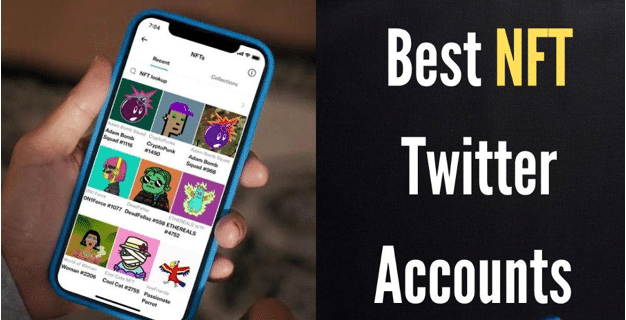 NFTs (Non-Fungible Tokens) have been trending for some time now. NFTs are digital representations of assets that act as certification of ownership or proof of authenticity. They facilitate easy identification and transfer of tokens. Users across all social media platforms are talking about NFTs, buying, and trading them. The crypto world is constantly developing, and it might be difficult keeping up with the newest developments.
If you are considering investing in NFTs, or you are a beginner or expert in trading NFTs, you should stay updated about the latest trends in the crypto world. Twitter is a great platform for NFT and crypto investors and enthusiasts, as people can share updates at any time and from any place.
Collectors, advisors, and traders usually share their recent trades and purchases on Twitter, helping others make the right decision when it comes to buying NFTs and saving them from losing their money. In this article, we have put together a list of the best Twitter accounts that every NFT trader MUST follow in 2023.
Jump Start your NFTs Success by getting early on game-changing Projects
Join our Discord Channel Today!
Best NFT Twitter Accounts
The following are the best NFT Twitter accounts to follow to help you make sound decisions when trading NFTs:
#1: NFT Signals- The Ultimate Alpa Group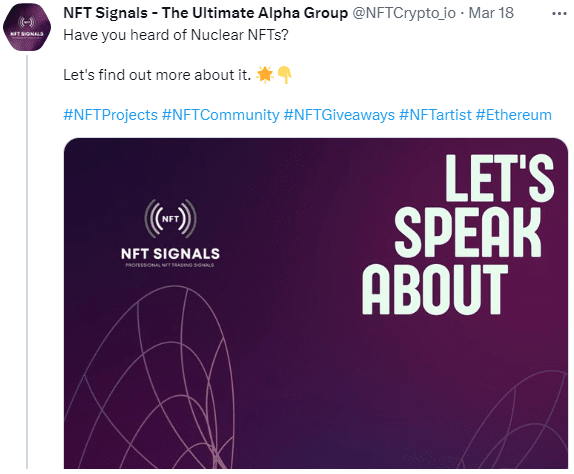 NFT Signals is the best NFT Twitter account that every NFT trader MUST follow. They keep an eye on what is happening in the NFT world and share it with their followers on time. They have a blog where they post trending events in the NFT space and share them on Twitter. If you desire to jump into the NFT hype but don't know where to start, NFT Signals is the best NFT Twitter account to follow. They share guides on how to navigate the NFT market easily and become a successful NFT trader. If you want to be jumping on successful NFTs early, follow their Twitter account. You can also join their NFT Signals trading system to receive profitable NFT trading signals in real-time and make a profit trading NFTs.
#2: Beeple
Artist Beeple has one of the best NFT Twitter accounts for NFT traders to follow. Beeple is the artist behind "Everydays: The First 5000 Days," an NFT that was sold for $69 million. Beeple's NFT Twitter account features his current projects and encouraging messages for NFT creators.
With over 740K followers, he is one of the famous NFT creators, sharing his opinions about other artworks and airing his opinion on the current state of affairs in the NFT space.
#3: Rarible
It is impossible to talk about the best Twitter NFT accounts without featuring an NFT marketplace. Rarible is popular for its platform for buying and selling intellectual property in the form of ERC-721 tokens, but its Twitter account is also worth following.
Their over 500K followers get regular updates about the platform, trending NFT topics, and plans for the future. They also share content from creators and they sponsor blockchain-related events.
#4: NFT Lately
NFT Lately is one of the top NFT newsletter platforms and has one of the top NFT Twitter accounts to follow. Its NFT account covers NFT drops, NFT news, updates, and more. If you desire to stay up-to-date with all things NFT, follow NFT Lately.
#5: OpenSea
OpenSea is the leading NFT marketplace today, and it has one of the best NFT Twitter accounts for NFT traders. The account's content is more about educating people about NFTs, hence, it's a good one for those new to the world of non-fungible tokens.
If you want to learn more about NFTs or how to stay safe while trading NFTs, follow the OpenSea Twitter account. They create awareness about the state of affairs in the NFT market and help investors learn about the risks of NFT investment. This is good for staying safe when buying or selling NFTs.
#6: DCLBlogger
It is one of the best NFT Twitter accounts and it was created by Matty, who has been featured on other accounts such as Reuters, GaryVee, and Coindesk. It is a good NFT Twitter account to follow if you desire to learn more about NFTs.
With over 220K followers, DCLBlogger is one of the most active Twitter accounts for discussing NFT-related topics. Most of the tweets are about the latest news in the NFT space, keeping you updated about NFT events. Matty also explains his thought process about trading NFTs and shares his opinion about the status of the NFT market, which is good for making decisions about buying and selling NFTs.
#7: Kenneth Bosak
He is another crypto creator and calls himself the CEO of NFTs. He uses a cartoonish art style and has a great desire to collaborate with other artists in the NFT space.
He is actively engaged in ongoing NFT launches, the latest trends, and everything concerning NFTs. Kenneth constantly updates his Twitter followers about the projects he is working on and the things he is planning to invest in.
Jump Start your NFTs Success by getting early on game-changing Projects
Join our Discord Channel Today!
#8: Ty Smith
Ty Smith is another best NFT Twitter accounts to follow. He is not afraid to air his views about NFT topics on Twitter. He runs the Coinbound podcast. Smith's involvement in the crypto world gave him valuable insights into NFTs. His NFT agency has represented some of the most powerful brands in the NFT world.

Smith's Twitter account shares ideas about blockchain-related conferences, his opinion about the status of the global economy, and how NFTs fit into the bigger picture.
#9: ZachXBT
ZachXBT is a rug pull survivor turned crypto detective and one of the top NFT Twitter accounts worth following. Some refer to him as the "Crypto Batman," a mysterious, anonymous force fighting for justice in the crypto and NFT world. ZachXBT has exposed NFT projects from foul players such as BitBoy Crypto, Tai Lopez, and others, making him a veteran on-chain sleuth. French authorities used his latest expose to track a group of cybercriminals who had stolen over $2.5 million worth of Bored Ape Yacht Club (BAYC) NFTs.
#10: OKHotShot
OKHotShot is one of the most active on-chain analysts in the NFT space. He entered the NFT industry during its early days and became a full-time NFT analyst after some of his friends fell victim to NFT scams. OKHotShot is a great proponent of NFT education and how NFT investors can protect themselves against NFT scams and fraud.
One of the NFT scams exposed by OKHotShot was a fake NFT drop that targeted new NFT collectors and traders. The scammers went as far as displaying fake transactions to famous accounts such as Snoop Dog, Gary Vee, Pranksy, and others.
#11: NFTGo
NFTGo is a data aggregation platform for NFTs, Web 3.0, and gaming communities. The platform believes in a permissionless web3 in the future. It provides users with tools that make it easy for them to discover, purchase, filter and use NFTs. The company is on a mission to provide an easy transition for users shifting from web2 to web3.
#12: Gary Vee
Gary Veynerchuk (aka Gary Vee) is a wine-seller turned media mogul and one of the most popular figures in promoting NFTs and the Web3 culture. Gary Vee is also a Web3 thought leader with a vision for the future. He also has an NFT collection, VeeFriends, which grants holders access to Vee's super-conference, VeeCon.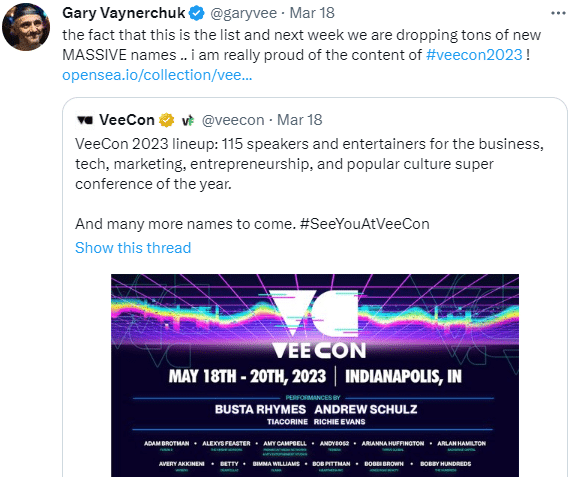 His global brand has partnered with other entities such as Vintage Frames.
#13: Zeneca
Zeneca is a true-blue NFT spearhead figure. He leveraged the power of Web3 to grow his collection of 3000 NFTs from scratch to a million-dollar brand in less than a year. According to Zeneca, the NFT industry needs more utility behind projects following the saturation of the NFT market with low-quality PFP (profile picture) NFT projects. Before becoming an NFT trader, Zeneca was a poker player. He is the one behind Zen Academy, a unique Web3 project. The goal of the academy is to shine a light on the use cases of NFTs and prevent the spread of myths and misinformation about NFTs. The academy has different tiers of individuals seeking to enroll. These run from free-to-view members to an exclusive "333" club that permits the holders to book an appointment with Zeneca to discuss business strategies and other topics.
Buy and Sell NFTs for a Profit
You can grow your crypto earnings by buying cheap NFTs and selling them for a profit. NFTCrypto.io has made this even easier for you via their NFT trading signal system. They find profitable flips in the NFT market and share the signal with you in real-time. Join NFT Signals now and become a successful NFT trader. The platform users have so far earned a total group profit of over $1 Billion.