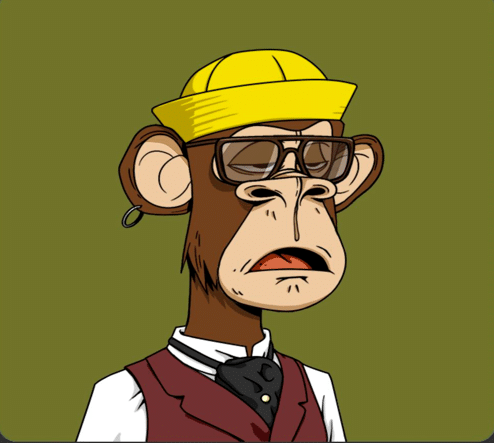 Once you decide to venture into the NFT (Non-Fungible Token) industry, you begin to notice a few things. For beginners, the NFT world has many different ways of selling NFTs. In other words, there are different ways of NFT drops that NFT creators use to release an NFT collection into the market.
However, that should not sound like something which is not ordinary. In the sneaker industry, for instance, there are different types of releases such as sneaker raffles, sneaker calendars, and auctions. But for NFTs, it is more than that. There are many different ways of releasing an NFT into the market.
In this article, we discuss NFT drops in detail, how they work, and why they are so popular.
What are NFT Drops?
An NFT drop, also called NFT airdrop, refers to an event where a digital asset usually a unique, one-of-a-kind piece of art or collectible, is made available for purchase using cryptocurrency. The term "drop" denotes the way the NFT is released for sale, usually in limited quantities for a certain period.
NFT drops are normally organized by the creator or artist behind the NFT collection, and they may be done on a website or platform specifically meant for buying and selling NFTs. NFT drops are in great demand and they can draw significant attention to an NFT project from NFT collectors and enthusiasts.
NFT drops differ in terms of supply (collection size), price of items, and NFT rarity. In an NFT drop, some NFT collections, especially those from top artists and companies, are sold, but some NFTs can be claimed for free in an NFT drop.
Jump Start your NFTs Success by getting early on game-changing Projects
Join our Discord Channel Today!
Types of NFT Drops
There are different types of NFT drops available to the public, and this depends on how the NFT creators want the NFT to be sold. They include the following:
#1: FCFS Public Mint
This is the fir
st type of NFT drop. It is the simplest form of NFT drop but also the most chaotic. It refers to the first come, first served public minting sessions. Users get a pre-determined date and time with a fixed minting price (ranging between 0.08 ETH and 0.2 ETH). The minting process is a ruthless, every-man-for-himself kind of competition.
In these types of NFT drops, most projects limit the number of NFTs that a single wallet owner can mint. This is to ensure that a high number of users benefit from the NFT drop.
#2: Whitelist + Public Mint
Also known as a pre-sale, the whitelist + public mint has become a common way of driving hype and demand in the NFT space. The NFT collection uses a whitelist to give users access to an exclusive NFT drop.
The whitelist public mint is usually done 24 to 72 hours before the public sale. Thus, it is a whitelist sale followed by an FCFS public mint. The whitelist users get an opportunity to catch more exclusive and rare NFTs.
#3: Open Editions
Open Editions releases are another type of NFT drop. They are also known as limitless drops. An open edition NFT drop allows you to mint an unlimited number of NFTs within a limited time window. The time window is always very short, between 5 and 10 minutes.
#4: Free Mint
There are free mint NFT drops which are usually free NFTs. Users don't incur any cost other than the gas fees. Hence, they are not technically completely free. It's worth noting that nothing is free on the blockchain. Free mint NFT drops are used by NFT creators to drive demand and hype and generate revenue from NFT royalties.
#5: NFT Auctions
NFT Auctions are the last type of NFT drops and they fall into 4 different categories:
Smart Batch Auction
English Auctions
Dutch Auctions
Nounish Auctions
Smart Batch Auction NFT drops involve users submitting bids to smart contracts that include the purchasing price and the number of tokens within a bidding period. After the end of the bidding period, the clearing price is calculated. Users who bid above the clearing price get the NFT and are refunded the difference. Those who bid below the clearing price receive their bid amounts in full.
English Auction NFT drops are used for super rare, single-edition NFTs. Users are given a period within which to submit their bids. At the end of the bidding period, the highest bidder becomes the owner of the NFT.
In Dutch Auction NFT drops, an initial mint price is set for the collection. The set mint price drops periodically, like with 0.2 ETH after every 30 minutes. The NFT drop is closed after the end of the auction period or once all NFTs are sold. Thus, it starts at the ceiling price and ends at the floor price.
Nourish Auction NFT drops were pioneered by NounsDAO. The creators create and auction a new NFT daily, and this runs forever.
Where to Find an NFT Drop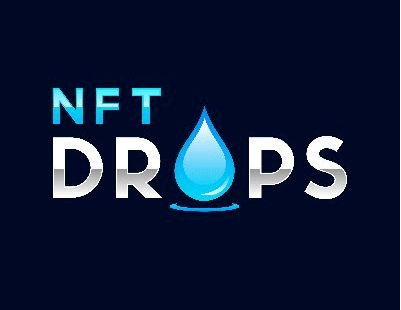 The following are the places where you can get information about NFT drops:
#1: NFT marketplaces
One of the ways to discover upcoming NFT drops is on NFT marketplaces. NFT marketplaces put upcoming NFT projects in a specific section where users can filter through to catch upcoming NFT drops using criteria such as category, the blockchain they are on, and more.
NFT marketplaces are in different shapes and sizes. Mass NFT marketplaces host a wide range of NFT collections about sports, digital art, trading cards, and virtual reality. Examples of such NFT marketplaces include OpenSea, Nifty Gateway, Rarible, and others.
#2: Social media
Most NFT projects use Twitter as the primary channel of communication. Thus, Twitter is a good place to find upcoming NFT drops. You can also find NFT drops on other social media platforms like Instagram, Facebook, YouTube, LinkedIn, and others. After visiting such platforms, ensure that you follow influential people in the NFT space. This will keep you updated about any upcoming NFT giveaways.
You can also read our blog about the top 13 NFT accounts you need to follow to stay updated about NFT drops.
#3: Instant Messaging Channels
Instant messaging services such as Discord and Telegram are also good platforms to find an upcoming NFT drop. In such messaging groups, you will most likely find people talking about free NFT drops and those with low floor prices. However, you must be keen to avoid falling into NFT drops that promise what is too good to be true.
#4: NFT Drop Calendar
An NFT drop calendar will keep you updated about NFT drops on Ethereum and other decentralized blockchain networks for NFTs such as Solana and Polygon. The NFT calendars show the date and time for each NFT drop, as well as the countdown that can help you know the number of NFT drops that are remaining for the collection to be removed online. A good NFT drop calendar allows users to filter by free NFTs.
Jump Start your NFTs Success by getting early on game-changing Projects
Join our Discord Channel Today!
Step-by-Step Guide on How to Use NFT Drop Calendar to Find NFT Drops
You can use an NFT drop calendar to find an NFT drop. Most NFT drop calendars are almost similar, and below are the steps you can use on nearly any NFT drop calendar:
Step 1: Find a website that lists NFT drops
You should first find a trusted website that lists NFT drops. A good example of such a site is NFT Drops Calendar. Choose a site that allows you to filter the NFT drops by price and blockchain.
Step 2: Sort the NFT drops
After finding a website, filter the NFTs by price or blockchain. You will find suitable NFT drops based on price or your preferred blockchain. To get free NFT drops, sort them by price from low to high. Free NFT collections will appear first.
If you are looking for free NFT drops, choose the ones with "FREE MINT" next to them. This may be called on different sites, but they all have a feature that showcases free NFT drops.
You can also click the blockchain of choice and you will get all NFT drops on the network.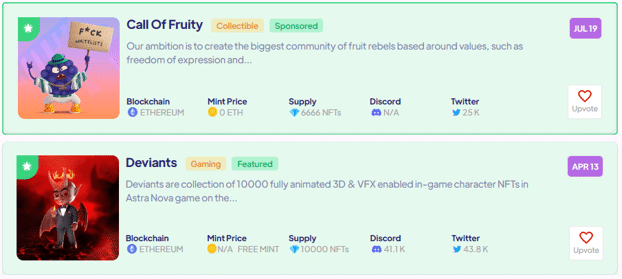 Step 3: Choose a project to participate in
You finally have to read the information provided on the NFT projects and choose the NFT drop to participate in.
Buy and Sell NFTs for a Profit
You can grow your crypto earnings by buying cheap NFTs and selling them for a profit. NFTCrypto.io has made this even easier for you via their NFT trading signal system. They find profitable flips in the NFT market and share the signal with you in real-time. Join NFT Signals now and become a successful NFT trader. The platform users have so far earned a total group profit of over $1 Billion.