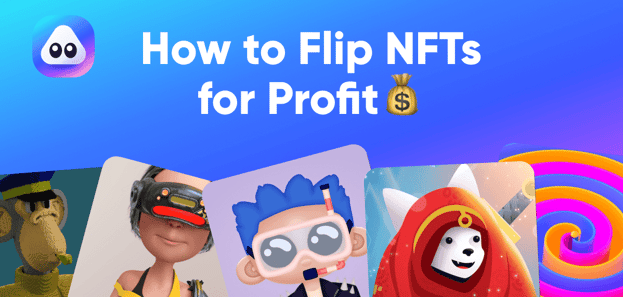 Unless you live under a rock, you must have heard about NFTs and how they have disrupted the digital space. You must also have heard or seen people flipping NFTs for thousands of dollars. The good news is that you can also make money by flipping NFTs.
Flipping is a term that refers to buying an item at a low price and selling it for a profit. It has existed for a long, since the days of flipping trading cards, comics, and toys for profit, and we are now seeing it in NFTs.
Flipping is only applicable to valuable items, and NFTs have shown to be valuable, with most investors venturing into flipping NFTs. Although flipping NFTs is risky, it is a great avenue to boost your portfolio.
NFTs are rare, which makes their demand high, creating a flipping opportunity for investors. Flipping NFTs can be done on NFT marketplaces such as OpenSea, Rarible, and others.
If you are planning to start making money flipping NFTs, you've come to the right place. This article is a guide to flipping NFTs.
How to Start Flipping NFTs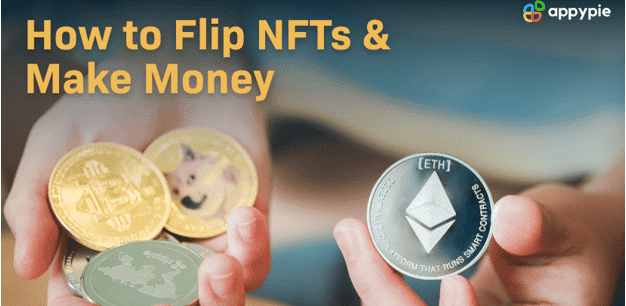 In this section, we will discuss how to flip NFTs.
But first, is flipping NFTs profitable?
Yes, flipping NFTs can be a very profitable opportunity. However, you must be strategic when it comes to selecting the NFTs to flip. NFTs are volatile assets, so their value can go up or down. It is also important for you to know when to buy as well as when to sell the NFTs you have chosen to flip.
Jump Start your NFTs Success by getting early on game-changing Projects
Join our Discord Channel Today!
Related : 
Below are the steps on how to start flipping NFTs:
Step 1: Select the NFTs to Flip
There are many NFTs listed on NFT marketplaces that offer a flipping opportunity. Your goal should be to identify an NFT that is undervalued and hence, suitable for flipping. Since the NFT is undervalued, its value will continue to appreciate with time, and selling it will earn you a profit.
Step 2: Visit the NFT Marketplace
After identifying the NFTs to flip, visit the NFT marketplace. The marketplace should have the NFT listed. OpenSea is the largest NFT marketplace today and has all types of NFTs. All these NFTs present you with a flipping opportunity.  
Step 3: Connect your Crypto Wallet
For you to purchase the NFT, you must connect your cryptocurrency wallet to the NFT marketplace. MetaMask is the most popular cryptocurrency wallet for flipping NFTs. Most NFT marketplaces accept Ethereum payments, so it will be safe to connect your Ethereum wallet to the marketplace. The process of linking the marketplace and the cryptocurrency wallet is straightforward on most platforms as it only requires you to click a "Connect" button.
Step 4: Buy the NFT
It is now time to buy your desired NFT. The NFT marketplace will deduct some crypto coins from your cryptocurrency wallet. You will then become the new owner of the NFT.
Step 5: Flip NFT
After buying the NFT, you can flip it and make a profit. You only have to list the NFT on an NFT marketplace and set your desired price. You may decide to hold the NFT for time for its value to appreciate before listing it for sale.
Best NFTs to Flip
Before you start flipping NFT, it is good to know the NFTs that offer better flipping opportunities. The following are some of the NFTs that offer a good flipping opportunity:
#1: Battle Infinity
Battle Infinity is a metaverse project with exciting crypto-gaming elements such as NFTs and play-to-earn mechanics. The NFT project is now in its presale phase, allowing users to buy IBAT tokens at a discount.
Its built-in market (Battle market) comes with many in-game NFTs that you can purchase for speculation purposes. You can also buy virtual pieces of land whose value fluctuates based on demand and supply.
Jump Start your NFTs Success by getting early on game-changing Projects
Join our Discord Channel Today!
#2: Lucky Block NFT
The Lucky Block NFT project is supported by the Lucky Block ecosystem, allowing people to play decentralized lottery games powered by blockchain and smart contract technology. The project's utility token is one of the best-performing cryptos in 2022. Its early buyers have enjoyed gains of 80x.
#3: Ballies Origins NFT
This NFT provides you with the cheapest opportunity for flipping nft. It is an NFT collection with 9,999 unique tokens. Its theme is based on basketball players, with each token having unique characteristics.
#4: Lazy Ape Society NFT
The Lazy Ape Society NFT offers you an NFT flipping opportunity if you missed the Bored Ape Yacht NFT project. To flip this NFT, just buy Lazy Ape Society NFTs on NFT Launchpad through its primary marketplace. Its NFTs are cheaper, allowing you to invest in NFTs without risking too much money.
#5: Walruses NFT
This is an upcoming NFT project that presents a great opportunity for flipping nft. The NFT's artwork has historical figures in the form of walruses. Some of the notable figures represented are Martin Luther King, Mother Theresa, and Pope John Paul.
To flip the NFT, buy your preferred Walrus NFT.
Read Also :