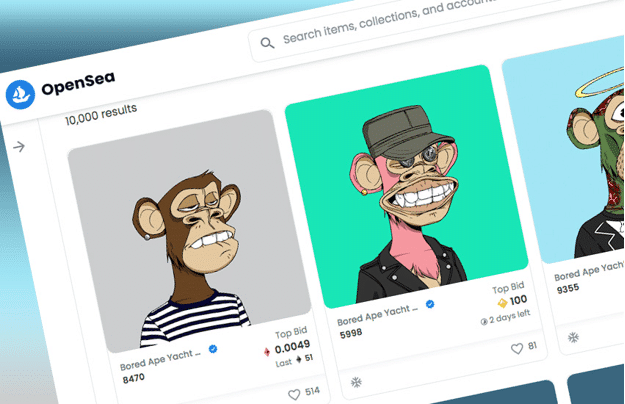 Non-Fungible Tokens (NFTs) are playing a significant role in bringing blockchains such as Ethereum to the mainstream. People across the world have been minting their NFTs representing photography, digital art, collectibles, in-game items, music, and even tweets on blockchain networks. If you have ever tried to explore the NFT world, you might have heard about the OpenSea NFT platform. It is probably the most prominent gateway into the NFT market.
If you have decided to venture into the NFT space, you may be considering using OpenSea as the marketplace for interacting with the space. However, before getting started with OpenSea NFT, it is good to have a basic understanding of how the platform works. In this blog, you will learn everything about OpenSea NFT, including how to mint, buy, and sell OpenSea NFT.
What is OpenSea NFT?
OpenSea is an NFT marketplace that jumped into the NFT movement early enough to establish itself as the preferred platform for NFT traders and the best destination for NFT developers. Other than its first-mover advantage, OpenSea's success can also be attributed to its open-world design that allows anyone to create non-fungible tokens for free, and buy and sell NFTs on a verified blockchain-powered infrastructure. The open-world design of OpenSea NFT has attracted many NFT creators since there are little or no restrictions when using the NFT OpenSea platform.
While this has been termed by some as the most important aspect of OpenSea NFT, the lack of restrictions is seen by others as a ticking time bomb. OpenSea NFT once restricted the number of NFTs that a user can mint, but the move was reversed after it received a backlash from the community.
Early this year, OpenSea's stolen ape policy was exploited by scammers to sell Bored Ape Yacht Club (BAYC) NFTs. Regardless of the challenges, OpenSea NFT has remained the leading NFT marketplace for a long period. However, it has recently faced stiff competition from Blur, a new NFT marketplace, with the latter recording high NFT trading volumes than the former in some instances. OpenSea NFT recently launched a no-fee "pro" marketplace with NFT rewards in what seems to be its efforts to counter the competition from Blur.
Jump Start your NFTs Success by getting early on game-changing Projects
Join our Discord Channel Today!
What are NFT OpenSea Platform Features?
The OpenSea NFT platform is characterized by the following features:
The NFT OpenSea platform runs a decentralized marketplace where all activities are recorded in real-time on the blockchain.
The OpenSea NFT platform has spread its features across three blockchain networks, including Ethereum, Klatyn, and Polygon. This means you can buy OpenSea NFT based on any of these three chains on the platform. ETH is the most common OpenSea crypto for carrying out transactions on the platform.
OpenSea has enabled simple, easy-to-understand processes for its features such as minting, buying, and selling NFTs. You don't need coding knowledge to use the OpenSea NFT platform.
NFT OpenSea platform offers a gasless, or feeless, way of creating NFTs, thanks to its Polygon integrations. Polygon is a blockchain that makes it cheaper to transact with Ethereum tokens and use Ethereum-based apps.
Next, we will discuss how to create an NFT on the OpenSea NFT platform.
How to Create NFTs on the OpenSea NFT Platform
New users must register an account to start using the OpenSea NFT platform. This will require you to set up an OpenSea crypto wallet, preferably MetaMask, which comes as a Google Chrome extension.
Once your crypto wallet is ready, open the OpenSea homepage and click the "Connect wallet" button at the top-right corner of the screen.

A prompt will appear asking you to choose your preferred wallet. Choose MetaMask and complete the connection process from the crypto wallet.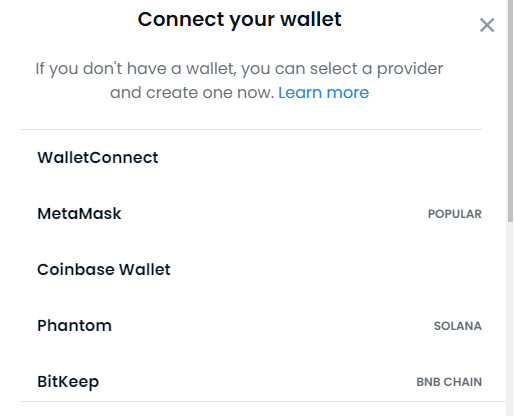 After successfully connecting to your wallet, you will be taken to your default profile page on OpenSea. Take some time to personalize it. This will involve entering your username, adding your bio, and uploading a profile picture.
You are now ready to start minting NFTs. Depending on the blockchain that you need to use, you should have enough OpenSea crypto coins in your wallet. The coins will cater to the OpenSea NFT transaction fees. If ready, you can start minting NFTs.
If your goal is to create single NFTs, click "Create" and enter the name, description URL link, and other details that you want to be included. Scroll downwards and click "Create" to mint it on the blockchain.
If your goal is to create an OpenSea NFT collection, click your account icon and choose "My collections." Click "Create" under the "Create new collection" option. Enter the name of the collection, and its description, and upload its image.
Whenever you need to create a new NFT under the collection, click "Add New Item." You will be taken to a page where you can provide the metadata for the NFT such as the video, audio, etc. You can also add the year the NFT was created to make it easy for users to filter the NFTs in your collection.
Once done, click "Create" and sign the message on the connected OpenSea crypto wallet. If you are minting the NFT on Polygon, you will not be required to pay a transaction fee. However, if you are minting on Ethereum, you will incur some network fees via the supported OpenSea crypto.
How to Sell NFTs on the OpenSea NFT Platform
Once you have created your OpenSea NFT, you can list it for sale. Just follow these steps:
Step 1: Open your OpenSea account page and click your profile image at the top right corner. Click "Profile" to open your wallet where you can choose the OpenSea NFT to sell.
Step 2: Select the NFT to open its description page. Click "Sell" at the top right corner to move it to the listing page.
Step 3: Choose whether to sell the NFT at a fixed price or a timed auction, which requires buyers to outbid themselves to own the item.
Step 4: At the bottom of the page, you will find all the fees associated with the OpenSea NFT sale. NFT OpenSea platform charges a 2.5% fee on all sales and a royalty of 10% is paid to the original NFT creator.
Step 5: OpenSea will ask you to sign a transaction on your crypto wallet to confirm the sale. Since it's your first time selling an NFT on OpenSea, you will be required to initialize your wallet to proceed. Again, if the NFT was not minted on OpenSea, or it was imported from an external NFT marketplace, you will have to go through an extra process to allow OpenSea to sell the NFT on your behalf.
How to Buy OpenSea NFT
To buy an OpenSea NFT, you can choose those listed at a fixed price or make an offer. The following steps can help you to buy an OpenSea NFT:
Step 1: Fund your crypto wallet
Your crypto wallet should be funded with coins for buying the OpenSea NFT. You can buy crypto from crypto exchanges such as Coinbase and CoinMarketCap.
Jump Start your NFTs Success by getting early on game-changing Projects
Join our Discord Channel Today!
Step 2: Browse the OpenSea NFT Listings
It is now time to buy the OpenSea NFT that you want. Open the OpenSea profile and click "Explore." You will see thousands of OpenSea NFTs listed for sale.
The top bar allows you to filter the NFTs by Trending, Top, Art, and other features.
Once you have found the NFT, review its details such as the price history to determine whether it is worth buying. Also, ensure that you check the red flags for common NFT scams.
Step 3: Buy NFT
After finding the desired OpenSea NFT, you can buy it straight away or make an offer. OpenSea NFTs being sold through the auction option will have the "Place Bid" option that allows you to place a bid to the NFT owner to inquire about it. It is also possible to see the number of bids that have been placed on such an OpenSea NFT. This should guide you on the amount of money that you can bid for.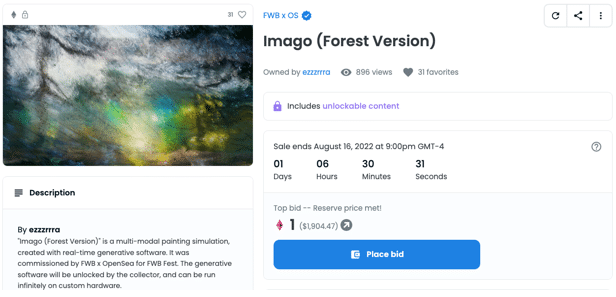 On the NFT marketplace, your bid should be 5% higher or more than the previous bid. If the OpenSea NFT is being sold at a fixed price, you will buy it for the stated price.
Click the "Buy now" button to buy the OpenSea NFT. The NFT details such as its name, collection, and others will be presented. Click the "Confirm Checkout" button.
OpenSea will then load your crypto wallet. The details of the purchase will be shown, including the gas fees and the amount of time, it will take to process the transaction.
You can click the "Edit" button to lower the gas fees, but this will reduce the transaction speed.
When you are ready to buy the OpenSea NFT, click "Confirm" and wait for the processing to complete.
If the purchase runs successfully, the OpenSea NFT will be added to your NFT collection and you will be able to find it under your profile.
Buy and Sell NFTs for a Profit
You can grow your crypto earnings by buying cheap NFTs and selling them for a profit. NFTCrypto.io has made this even easier for you via their NFT trading signal system. They find profitable flips in the NFT market and share the signal with you in real-time. Join NFT Signals now and become a successful NFT trader. The platform users have so far earned a total group profit of over $1 Billion.