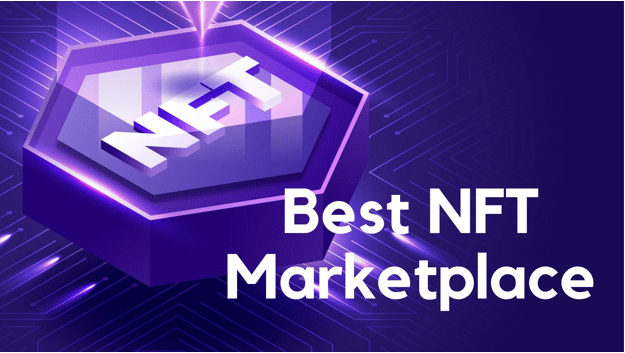 You must have heard about NFTs being sold for millions of dollars online. Artist Beeple sold his NFT, "Everydays: The First 5000 Days," for $69 million. "The Merge" NFT collection was sold for $91 million. These crazy NFT prices are an exception, but NFTs have become a new way of selling art online by artists globally.  If you want to jump into the NFT hype, NFT market places provide a gateway for you to participate in the buying and selling of these digital items. See an NFT market place as the Amazon of the digital space.
There are many NFT market places in existence today, many of them focusing on a specific niche. What should you look for before deciding to use a market place NFT, and what are the top NFT market places today? This article is a comprehensive guide to NFT market places.
What are NFTs?
NFTs (Non-Fungible Tokens) are special cryptographic digital assets that represent real-world assets and digital items such as videos, virtual lands, art, music, photographs, and other products. NFTs can be bought and sold in the digital world just like other pieces of property without having their corresponding tangible forms. NFTs are limited in supply, unique, and valuable due to their scarcity. They are easy to authenticate and they cannot be duplicated. They can be seen as certification of ownership and proof of authenticity for physical or virtual assets recorded on the blockchain.
Some of the potential use cases of NFTs include collectibles within gaming, digital art, sports, fashion, academia, tokenization of physical objects, decentralized finance (DeFi), patents, licenses and certificates, documentation, domain name ownership, and others. NFTs can also be used to improve event ticketing, track metadata, and transform the real estate industry.
Jump Start your NFTs Success by getting early on game-changing Projects
Join our Discord Channel Today!
What are NFT Market Places?
An NFT market place is a digital platform for buying and selling NFTs. NFT market places allow their users to store and display their NFTs and sell them to other people for cryptocurrency. Some NFT market places also allow their users to mint their NFTs on the platform itself.
A market place NFT user can transfer their NFT to another person, although this attracts some fees. NFT market places operate differently. They differ in terms of the types of NFTs that are accepted, the amount of fee charged for various transactions, supported blockchains, payment options, and more.
NFT marketplaces can run horizontal or vertical trades. Horizontal trade is where an NFT marketplace sells different types of NFT assets for a generic audience. Vertical trade is where an NFT marketplace sells specific NFT assets that target a niche audience.
NFT market places require you to have the following items to use them:
You need crypto to buy and sell NFTs on an NFT market place. The crypto is stored in a crypto wallet. There are many crypto wallets available in the market today. Examples include Metamask, Binance wallet, and Coinbase wallet.
The crypto wallet is ready, but what do you use to buy and sell NFTs? Crypto. Hence, your crypto wallet must be funded with some crypto coins.  However, you must do some research and know the cryptos that are supported by the NFT marketplace.
NFT market places require you to create an account to use them.
How Does an NFT Market Place Work?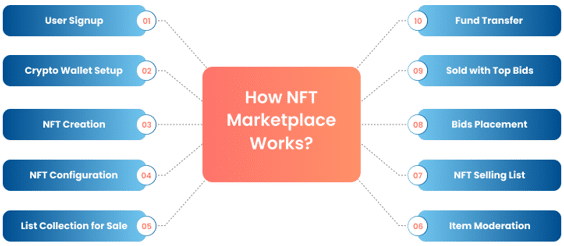 Although different NFT market places require guide about NFT market places. users to go through different steps to accomplish various tasks, the steps are almost the same. Here is the workflow of how NFT market places work:
Step 1: Sign up
Most NFT market places require their users to first sign up for an account with the NFT market place. This applies to both NFT buyers and sellers. They should also connect their crypto wallets to the NFT market place.
Step 2: Create NFT
Sellers should create NFTs to help in backing their digital assets. The digital file to be turned into an NFT must be uploaded to the market place NFT. The seller must describe his NFT, and give details about its name, price, benefits, and more to make it stand out from its competitors.
Step 3: List NFT
The NFT market place admin will review the NFT asset and moderate the NFT asset, and if it adheres to the NFT market place rules and regulations, it will be listed on the platform. Some NFT market places can list your NFT on the main page, even for free.
Step 4: Sell NFT
Potential buyers will look at the NFT and place their bids or decide to pay the amount that you have quoted. The amount is deducted from the crypto wallet of the buyer.
If the seller accepts the offered bid or the deadline is reached, the offer is accepted, and the NFT will be released to the buyer. The amount paid by the buyer is transferred to the seller.
The transaction will attract some fees. Examples include gas fees and transaction fees. One may also incur additional charges when buying or selling on an NFT market place. The money helps to maintain the NFT marketplace and run its operations.
How Does Market Place NFT Make Money?
You might ask yourself:
How exactly do NFT market places make money?
NFT market places charge a transaction fee of 2-5% for each sale. Some NFT marketplace charge gas fees on top of the gas fees paid by miners to run transactions. The following are other ways through which NFT market places make money:
Transaction fees
The primary way of generating revenue by NFT market places is through charging transaction fees. The fee ranges between 2-5% per transaction.
Some NFT market places charge the transaction fee to both the buyer and the seller, but it is mostly charged to the buyer or deducted from the listing price.
Listing fees
Some NFT market places charge fees for minting, listing, exchanging, selling, or removing an NFT from the market place NFT.
Tokens
Some NFT market places such as SuperRare and Rarible have their native crypto tokens used as governance tokens on the platform or for rewarding users for holding NFTs or transacting on the platforms. The NFT market places sell these tokens to generate revenue.
Jump Start your NFTs Success by getting early on game-changing Projects
Join our Discord Channel Today!
Best NFT Market Places
Below is the list of the best NFT market places for buying and selling NFTs in 2023:
#1: OpenSea
OpenSea was launched in 2017, and it is the largest popular NFT market place today. The platform is home to several genres of NFTs, including art, sports collectibles, photography, trading cards, music, and virtual worlds. It accepts cryptocurrencies such as Ethereum (ETH/WETH), AVAX, USDC, SOL, and DAI. OpenSea is also a user-friendly market place NFT for newbies. It charges a transaction fee of 2.5% per transaction.
#2: Best NFT marketplaces: Rarible

Rarible is a multichain NFT market place, meaning that you can buy, mint, and sell NFTs on multiple blockchains. It currently supports Ethereum, Solana, Flow, Polygon, and Tezos blockchains, with plans to integrate more blockchains soon. Rarible takes 1% from the buyer and 1% from the seller for every sale on the platform.
Users in 190+ countries can buy NFTs using their credit cards. Rarible has a native token, RARI. RARI holders can participate in the company's decision-making through voting.
#3: SuperRare
SuperRare is an NFT market place that runs on the Ethereum blockchain, hence, it only accepts ETH payments. It charges a transaction fee of 3% for every purchase, paid by the buyer.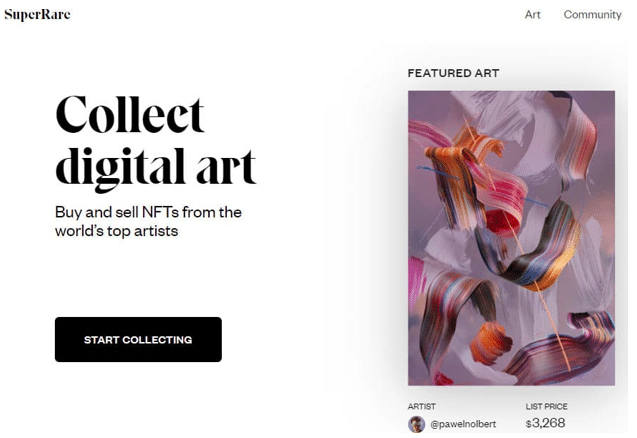 SuperRare is very strict when it comes to accepting NFT submissions and it doesn't accept "meme style" NFTs. It is the best market place NFT if you are looking for high-end NFT artwork, especially NFTs with a more classical style.
#4: NBA Top Shot
NBA Top Shot is an NFT market place for basketball fans. Its NFTs feature memorable events in the history of basketball.
The NFT marketplace allows you to buy videos and play art for both NBA and WNBA, although not cheaply. It charges a transaction fee of 5% for each sale.
This NFT marketplace was built by the NBA team and they have exclusive rights to the ownership of the video clips. If you choose this NFT marketplace, you will be sure that you're dealing with a reputable firm. It is a good NFT marketplace for basketball fans.
#5: Top NFT market places: Nifty Gateway
Nifty Gateway is a premier art NFT marketplace that hosts high-quality, expensive NFTs. Artist Pak's NFT "The Merge" was sold on the platform for $91.8 million. It focuses on artwork created by top artists and celebrities. It only hosts Ethereum NFTs.
Nifty Gateway sells NFTs in editions that run for a limited time. Nifty Gateway NFTs are stored in a secured wallet maintained by Gemini's state-of-the-art technology. Thus, collectors can move NFTs on the platform without being charged gas fees.
For more info about this top NFT market place, read what is Nifty Gateway and how does it work?
Buy and Sell NFTs for a Profit
You can grow your crypto earnings by buying cheap NFTs and selling them for a profit. NFTCrypto.io has made this even easier for you via their NFT trading signal system. They find profitable flips in the NFT market and share the signal with you in real-time. Join NFT Signals now and become a successful NFT trader. The platform users have so far earned a total group profit of over $1 Billion.