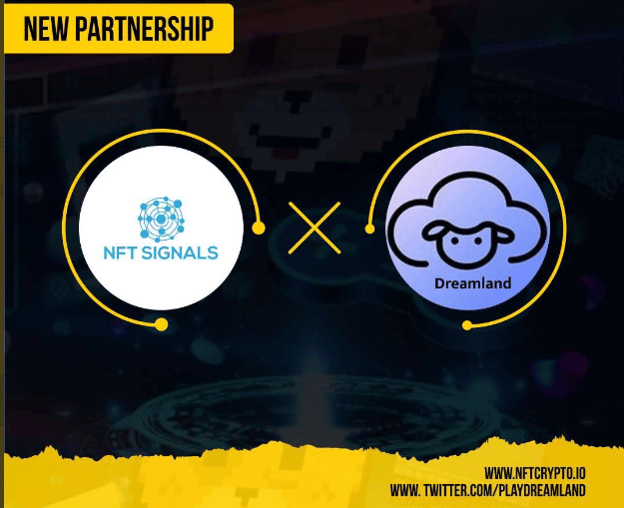 NFTs offer a billion-dollar opportunity to investors. Blockchain investors are making money from buying and selling NFTs. NFT Signals provides NFT traders with buy and sell signals to help them find profitable flips. This increases their chances of making a profit trading NFTs. So far, NFT Signals has delivered a total group profit of more than $50 million to its users.
NFT Signals has been partnering with other players in the NFT market to benefit its users. For example, it has partnered with  Beastlike, Xchange Monster, Prime Aeternas, Masata Club, 8-Bit Map, Happy Kittens, Planetary Stations Crew, and now Dreamland.
So, what are the benefits of the NFT Signals x Dreamland partnership to both parties and their users? Let's find out.
What is NFT Signals?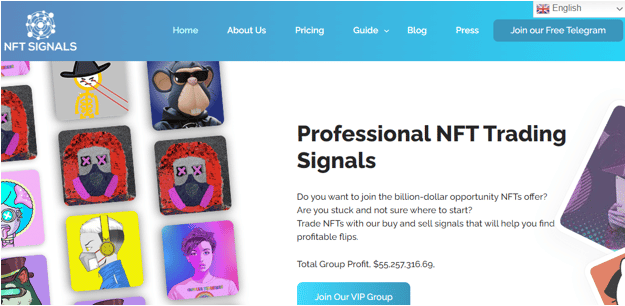 NFT Signals is a group that provides support and advice to NFT traders, helping them to reap maximum benefits out of speculations in the NFT market.
The NFT Signals platform provides its users with access to about 100 algorithmically generated trading signals every month. The signals keep users updated on the latest profitable NFT trading opportunities in the market. By actively trading these signals, the users increase their chances of making a profit.
The NFT Signals algorithm keeps on scanning the NFT market continuously to identify opportunities. The algorithm also has access to different whitelists. The algorithm generates accurate predictions from the information it gathers and shares them with users to update them on the profitable NFT trading opportunities in the market. Such signals also help the subscribers to assess the market performance.
It's worth noting that the NFT Signals algorithm doesn't execute trades automatically. The users receive the signals, and it's up to them to decide whether to put them into practical use or not.
NFT Signals saves users the time and effort needed to find the right NFT collection to invest in according to their budget, strategy, and quality of NFT. The trading signals are obtained by combining various technical analysis techniques and trading approaches.
To get started with NFT Signals, you only need to join their free Telegram channel here and start getting profitable NFT trading signals.
Although NFT Signals has a free Telegram group that anyone can join, they also sell access to information about NFT market predictions. They provide at least 5 tips each week and advice users on whether to enter short or long trades.
What is Dreamland?

Dreamland is a web3 wellness app that rewards its users for sleeping well and practicing healthy habits such as exercise, meditation, and yoga. The Dreamland NFT Sheep gives members access to the ecosystem. As a player, you can equip your sheep in the Dreamland app and start to earn token rewards by sleeping well and practicing healthy habits. Thus, Dreamland makes it possible for you to earn money while improving your health. The project will also give you access to private training, premium courses, and more. Dreamland is powered by Social Fi and GameFi elements.
The rewards are determined by your sleep time and quality score. The Dreamland app will require you to access your sleep data, so you must integrate it with your smartphone or wearable devices such as Fitbit, Apple Watch, and others. The purpose of this project is to empower positive change in the lives of its users.
To play the game, you must download the Dreamland app and sign up for an account. You should also connect your crypto wallet to the app and fund it with Avax tokens. You can then use these tokens to buy a sheep and start playing the game.
What the Partnership Entails
The NFT Signals x Dreamland partnership was made known to the public on September 08. NFT Signals posted the following on its official Twitter handle:
"Another great news people! We are partnering with @playdreamland – a Web 3.0 wellness app that rewards you for sleeping well and living healthier. Follow them on
@playdreamland to learn more!"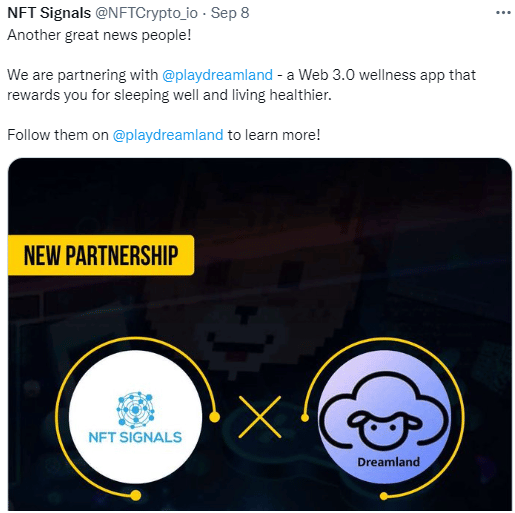 The partnership started on September 4th, giving NFT collectors access to 3,000 NFTs for purchase.  The NFTs are just the sheep that one can buy to gain access to the game. The launch price is 4 Avax per NFT. The partnership also comes with 3 WL spots for the users.
Both NFT Signals and Dreamland are set to benefit from the partnership. NFT Signals users are actively looking for the best NFT collections to invest in. The Dreamland NFT collection presents NFT collectors with a good investment opportunity. NFT Signals users will like the idea of earning money while practicing healthy habits. Thus, Dreamland will gain more users from the NFT Signals platform.
NFT Signals has also established itself as a platform for generating safe and profitable NFT trading signals for its users. The platform also chooses and guides users on the best NFT projects to invest in. Dreamland users will want to know other NFT projects to invest in and continue receiving NFT trading signals. NFT Signals will grow its user base from Dreamland users.
Thus, the NFT Signals x Dreamland partnership is a win-win situation for both parties.