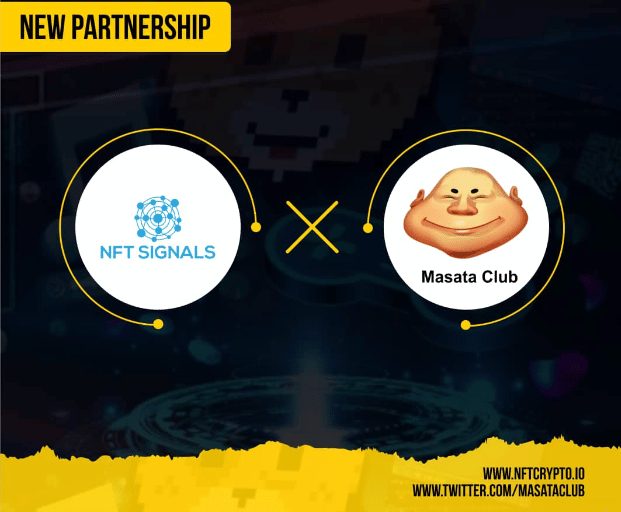 NFT Signals is a platform that provides its users with an automated NFT signaling system to help investors secure long-term stable profits. The platform aims to provide easy access to NFT trading and allows investors to make historic profits.
To expand its ecosystem, NFT Signals has been partnering with other major players in blockchain technology. NFT Signals has managed to partner with Beastlike, Xchange Monster, Prime Aeternas, and now the popular Masata Club.
So, what does this new partnership mean for the two platforms and the entire NFT industry? Let's find out.
What is NFT Signals?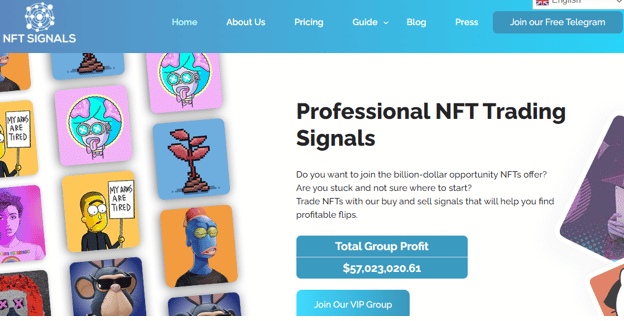 NFT Signals is a platform launched to provide its users with access to about 100 algorithmically generated trading signals every month. The signals keep users updated on the latest profitable NFT trading opportunities in the market. By actively trading such signals, the users have a high chance of making a profit.
The NFT Signals algorithm keeps on scanning the NFT market continuously to identify opportunities. The algorithm also has access to different whitelists. The algorithm generates accurate predictions from the information it gathers and shares them with users to update them on the profitable NFT trading opportunities in the market. Such signals also help the subscribers to assess the market performance.
It's worth noting that the NFT Signals algorithm doesn't execute trades automatically. The users receive the signals, and it's up to them to decide whether to put them into practical use or not.
NFT Signals saves users the time and effort needed to find the right NFT collection to invest in according to their budget, strategy, and quality of NFT. The trading signals are obtained by combining various technical analysis techniques and trading approaches.
To get started with NFT Signals, you only need to join their free Telegram channel here and start getting profitable NFT trading signals.
What is Masata Club?
Masata club is an NFT community that revived ancient recipes from all over the world. It revives the recipes and turns them into NFTs. They allow people with DAO status to cook live and showcase the traditions of their ancestors to the globe.
Masata Club NFT owners enjoy some benefits. You can earn SmileCoin tokens by playing the Masata Club game. You can then use the earned tokens to buy SmileFood rolls or simply withdraw them in real cash. The NFT holders are also paid a dividend of 3.6 SOL. The project will help people to find lost recipes for unique dishes from across the world.
What the NFT Signals X Masata Club Partnership Entails
NFT Signals announced its partnership with Masata Club on September 05 via its official Twitter handle.
"We are partnering with @MasataClub, an NFT collection that revives ancient recipes and wins people's hearts with signature dishes! Follow them on @MasataClub to learn more," the tweet read.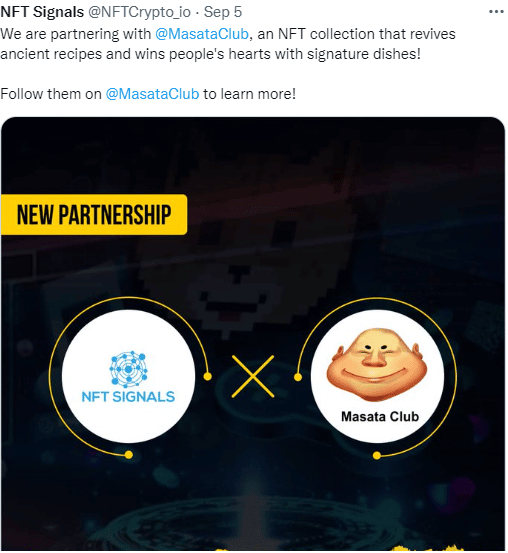 The partnership gives users access to 7777 NFTs and its launch price stands at 0.7 SOL. The partnership also comes with 1 NFT and 30 WL Spots.
Both parties, that is, NFT Signals and Masata Club, are set to benefit from the partnership. NFT Signals users are expected to develop an interest in the Masata Club NFTs and their idea of sharing old recipes through live cooking. This means Masata Club will grow its user base.
NFT Signals has established itself as the leading provider of safe and profitable NFT trading signals. So far, its members have made a total profit of over $57 million by trading using their NFT trading signals. Masata Club members are expected to grow an interest in this and join NFT Signals. Thus, NFT Signals will also grow its user base.