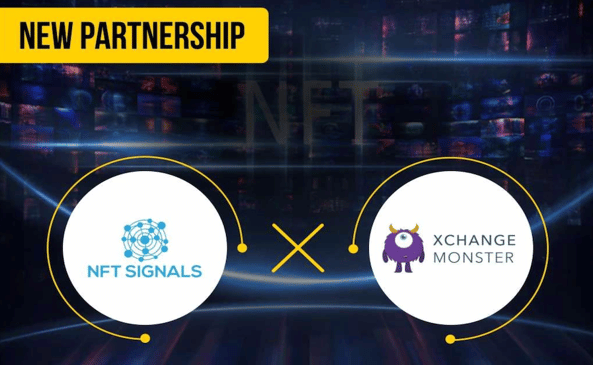 NFT Signals has established itself as a great platform for providing safe and profitable NFT trading signals to both beginner and experienced traders. Users on its Telegram channel have made profits worth over $22 million.
NFT Signals has been partnering with popular game-changers in the NFT world including Beastlike. NFT Signals has indicated joining hands with Xchange Monster, a cryptocurrency platform that brings together publishers and gamers. So, how will this change how NFTs are traded? Let's discuss.
What is NFT Signals?
NFT Signals is a platform that provides NFT trading signals to its users. It is a good platform for those in need of profitable and safe NFT trading signals, both beginners and experienced users. The signals are in the form of guides on areas that NFT traders should understand.
NFT Signals picks the most profitable NFT collections and provides its users with signals. Traders who put the signals into practical use have high chances of making a profit trading the NFT collection.
The platform saves users the time and effort needed to find the right NFT collection to invest in according to their budget, strategy, and quality of NFT. The trading signals are obtained by combining various technical analysis techniques and trading approaches.
To get started with NFT Signals, you only need to join their free Telegram channel here and start getting profitable NFT trading signals.
What is Xchange Monster?

Xchange Monster is a cryptocurrency platform whose goal is to unite both the publishers and the gaming industry by creating a value-driven ecosystem.
The platform is in its initial phase of the presale. Presales have become a common way of launching new cryptocurrency projects as they create anticipation and provide crypto lovers with an opportunity to purchase crypto coins cheaply.
The Xchange Monster gaming platform is seeking to create its lane within the gaming industry. The platform intents to improve the gaming experience of all users by increasing the level of interaction between publishers and the gaming community.
The platform also has a great business model that facilitates the accumulation of revenue for a continuous cash flow. The platform improves communication between operators and gamers and charges cost-effective prices.
NFT Signals and Xchange Monster Partnership
NFT Signals announced its partnership with Xchange Monster on Aug, 30 via its Twitter handle. The tweet read:
"We are partnering with @Xchange_Monster an all-in-one platform for gamers, crypto enthusiasts, and NFT lovers! The swiss-based platform licensed by FINMA is driving GameFi growth!"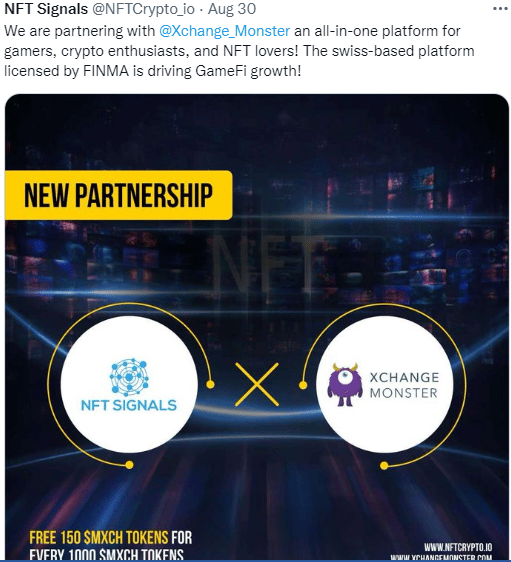 The partnership is expected to benefit both parties. The partnership will see both companies host shared community events and run a shared public marketing strategy. Xchange Monster will give users free 150 $MXCH to every user who buys 1,000 $MXCH tokens.
Other than receiving 150 tokens for every 1,000 $MXCH tokens bought, NFT Signals members will also be given access to a community AMA hosted on the Xchange Monster Telegram channel. The two companies will also take part in marketing activities.
Xchange Monster users will get a discount of 14% on NFT Signal Services and will be given access to data and information about websites used by NFT Signals to create NFT trading calls.
NFT Signals is expected to gain more users after exposure to the Xchange Monster's user base. The NFT Signals X Xchange Monster partnership is also set to benefit the Xchange Monster users by providing them with useful trading calls. This will increase their chances of trading NFTs successfully.
Darnell Williams, the head of marketing at NFT Signals had this to say:
"We're delighted to work alongside Xchange Monster to deliver our easy-access NFT trading signal tools to the wider cryptocurrency community. We can't wait to start working closely with Xchange Monster, and I know our community will appreciate the generous bonus that they've made available to us."
Felix Hogniwachs, the CEO of Xchange Monster said," NFT Signals offers a sharp-eyed strategic view of the NFT market and I'm delighted to bring their tools and services to the doorstep of our user base. I look forward to seeing the fruits of our combined labors in the very near future."