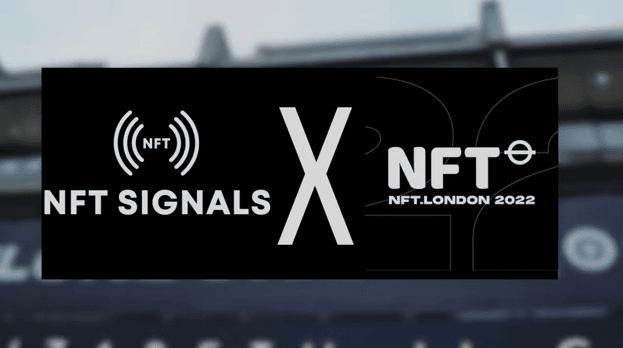 NFT.London 2022 has come and gone, but it has left lasting impressions in the minds of its participants. The two-day event ran from November 3rd, 2022 – November 4th, 2022.
The event was organized by NFT.NYC and it sought to welcome fresh ideas and NFT thought leadership from the UK and Europe. The NFT Signals team had a lot of fun and one of our members spoke live on the first day of the event.
NFT.London reached new audiences and with the help of the London NFT community, they were able to educate and share knowledge with those curious about NFTs (Non-Fungible Tokens).
NFT.NYC Overview
NFT.NYC was established in 2019 as an event organizer to bring together brands, builders, pioneers, developers, influencers, and NFT enthusiasts to celebrate blockchain innovations. NFT.NYC has been giving a voice to the NFT community and it has always received support from the most innovative projects and brands in the NFT ecosystem.
NFT.NYC aims to provide a forum where the NFT community can share ideas, bring NFT enthusiasts together, and educate the world about the value of NFTs.
In June, NFT.NYC organized a mega event that attracted over 16,000 attendees from 72 different countries to listen to 1,500 speakers from 16 NFT-focused tracks. NFT.NYC has focused to expand the conference to a global reach by taking the world-leading NFT events to other parts of the world. This month, they managed to take the event to the United Kingdom, London, for the first time. Since its launch, NFT.NYC has hosted over 20,000 attendees, thousands of top speakers, and the most innovative projects in the NFT ecosystem.
The NFT.London event was supported by Immutable, the blockchain tech firm behind Immutable X, an Ethereum Layer-2 platform, and Immutable Game Studio. Immutable together with NFT.NYC has entered into a multi-year partnership deal.
Immutable announced the partnership deal with NFT.NYC on October 7. The partnership deal will see Immutable support NFT engagement at all NFT.NYC events worldwide. Immutable was responsible for facilitating tickets for the just concluded NFT.London event.
NFT.NYC Set to Launch NFTs
Starting next year, Immutable will make NFTs from tickets for the NFT.NYC events, which can be minted on the Immutable X platform. The NFT Bags given to the event attendees will also be minted as NFTs on Immutable X.
The NFTs will be 100% carbon-neutral and will offer Ethereum-grade security.