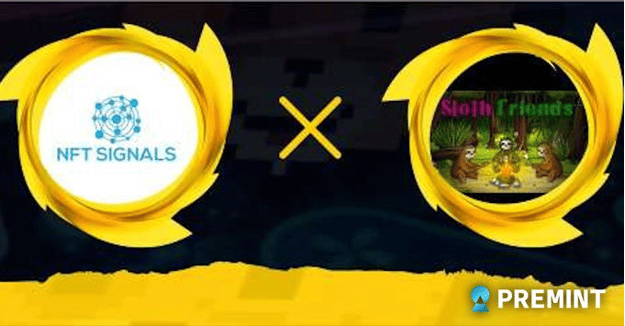 NFT Signals is a platform that helps its users to find profitable NFT flips. The platform also generates NFT buy and sell signals to help users start making money. So far, the platform users have earned over $50 million in total group profit.
Recently, NFT Signals signed a new deal with Sloth Friends, an NFT project that helps people connect with friends based on interests. In this article, we will discuss what the new partnership means for the users. But first, let's get a brief overview of each project.
What is NFT Signals?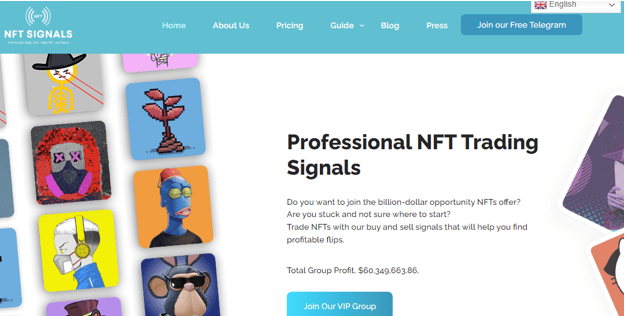 NFT Signals is a group that provides support and advice to NFT traders, helping them to reap maximum benefits out of speculations in the NFT market.
The NFT Signals platform provides its users with access to about 100 algorithmically generated trading signals every month. The signals keep users updated on the latest profitable NFT trading opportunities in the market. By actively trading these signals, the users increase their chances of making a profit. Thus, the platform makes the NFT buy and sell process easy for users.
The NFT Signals algorithm keeps on scanning the NFT market continuously to identify opportunities. The algorithm also has access to different whitelists. The algorithm generates accurate predictions from the information it gathers and shares them with users to update them on the profitable NFT trading opportunities in the market. Such signals also help the subscribers to assess the market performance.
It's worth noting that the NFT Signals algorithm doesn't execute trades automatically. The users receive the signals, and it's up to them to decide whether to put them into practical use or not.
NFT Signals saves users the time and effort needed to find the suitable NFT collection to invest in according to their budget, strategy, and quality of NFT. The trading signals are obtained by combining various technical analysis techniques and approaches.
To get started with NFT Signals, you only need to join their free Telegram channel here. You will then start getting profitable NFT trading signals.
Although NFT Signals has a free Telegram group that anyone can join, they also sell access to information about NFT market predictions. They provide at least 5 tips each week and advice users on whether to enter short or long trades.
What is Sloth Friends?

Sloth Friends is an NFT project founded on Web3. The project represents different people and things based on where they are discovered and how you interact with them. It is also a gateway for some people to find other NFT projects. Sloth Friends is a place to connect with people based on interests such as Web3, sports, and other hobbies.
The Sloth Friends NFT project also has other initiatives outside the NFT world. They are creating a library of relaxing & chill music for chilling out and relaxing. The music will be promoted on streaming platforms such as YouTube and Spotify, thus, it has a huge market for streaming. The initiative will help them to create a brand that they can use to market their NFT project to non-holders.
The revenue generated from such initiatives will be taken back to the project for the benefit of the NFT holders.
The Partnership Benefits
NFT Signals announced its partnership with Sloth Friends on September 21st via its official Twitter handle. It posted the following:
"NFT Signals x Sloth Friends 50 Exclusive Whitelist Slots! Register using the premint link to participate in the @SlothFriendsEth WL
https://premint.xyz/nft-signals-x-sloth-friends/
#NFTGiveaway #NFTGiveaways."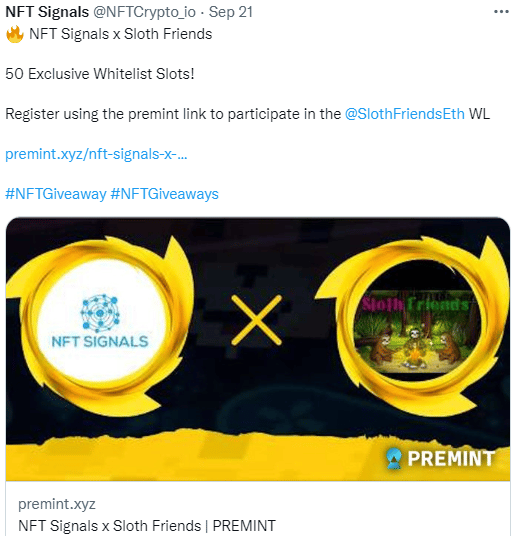 The partnership is set to be launched on October 1st and users will be given access to a free mint. However, the exact time of the launch is yet to be announced. The NFT Signals x Sloth Friends partnership will come with a total of 555 NFTs for purchase by NFT collectors.
There will also be 50 whitelist spots and 10 NFTs for a giveaway. Everything about this partnership is currently in an onboarding stage, so you have adequate time to prepare yourself to benefit starting October 1st.
The NFT Signals x Sloth Friends partnership will also see both parties grow their user bases. NFT Signals users will find Sloth Friends a promising NFT project. They will invest in the project by buying its NFTs. Thus, Sloth Friends will gain new users from the partnership.
Sloth Friends users will also develop an interest in NFT Signals. The platform is very useful to both new and experienced NFT collectors. To continue receiving NFT buy and sell signals, they will join the NFT Signals platform. Thus, NFT Signals will grow its user base from the partnership.