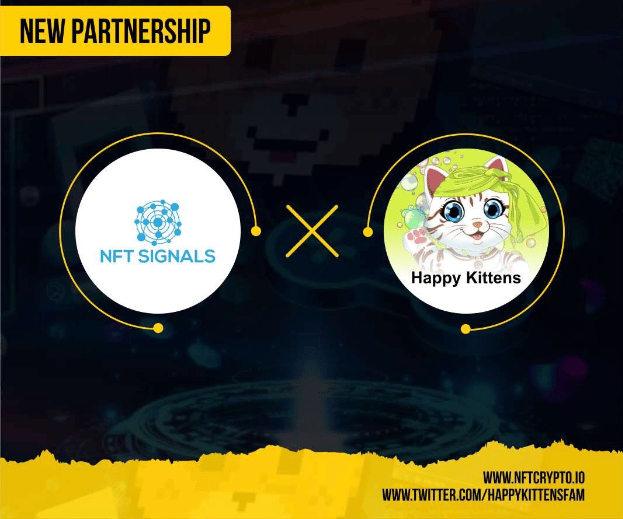 Trading NFTs has become one of the ways of making money from the blockchain. NFT Signals has established itself as an NFT platform for generating safe and profitable NFT trading signals for its users. So far, NFT Signals members have made a group profit of more than $49 million.
To bring more benefits to its users, NFT Signals has been entering into partnerships with other key players in the NFT market. The platform has so far partnered with Beastlike, Xchange Monster, Prime Aeternas, Masata Club, 8-Bit Map, and now Happy Kittens. So, what does the NFT Signals x Happy Kittens partnership entail? Let's find out.
What is NFT Signals?
NFT Signals is a platform launched to provide its users with access to about 100 algorithmically generated trading signals every month. The signals keep users updated on the latest profitable NFT trading opportunities in the market. By actively trading such signals, the users have a high chance of making a profit.
The NFT Signals algorithm keeps on scanning the NFT market continuously to identify opportunities. The algorithm also has access to different whitelists. The algorithm generates accurate predictions from the information it gathers and shares them with users to update them on the profitable NFT trading opportunities in the market. Such signals also help the subscribers to assess the market performance.
It's worth noting that the NFT Signals algorithm doesn't execute trades automatically. The users receive the signals, and it's up to them to decide whether to put them into practical use or not.
NFT Signals saves users the time and effort needed to find the right NFT collection to invest in according to their budget, strategy, and quality of NFT. The trading signals are obtained by combining various technical analysis techniques and trading approaches.
To get started with NFT Signals, you only need to join their free Telegram channel here and start getting profitable NFT trading signals.
What is Happy Kittens?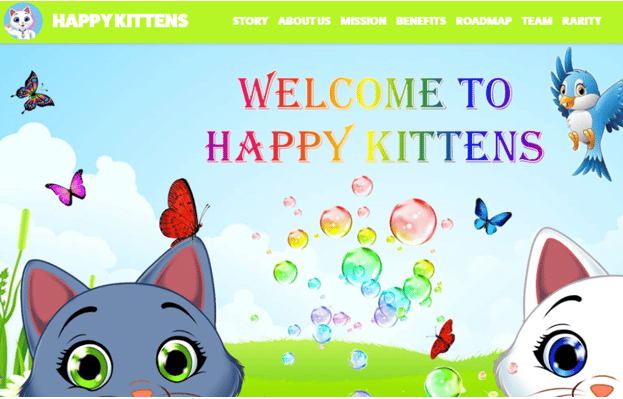 Happy Kittens, also Happy Kittens Boys (HKB), is an NFT collection comprised of 10,000 unique pieces of art minted on the Ethereum blockchain network and hosted on IPFS. The NFT collection has 300+ hand-drawn and randomly generated features as well as an ERC-721A smart contract.
The kittens in the NFT collection are from different regions including Africa, India, North America, South America, Japan, and Europe. The NFT collection uses the "unity without borders" concept to break the barriers of religion, race, color, social class, and more.
The NFT collection seeks to create a supportive and dynamic environment for artists, collectors, and community members. That's why their team comprises young talented individuals, developers, and artists in need of support to grow their skills and knowledge.
The long-term goal of the project is to create a strong community to take part in saving and helping the creatures that depend on it for love, care, and help.
The HKB owners enjoy benefits such as prizes for minting NFTs on the whitelist, places in DAO for selection of projects, and more. A percentage of sales is returned to the community.
What the NFT Signals x Happy Kittens Partnership Entails
NFT Signals announced its partnership with Happy Kittens on September 07 via its official Twitter handle.
"NFT Signals x Happy Kittens 10 Exclusive Whitelist Slots! WL = FREE MINT
Register using the premint link for a chance to win a free mint for @happykittensfam
https://premint.xyz/nft-signals-x-happy-kittens/
#NFTGiveaway #NFTGiveaways," the tweet read.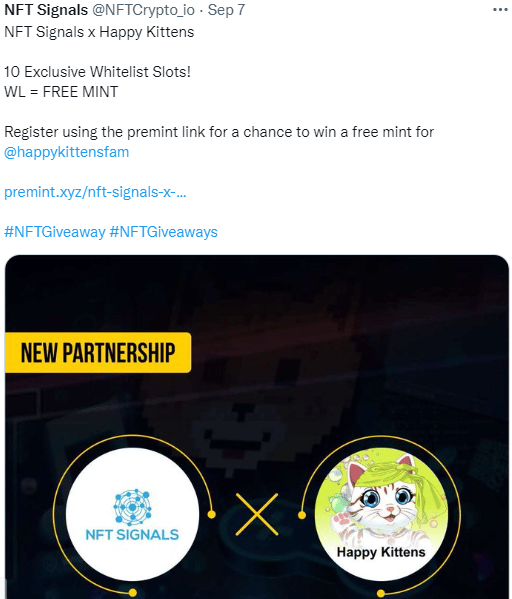 The partnership is set to begin on October 8, at 8:00 UTC, and will come with a supply of all the 10,000 Happy Kittens NFTs. Users will have access to 10 WL spots and the launch price is set to be announced later.
The partnership is set to be a win-win situation for both parties. NFT Signal users are expected to grow their interest in Happy Kitten NFTs and venture into it. Happy Kittens will grow its user base from this.
Happy Kitten users will also like to continue receiving safe and profitable NFT trading signals. NFT Signals also selects the most promising NFT projects for its members. As a result, NFT Signals will grow its user base.
The partnership will also be announced on various social media platforms to reach more NFT collectors.