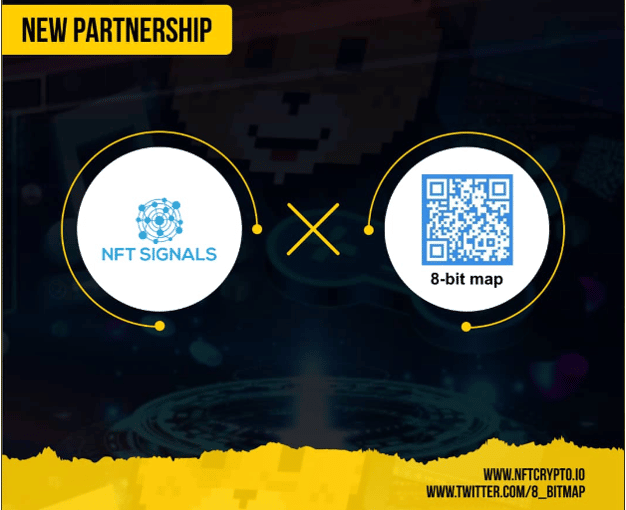 NFT Signals, a platform that generates NFT trading signals has made more than $53 million in group profit for its members so far. In a bid to grow its user base and benefit its group members, NFT Signals has been entering into partnerships with other players in the NFT market.
Recently, NFT Signals announced its new partnership with 8-bit map, an NFT project that creates pixel art on the blockchain. So, what benefits will NFT collectors reap from this partnership? Let's find out.
What is NFT Signals?
NFT Signals is a platform launched to provide its users with access to about 100 algorithmically generated trading signals every month. The signals keep users updated on the latest profitable NFT trading opportunities in the market. By actively trading such signals, the users have a high chance of making a profit.
The NFT Signals algorithm keeps on scanning the NFT market continuously to identify opportunities. The algorithm also has access to different whitelists. The algorithm generates accurate predictions from the information it gathers and shares them with users to update them on the profitable NFT trading opportunities in the market. Such signals also help the subscribers to assess the market performance.
It's worth noting that the NFT Signals algorithm doesn't execute trades automatically. The users receive the signals, and it's up to them to decide whether to put them into practical use or not.
NFT Signals saves users the time and effort needed to find the right NFT collection to invest in according to their budget, strategy, and quality of NFT. The trading signals are obtained by combining various technical analysis techniques and trading approaches.
To get started with NFT Signals, you only need to join their free Telegram channel here and start getting profitable NFT trading signals.
What is 8-Bit Map?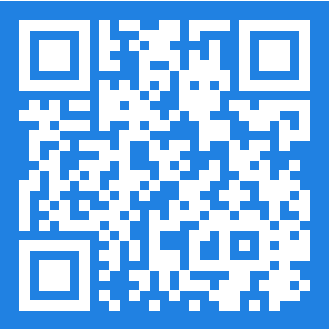 As we stated above, 8-bit map is an NFT project that creates pixel art in the blockchain. The NFT collection is made up of a number that embeds in an animated QR code with a 1/1 unique address that runs on the blockchain.
The NFT project developers understand that the value of an object depends on its demand and supply. To control the supply, the project takes a unique element- a number, to reference an NFT. Each number is then assigned an interesting story. To avoid the monotony of printing the text, they pick a container for display, the QR code.
To attract attention, they have come up with a new way of presenting a static image. Although they are not the inventors of QR codes, they are the first ones to mint it into an NFT and make it available in the Metaverse. The QR code is normally represented as a square of pixels. These are in turn animated randomly to create a scannable code. This visual effect of this usually attracts many people.
What the Partnership Entails
NFT Signals announced its partnership with 8-bit map on September 05 via its official Twitter handle.
The tweet read, "Great News! We are partnering with @8_bitmap, an NFT project that creates pixel art on the blockchain. #PixelScan is a unique QR code NFT Collection powered by tailor-made and personalized code. Follow them on @8_bitmap to learn more!"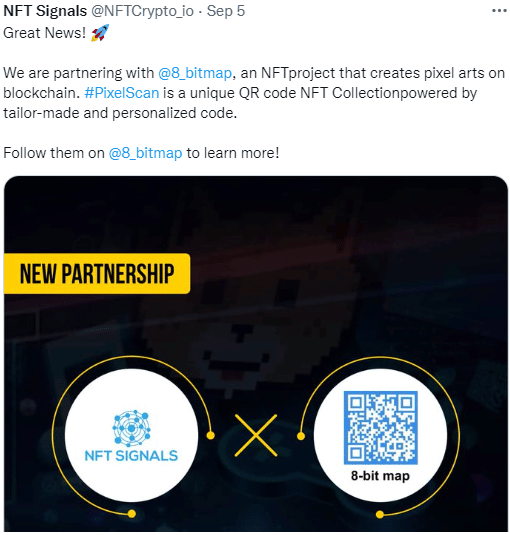 This is not the first time NFT Signals is partnering with other NFT projects, but it has announced partnerships with Beastlike, Xchange Monster, Prime Aeternas, Masata Club, and others.
The NFT Signals X 8-bit map partnership comes with benefits to NFT collectors. A total of 1,400 NFTs are available for the users to choose from. The ongoing partnership also comes with NFT to be used as a giveaway. The giveaway NFT is customized for the users.
The partnership is a win-win situation for the parties as they are both set to benefit. NFT Signal users will like the unique approach of 8-bit map to the NFT industry. They turn QR codes into NFTs, a process that has never been done before. Thus, 8-bit map will grow its user base.
The 8-bit map users are actively looking for the most promising NFT projects to invest in. These users will gain interest in NFT Signals as it selects viable NFT projects for users. The platform also generates safe and profitable trading signals to save users the time and effort needed to find the right NFT collection to invest in. 8-bit map users will also gain interest in this and help NFT Signals to grow its user base.