LimeWire was a popular peer-to-peer file-sharing service in the early 2000s. It enabled users to download and upload images, songs, and videos, even illegally. LimeWire was closed in 2010 due to a legal battle over copyright infringement charges. LimeWire relaunched last year but in a different form. It reemerged as an NFT marketplace where you can buy LimeWire NFT. In this article, we have summed up everything about LimeWire NFT and explained where and how to buy LimeWire NFT.
About LimeWire NFT
If you were a teen in the early 2000s, chances are you heard or even used LimeWire. Launched in May 2000, the peer-to-peer file-sharing software became synonymous with pirating videos and MP3s during the early days of file sharing. At its peak, LimeWire had more than 50 million active users. The music industry has gone through significant changes since then.
The LimeWire of today is very different from the old one. Instead of giving out art for free, the goal of LimeWire is to enable artists to monetize their work in a secure and easily accessible environment with fair compensation.
The LimeWire NFT marketplace is easy to use and its goal is to let artists go back to selling records, music-related art, and other collectibles directly to followers and fans with much simplicity. LimeWire NFT can be used by anyone, even those without prior technical knowledge about NFTs.
LimeWire is a mainstream-ready marketplace for musicians to sell art and uniquely interact with collectors, their community of loyal fans, and anyone with an interest in their art or music. The platform wants to empower artists to offer digital collectibles rather than handing out their work for free.
History of LimeWire NFT
LimeWire was launched by Mark Gorton in 2000 and it quickly became a popular peer-to-peer file-sharing software. At its peak, 50 million people were using the software to share music and software for free.
The software existed for about a decade before it was shut down in 2011 by record companies. In 2006, lawsuits for a penalty were filed, raising penalties worth $105 million for copyright infringement. This led to the discontinuation of LimeWire.
Those behind the idea of resurrecting LimeWire in a new form hope to make the name great again and correct the wrongs of the past.
Paul and Julian Zehetmayr, who are Australian brothers, are the new owners of LimeWire branding, and they managed to acquire the rights to the name for trading NFTs. The two are also the co-founders of Stack Holdings, a b2b software company.
The concept behind the LimeWire NFT marketplace is similar to the former music-sharing service, that is, art and music for the people. However, the service aims to meet the expectations of both collectors and artists and it is not free.
How Does the LimeWire NFT Marketplace Work?
The LimeWire NFT marketplace combines the best of Web2, that is, an intuitive UI/UX without the need for using Web3 interfaces or cryptocurrency wallets, by making digital collectibles withdrawable through the highly efficient Algorand blockchain.

This results in a mainstream-ready marketplace for all types of digital collectibles, easy to use by newbies. It also gives experienced users everything they need to take their digital collectibles with them.
To use the LimeWire NFT marketplace, artists are either on-boarded by the platform's team directly or verified that they are the copyright owners. Thus, the platform is serious about preventing copyright infringement.
LimeWire NFT traders can use cryptocurrencies on the marketplace, but they don't have to. They must not even own an NFT wallet or crypto to join the platform, which reduces the entry barrier. Instead, the LimeWire NFT marketplace uses the US Dollar as the main currency on the platform plus many other currencies and crypto.
LimeWire plans to give artists advanced features to engage and interact with their community. Owners of particular LimeWire NFT collections can get perks, get cheaper concert tickets, and receive announcements earlier, exclusive merchandise, and more.
LimeWire NFT Combines the Best of Web2 with Web3
By combining the best of Web2 with Web3, the LimeWire NFT marketplace makes NFTs accessible to everyone while at the same time offering the advantages of the blockchain.
Centralized marketplaces offer some benefits compared to fully decentralized ones. The LimeWire NFT's approach means that users must not have an experience with cryptocurrencies at all, hence, there is no requirement to secure their crypto wallet. However, they can withdraw to a self-hosted wallet.
LimeWire NFT also makes the onboarding process easier. The main currency on the platform is USD and they accept credit cards, bank transfers, and other ways as payment methods. The platform also supports cryptocurrencies such as Ethereum, Bitcoin, Algorand, and others.
On top of the beginner-friendly LimeWire NFT marketplace, the team has integrated Web3 features to give users full flexibility and ownership over their LimeWire NFTs. Other than Algorand, the team has integrated cross-chain bridges to Ethereum and Polygon. The platform also accepts more than 20 cryptocurrencies for buying NFTs.
Related :
LimeWire NFT Utilities
The two Australian brothers have promised to make the new LimeWire a platform for artists. LimeWire will work with both creators and collectors about the new marketplace.
A non-fungible token, or NFT, is a non-interchangeable digital asset stored on the blockchain. An NFT can represent an audio, video, photo, tweet, etc. NFTs can be traded on NFT marketplaces.
NFTs are becoming popular because they are easy to trade. Their digital form means they don't need any physical storage, yet the digital artwork can fetch the same price in the market as the actual real-life artwork.
Interestingly, being an NFT owner does not automatically give you the copyright and intellectual property rights to the digital asset. So, artists can create more NFTs of the same work.
What makes LimeWire NFT more significant is that it aims to bring the average non-technically savvy music lover into the new world of digital collectibles. The LimeWire NFT marketplace makes it easy to buy NFTs even for music lovers without experience with crypto.
LimeWire NFT makes NFTs accessible to the average music fan who does not understand the blockchain or own cryptocurrency. The platform is trying to accomplish this by accepting traditional payment methods in addition to the crypto wallet. The traditional payment methods include credit cards and bank transfers. These will be facilitated by LimeWire's partnership with Wyre.
The NFT LimeWire marketplace will be different from other streaming platforms because it will grant music fans access to exclusive content in the form of NFTs, such as pre-releases, limited editions, demos, live performances, and similar fan-desirable content.
The LimeWire NFT marketplace also offers its community tools for artists and their most loyal fans to connect and engage with ease. LimeWire aims to attract music lovers, artists, and collectors willing to join the new crypto music playground.
How to Invest in LimeWire NFT
NFT marketplaces work just like stores that you visit to look around and purchase items. The LimeWire NFT marketplace is not different from this. However, you must create an account on the platform to buy LimeWire NFT.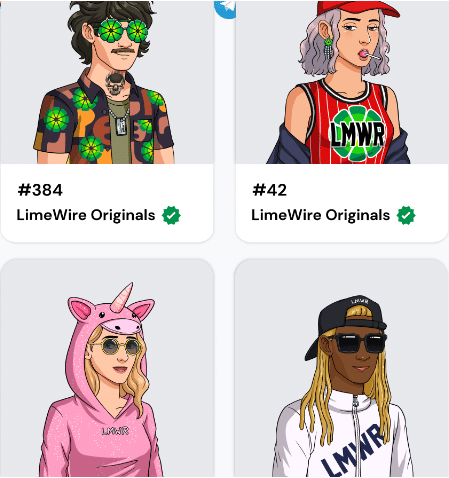 You will only need a credit card or bank account to buy a LimeWire NFT. This is very appealing to music fans not familiar with the blockchain but ready to learn.
Other than buying and selling NFTs, you can also mint your NFTs on the marketplace, that is, turn your music creation into a digital asset on the blockchain to make an NFT.
LimeWire has promised to be generous to creators and offer them a rewarding experience for using their new platform. LimeWire is a recognized brand among music lovers, which is a guarantee to artists that their NFTs will be visible to a wide audience.
Buy and Sell NFTs for a Profit
You can grow your crypto earnings by buying NFTs and selling them for a profit. NFTCrypto.io has made this even easier for you via their NFT signals trading system. They find profitable flips in the NFT market and share the signal with you in real-time. Join NFT Signals now and become a successful NFT trader. The platform users have so far earned a total group profit of over $1 Billion.
Read Also :