What are the NFT Monkeys?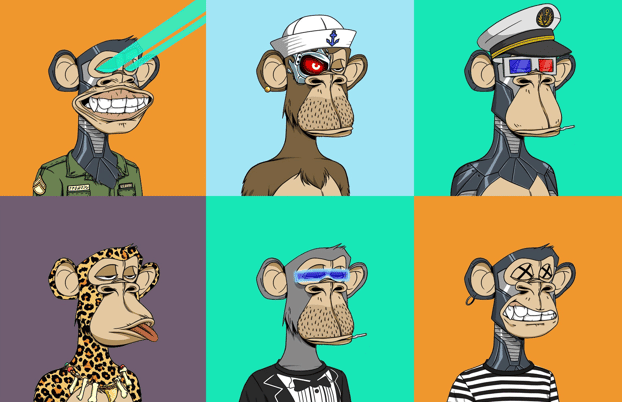 NFTs (Non-Fungible Tokens) were invented in 2014 but their popularity only rose last year. NFTs are digital assets that run on the blockchain. Each NFT is unique and it can represent an image, audio, video, real estate, or any other piece of art. NFTs depend on blockchain technology to ensure that they cannot be reproduced or duplicated.
An NFT monkey is a collection of cartoon apes, popularly known as Bored Ape NFTs.
The collection of bored apes is bought and sold as an NFT. The different features used in each ape design have an impact on its price. Investors see the NFTs as security and their value can adjust to market movements.
NFT monkey has led to the growth of the entire NFT community. The first Bored Ape NFTs were each sold for about $300 in Ethereum. Their prices have continued to skyrocket since then, with one attracting a price of several hundred thousand dollars.
The NFT monkey art may become valuable worldwide, or it may evaporate with time, only time will tell. If they attract enough attention, they may be able to stay around like digital art.
How to create monkey NFT
The following are the steps how to create monkey NFT:
Step 1: Create your own NFT monkey art
It is possible to create an NFT monkey art without writing a single line of code. You can use your own NFT monkey art template or find one online.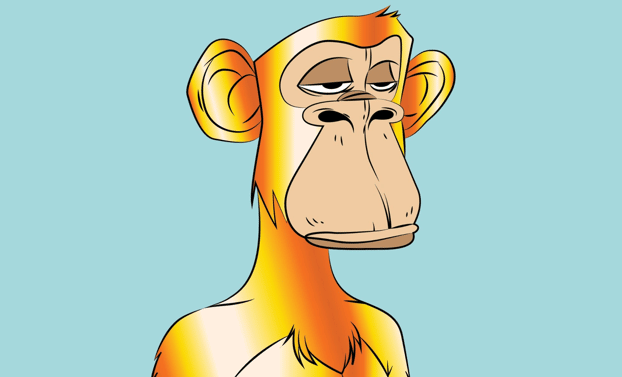 Online platforms such as Appy Pie design provide NFT monkey art templates that you can use to create your NFT monkey. You can customize the NFT monkey art with color, text, and design.
Step 2: Create a crypto wallet
To create an NFT monkey, you need a crypto wallet. The crypto wallet will be used to pay for the fees charged by the NFT platform that you choose to list your NFT monkey. You will also receive proceeds from your NFT monkey sales in the same crypto wallet.
Most NFT platforms run on the Ethereum blockchain and they only accept ETH payments. This means that it will be safe for you to fund your crypto wallet with ETH. You can purchase the ETH from crypto exchange platforms such as Coinbase and Binance. After the purchase, transfer the ETH from the exchange to your wallet. You may incur some fee for this.
You can use digital wallets such as MetaMask and Coinbase wallet.
Step 3: Choose an NFT marketplace
Now that your NFT monkey art and funded crypto wallet are ready, it's time to choose an NFT marketplace were to list the NFT monkey. You have several options for this, including OpenSea, Rarible, Foundation, and SuperRare. OpenSea is so far the largest of all NFT platforms. The process of listing NFTs on OpenSea is also easy.
After deciding on the NFT marketplace to choose, connect your funded crypto wallet to it.
Step 4: Upload the NFT Monkey art
This is the fourth step how to create monkey NFT. You should now upload your NFT monkey art to the NFT marketplace. Listing the NFT on the marketplace will make it visible to those who visit the platform to buy NFT monkey or other types of NFTs. The process of listing an NFT is almost similar to most NFT marketplaces.
The NFT marketplace will require you to upload the digital file for the NFT monkey and give it a title and a description. Ensure that the two convey to potential buyers what the NFT monkey is all about. The description should be catchy to increase your chances of making sales.
You will also be required to set the monkey NFT price to help potential buyers know how much is a monkey NFT.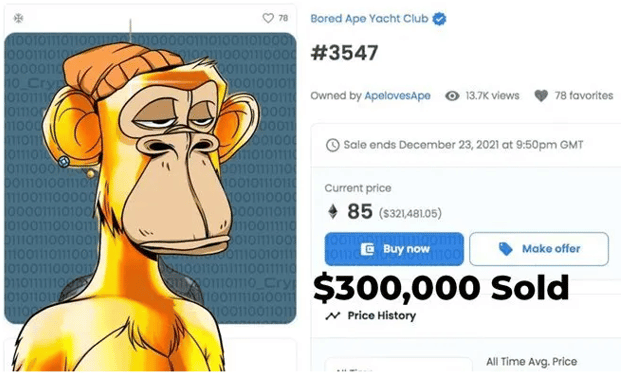 You have two options when it comes to setting the monkey NFT price: fixed price and auction style. For the fixed price approach, you will set a specific price for the NFT monkey and wait for a buyer. For the auction style, you will specify the minimum price that you can accept for the NFT monkey. Different potential buyers will then place their bids, and the highest bidder will buy NFT monkey and become its new owner. You can also allow the NFT marketplace to execute the transaction after a certain period without your intervention, provided a buyer has placed a bid to buy NFT monkey.
Step 5: Market the NFT Monkey
Listing the NFT monkey on the NFT marketplace is not enough. You should market it and make it visible to the world. As you market the NFT monkey, you should be geared towards building a community of followers who will be interested in your work. This will improve your chances of selling even your future NFTs.
You have many options when it comes to marketing the NFT, including using social media channels, building a portfolio website, and joining NFT communities on Discord, Reddit, and Twitter.