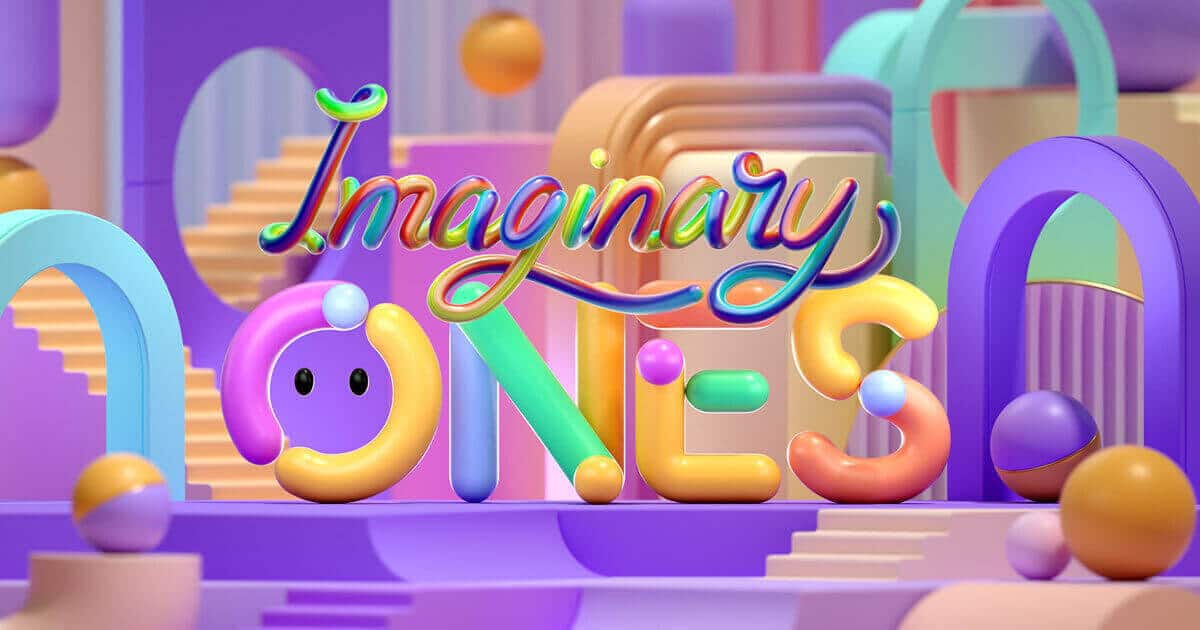 As the NFT market matures we're finding fewer and fewer influencers screaming WAGMI so maybe it is time for a project with the motto "good vibes only." Unlike many NFT projects in space that launch almost immediately after they come to prominence, Imaginary Ones has been on people's radars since the middle of January.  As the calendar has moved closer to launch, Imaginary Ones has taken the NFT world by storm amassing over 500k followers (and surprisingly performing incredibly well on Twitter audit. These projects are hard to read but the Art is incredibly polished, and the website is incredibly clean relative to a lot of other drops in the space. and the project appears to have an incredible amount of hype.
Imaginary Ones NFT Drop
Some people may find the art in the Imaginary Ones collection similar to the Invisible Friends collection, but the focus of an NFT project is not just the artwork. Currently, the private sale is underway, involving 4.2k pre-approved individuals. On April 28 at 3 am GMT, the public Dutch Auction will begin at 50% of the OpenSea floor price for the remaining 4,488 pieces. The price will gradually decrease by 0.1 ETH every 15 minutes until it reaches 0.2 ETH. Given the large community, the NFTs are likely to sell quickly.
The main purpose of the Imaginary Ones collection is to spread love, positivity, and creativity through art. The project encourages individuals to revisit their childhood ambitions and embrace their imagination.
Related : 
The team behind Imaginary Ones, previously from Offset Singapore, is fully transparent and consists of experts in digital video and animation. Clement Chia, one of the co-founders, has previous experience in the NFT space with a successful collection. The team has worked with renowned clients like Nike, Apple, Samsung, Heineken, Spotify, and L'oreal, showcasing their expertise in motion graphics. They prioritize community building and protecting their supporters, with 90% of the NFT sale revenue benefiting the community. It will be exciting to see what lies ahead for the Imaginary Ones family.
Jump Start your NFTs Success by getting early on game-changing Projects
Join our Discord Channel Today!
Mint Details Imaginary Ones
The Ethereum chain's ERC721 contract will be used to mint Imaginary Ones.
It will be carried out in two stages.
Phase 1
PRIVATE WHITELIST
Date: 27th April, Wednesday
Time: 2 am GMT+0
Duration: 24 hours
Price: 0.2 ETH
Supply: 4200
Phase 2
PUBLIC DUTCH AUCTION (DA)
Date: Thursday, 28th April
Time: 3 am GMT+0
Duration: Until collection sells out
Price: 50% OpenSea (OS) floor price, capped at 1.5 ETH
DA details: A drop of 0.1 ETH every 15 mins until it reaches 0.2 ETH
Max Qty: (1) mint per wallet
Supply: 4488
DA Start Price Scenarios:
When the OS floor price is 1 ETH then DA starts at 0.5 ETH

When the OS floor price is 2 ETH then DA starts at 1 ETH 

When the OS floor price is 5 ETH then DA starts at 1.5 ETH 

When the OS floor price is 10 ETH then DA starts at 1.5 ETH
Team Members of Imaginary Ones NFT
Clement is one of the co-founders of Imaginary Ones NFT and is also a founding member of OFFEO and OFFSET. He has experience as a Creative Director and Lead Artist.
David is also a co-founder of Imaginary Ones NFT and is also a co-founder of OFFEO and OFFSET. He has worked in strategy and business development.
Here are some of the contributors to the Imaginary Ones project: 
Cmttat

Gentle Whale

Nine Foot Table

Kbby

Mighty Mouse
Jump Start your NFTs Success by getting early on game-changing Projects
Join our Discord Channel Today!
Imaginary Ones Update about Staking 
In a Discord announcement, Imaginary Ones revealed that they will be introducing a staking feature to their project. The staking program will have different levels based on the duration of the stake, ranging from Wanderer to Multiverse Voyager. Collectors who stake their NFTs can expect rewards such as giveaways, whitelist spot raffles, claims, and more.
The launch of the staking program was initially scheduled for 6:00 a.m. ET but was delayed by two hours. As of 8:30 a.m. ET, the site was still not live, and no further updates were provided.
When an Imaginary One holder chooses to stake their NFT, it will be automatically delisted from OpenSea during the staking period. However, it is recommended that holders manually delist their NFTs before staking to avoid potentially relisting at the same price on OpenSea after the staking period ends.
The floor price of Imaginary Ones NFTs, which were initially minted at 0.6 ETH, currently stands at 0.396 ETH. The project experienced trading above the mint price in the past but recently reached a low of 0.3 ETH on Friday.
Read Also :
Conclusion
The initial artwork shared on social media platforms indicates the high-quality and impressive nature of the Imaginary Ones NFT project. Members of the Imaginary Ones community are highly intelligent and enthusiastic compared to previous art projects. With a substantial Twitter following of 249K subscribers, anticipation for the minting process has been building up.
Buy and Sell NFTs for a Profit
You can grow your crypto earnings by buying NFTs and selling them for a profit. NFTCrypto.io has made this easier for you via their NFT signals trading system. They find profitable flips in the NFT market and share the signal with you in real time. Join NFT Signals now and become a successful NFT trader. The platform users have so far earned a total group profit of over $1 Billion.