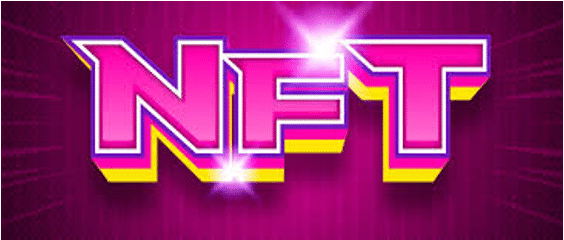 Over the past few years, the world has gone through many changes, especially regarding how people do business and interact with friends and family. Digital transformation has seen digital assets become a big deal today, with so much promise for Web3 and the Metaverse. An increasing number of folks are also paying attention to Non-Fungible Tokens (NFTs). For job seekers who are not afraid of learning new technologies, there are a lot of NFT jobs available, and NFT job opportunities are expected to increase in the future. In this article, we discuss the top NFT jobs that you can find in the NFT space today.
The Advantages of NFT Jobs
NFTs are digital assets living on the blockchain and they can represent either a digital or physical object. NFTs started to hit headlines in 2021 after events such as Beeple's sale of his artwork for over $16 million. Since then, artists, studios, and big brands have released an explosion of NFTs into the market.
Today, the NFT industry has grown to a billion-dollar industry and plays a critical role in the future of the Metaverse. For those looking for cryptocurrency and NFT jobs, there are many benefits of working in the space. These include the following:
#1: Remote work
With most crypto and NFT jobs, you can work from anywhere in the world provided you have an internet connection. This level of freedom appeals to many people.
#2: Join something new
2021 was the best year for NFTs and there is likely more to come. It's rare to get an opportunity to participate in a revolutionary technology while it's still in its infancy, and early participants in the NFT industry will reap huge rewards in the future.
#3: Education
If you've been stuck in a job without learning anything new, cryptocurrency and NFT jobs are different. There is so much innovation happening all the time and you can expect a lot in the year to come.
While this may sound like great news to those looking for NFT jobs, there are some things you should note. Most companies in the NFT space are startups that expect their employees to work some extra hours and fully commit to their projects. Thus, if you are looking for a full-time NFT job, be ready for a lot of work and a fast-paced environment.
Skills for an NFT Job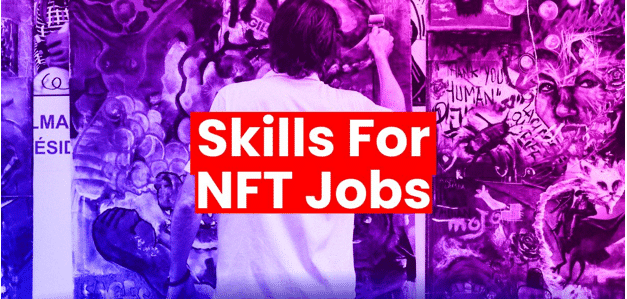 Since NFTs are a relatively new technology, most companies are willing to hire individuals who are not experts in the field. Thus, you can easily secure an NFT job provided you have the skills companies are looking for.
The following are the qualifications that can help you to land a job in the jobs NFT market:
#1: Knowledge
NFT jobs require people with knowledge about the blockchain, cryptocurrencies, and NFTs. If you have limited or no knowledge about NFTs and the blockchain, it is time to start reading and researching them. Luckily, there is a lot of information out there to help you get started.
#2: English
Being bilingual can be of great help in landing an NFT job, but you must have English skills. Almost every business conducted in the crypto and NFT space is done in English.
#3: Communication skills
Blue-chip NFT projects such as the Bored Ape Yacht Club, CryptoPunks, and Cool Cats have thrived because of their strong communities. Thus, learning how to relate well with colleagues in the NFT space is critical.
#4: Writing skills
If you have good writing skills and you can explain NFT concepts in a manner that can easily be understood, you can easily secure yourself an NFT job.
Of course, it is good to have some previous work experience. However, when it comes to NFT jobs, if you have or can acquire the skills that companies are looking for, it will not be much difficult for you to find an NFT job.
Top NFT Jobs and How to Apply
There are many NFT jobs in the crypto space and as the Metaverse continues to grow, more are expected. Some people believe that one day, every job found in the real world will also be available in the Metaverse.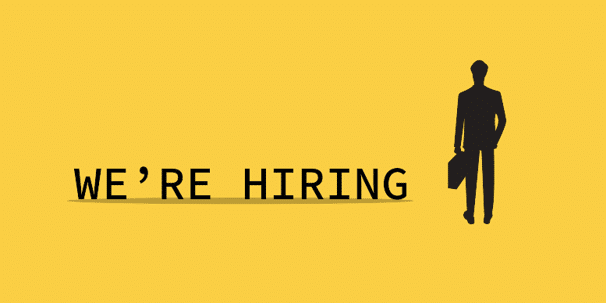 Below are the top NFT jobs that you can find today:
#1: Creators
Artists, fashion designers, digital artists, musicians, product designers, graphic designers, and 2D and 3D artists capable of creating avatars, in-game items, wearables, and other types of digital art are in high demand. For example, Nike recently advertised the position of a digital material designer to help them create digital NFT sneakers.
#2: NFT Smart Contract Developer
If you have an understanding of how smart contracts work, and you can write and deploy them for blockchain-based projects such as NFTs, you can easily secure yourself an NFT job as an NFT smart contract developer. NFTs use smart contracts to self-execute when certain conditions are met.
These NFT jobs require individuals with skills in Solidity and other blockchain programming languages such as Rust.
#3: Writers
Writing is one of the NFT jobs that you can secure today. New companies are looking for writers to create content for their websites, write scripts and stories for NFT collections, and create other writings from emails and newsletters to social media posts.
 #4: Web Developer for NFT
Most tech projects have websites, and this is not different from NFT projects. Web development NFT jobs involve developers creating websites for hosting NFT projects where buyers can access and purchase the NFTs and connect with the team.
The project will act as the face of the NFT project. Thus, if you know how to code websites, you can easily secure yourself an NFT job as a web developer. There are tools such as the WordPress SDK that are good for website development. However, you will need additional technical skills because of new Web3 requirements such as wallet integration and on-chain tracking.
#5: Lawyers
Web3 and NFTs are still a new concept and unknown to many. Thus, many blockchain-based projects are facing the problem of legalities. From trademark restrictions to copyright design and compensation in case of loss, the demand for legal professionals to help resolve such issues has been rising.
To get an NFT job as a legal professional, you must have an adequate understanding of how the blockchain works with a focus on smart contracts, copyright laws in Web3, and business use cases of NFTs.
#6: Marketing Manager
As NFTs increasingly become popular, marketing NFT jobs have also been rising. Marketing Managers plan, implement, and execute strategic marketing plans for NFT startups and projects. This helps to attract new customers and sustain the current ones.
The marketing managers work in collaboration with social media managers to create compelling messages to be posted on social media platforms.
#7: Social Media Manager
The social media manager is also the community manager, and he is responsible for all the company's interactions with the general public through content posted on various social media platforms.
This NFT job involves analyzing the engagement data, identifying trends in interactions with customers, and planning how to create and run digital ads for the products.
#8: Discord Community Manager
Discord is one of the most important tools for Web3. NFT projects need to have a community, especially the one on Discord.
The Discord community manager is responsible for designing the rules, activities, and procedures to be carried out in the community. These are done in line with the vision of the NFT project to make the community members comfortable and identify any fraudulent members within the Discord community. They ensure that the voices of the members are heard and protect them against falling for NFT scams.
#9: Collabs Manager
NFT projects are seeking to enter into collaborations with other NFT projects, and this has created new NFT jobs. The work of collaboration managers is to seek other high-end NFT teams and projects and create collaborations. They plan and reach out to NFT Alpha groups and NFT managers and create partnerships.
This NFT job requires a good understanding of NFTs and Web3, as well as how to manage an NFT community.
Buy and Sell NFTs for a Profit
You can grow your crypto earnings by buying NFTs and selling them for a profit. NFTCrypto.io has made this even easier for you via their NFT signals trading system. They find profitable flips in the NFT market and share the signal with you in real-time. Join NFT Signals now and become a successful NFT trader. The platform users have so far earned a total group profit of over $1 Billion.