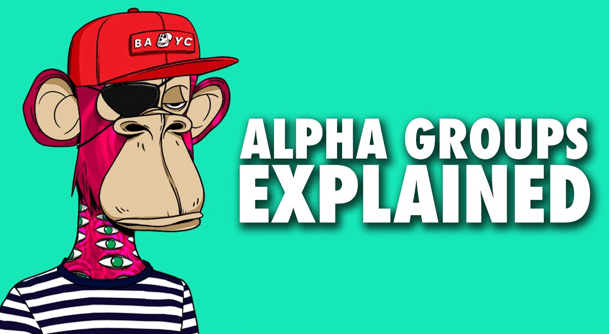 If you are an NFT artist, collector, enthusiast, or reseller, you must be part of a community. You can't make it on your own! That is why there are NFT alpha groups in the NFT space. Such groups provide information to guide you on your virtual, non-fungible journey. They also help new NFT projects get off the ground and promote the mass adoption of NFT technology. So,
What is an NFT Alpha Group?
Before we discuss what NFT Alpha Groups are, let's first get the exact meaning of the word "Alpha."
Investopedia defines "Alpha" as:
"Alpha (α) is a term used in investing to describe an investment strategy's ability to beat the market, or its "edge." Alpha is thus also often referred to as "excess return" or "abnormal rate of return," which refers to the idea that markets are efficient, and so there is no way to systematically earn returns that exceed the broad market as a whole. Alpha is often used in conjunction with beta (the Greek letter β), which measures the broad market's overall volatility or risk, known as systematic market risk."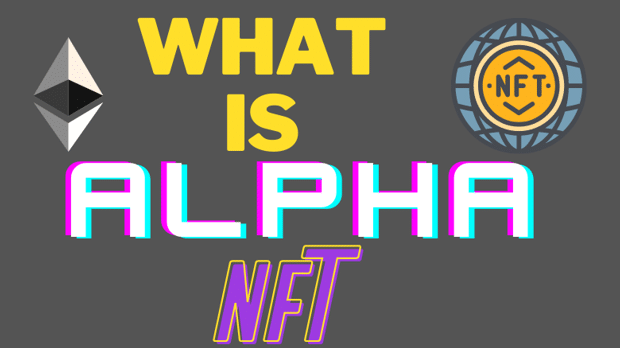 However, Alpha has gotten a new meaning in the NFT space. Alpha in the NFT market is used to describe valuable information about upcoming drops, updates, news, or more shared before it is released to the general public. With NFT market participants always eager to receive whitelists to make a profit, NFT Alpha Groups have become very important to both creators and investors.
NFT Alpha Groups are often led by Crypto Twitter Influencers or entrepreneurs who share the information they have gathered regarding upcoming NFT airdrops and whitelist opportunities. The NFT Alpha Group members are also allowed to share any alpha they have with the other group members. A member can belong to more than one NFT Alpha Group, hence, the alpha can spread from one group to another.
Best Platforms for Finding NFT Alpha
Investors in the NFT market have numerous platforms to gather valuable insights:
Social Media
Twitter is a treasure trove of information, especially through Twitter Spaces, offering free NFT insights. Instagram, TikTok, and YouTube also feature creators and influencers sharing valuable tips.
Discord
Many NFT projects share updates and exclusive info on their Discord channels. Joining these channels provides access to valuable insights and the latest NFT developments.
Podcasts
Podcast hosts and guests often possess deep NFT knowledge, sharing insights and predictions about upcoming projects and trends.
Real-life Events
Some NFT projects host in-person events, offering networking opportunities and insider info. However, attending usually requires owning an NFT from the project.
Alpha Groups
Dedicated communities on Discord or social media, often led by experienced members or group owners, provide exclusive insights into various NFT projects and opportunities. Joining an alpha group can keep investors ahead in the competitive NFT space.
What are the Benefits of NFT Alpha Groups?
Joining an NFT Alpha Group comes with several benefits. Whitelist opportunities are usually made available to the NFT Alpha Group members simply because they are part of the group. This is one of the reasons why NFT Alpha Groups are very appealing.
New NFT projects are being built and released frequently, and these come with whitelist spots. As the NFT market continues to show signs of recovery in 2023, more NFT projects are expected to be unveiled. Unfortunately, many projects with great potential fall at the first hurdle and are forced to stop the development of the promised utilities.
NFT Alpha Groups are very helpful to new NFT projects as they can supply them with a group of NFT enthusiasts who are ready to jump into any potentially profitable drop. However, NFT Alpha Groups combine the knowledge and experience of their members to determine whether their members should invest or not. The NFT Alpha Group leaders and members want to ensure that they are recommending quality NFT projects so that they get a high return on investment (ROI).
For the NFT Alpha Groups to succeed, they must work together in finding new NFT projects. Experienced members in an Alpha NFT Group also teach the less experienced members how to spot good NFT projects and the red flags they should look for before investing in an NFT project. Such comradery combined with informational materials provided by the group leaders strengthens the NFT Alpha Group.
Other perks that come with joining an NFT Alpha Group include Discord market analytical tools, Discord wallet trackers, daily analysis, discussions, and reviews, calls with experts, education on how to identify good and bad projects, sophisticated NFT rarity, quick buys, and portfolio tracker extension, mint alerts, whale wallet trackers, NFT listing bots, updates on NFT-related market information, and much more.
Should you Join an Alpha NFT Group?
Many benefits come with joining paid and unpaid Alpha NFT Groups. However, there are successful NFT traders who are not in any NFT Alpha Group.
Whether to join an NFT Alpha Group or not depends on your goals. If you desire to receive education about NFTs, many informational materials on the internet can help you to spot profitable NFT projects. However, if you are tired of spending much of your time on Twitter and Discord Servers looking for whitelist opportunities, joining a paid NFT Alpha Group will be helpful to you.
How Can I Join an NFT Alpha Group?
Most NFT Alpha Groups require you to pay an entry fee to access them. The entry fees can be in the form of a subscription, but it commonly comes in the form of an NFT. NFT Alpha Groups mint their own NFT passes which can be a simple entry pass or many entries passes representing lower or higher levels of access to the alpha.
There are however many Alpha NFT groups in which access to information is free. You can also utilize the endless amount of information shared by key opinion leaders (KOLs) on crypto Twitter. However, this method needs a lot of digging, and you will realize that there is much competition for alpha.
However, whether to go for paid NFT Alpha Groups or for the free public communities, remember to do your research.
Top NFT Alpha Groups on Discord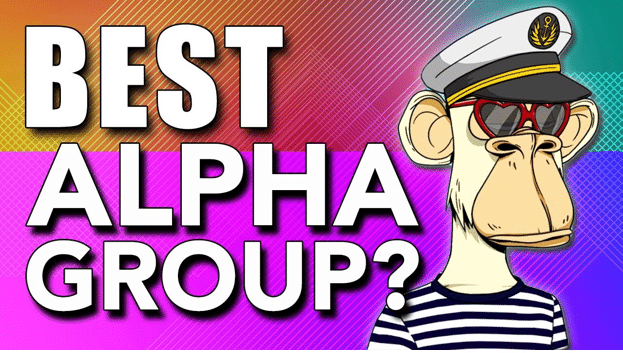 The following are the top NFT Alpha Group on Discord that you should consider joining today:
#1: Best NFT Alpha Group: NFT Signals
NFT Signals comes first in our list of top NFT Alpha Groups to join. It is the ultimate alpha group for beginner and experienced traders to make a profit by flipping NFTs. They have a Discord server with a general chat where you can get answers to all your questions about NFTs. Joining their Discord Server comes with benefits such as:
Answering all questions in the channels
Knowing successful NFT Signals done by the group
Talking amongst each other to keep hype and attraction going
Sharing the discord and telegram links tracked
Sharing the community in groups and building relationships with other mod community managers for partnership agreements
Join NFT Signals to get buy and sell signals and learn from their traders.
#2: Dark Echelon
Dark Echelon is a collection of 1098 general and genesis pieces generated programmatically on the Ethereum blockchain. Joining their server comes with many benefits. However, you can only access the benefits by owning a Dark Echelon NFT.
Joining their Discord Servers gives you access to:
– Daily analysis and discussions
– ZenTask
– Inbuilt Discord market analytical tools
– Inbuilt Discord wallet tracker
– Inbuilt Discord FOMO alert bots
– Automated Contract minter
– Whitelist allocations to upcoming NFT projects
– NFT rarity and portfolio tracker extension
#3: Plug Pass
Next on our list of the best NFT Alpha groups is Plug Pass. Owning a Plug Pass NFT gives you access to their exclusive NFT Discord Servers, the Kosher Crew. You will then get benefits such as:
– Whitelist access to upcoming projects
– NFT guides
– Daily mint schedule
– Discord analysis and live market updates
– Insider team trades
– Crypto trading and NFT expert calls
– Track listings and sales
#4: Champs Only
Champs Only is another NFT Alpha Group with a lot to offer. They have 1,444 Champs Only passes that grant you one-year access to your Discord Servers. This will give you access to:
Powerful integrated NFT tools
Whale wallet trackers
Smart money trade trackers
Listing bots
Real-time mint alerts
Whitelist spots on upcoming projects
#5: Free NFT Alpha Group: Double Agents
Double Agents is a free NFT Alpha Group that doesn't require prior minting. It is the best starting place for NFT beginners. If you are not ready to mint an NFT to enjoy the benefits of joining a Discord Server, choose Double Agents. It will allow you to know what it is without an actual crypto commitment.
Its Discord Server offers:
Whitelist spots on upcoming projects
Voice calls discussing projects and strategies
NFT giveaways for winning whitelist spots
Discounts on various online NFT Tools
#6: Zerk Pass
Zerk Pass is a collection of 333 geneses. Owning a Zerk Pass gives you exclusive access to the NFT Discord Servers offered by NFTZerk and his team. You also get many benefits to help you in your NFT journey. These include:
Exclusive NFT trading tools
Whitelist giveaways and raffles
Alpha call channels across the globe
VC calls regularly to discuss market news
#7: Top NFT Alpha Group: The A-List
A-List is an exclusive NFT Alpha Group founded by @SkiddilyNFT, an NFT trader and enthusiast. Their goal is to create value for their members via an analysis-based perspective. The NFT Alpha Group members enjoy benefits such as:
Whitelist giveaways and raffles
Alpha calls on NFT topics
Project reviews
A space where traders can grow
Different online Discord tools
Buy and Sell NFTs for a Profit
You can grow your crypto earnings by buying cheap NFTs and selling them for a profit. NFTCrypto.io has made this even easier for you via their NFT trading signal system. They find profitable flips in the NFT market and share the signal with you in real-time. Join NFT Signals now and become a successful NFT trader. The platform users have so far earned a total group profit of over $1 Billion.
Conclusion
NFT Alpha means getting special information and insights about NFT projects and the NFT world. You can find this information in places like social media, podcasts, real events, and alpha groups. Alpha groups are communities that focus on sharing secret NFT information. But when looking for alpha, be careful. Don't rush into paying for closed alpha groups without checking the source. NFT Crypto can give you valuable knowledge, whether you're new or experienced, and help you make smart investment choices.