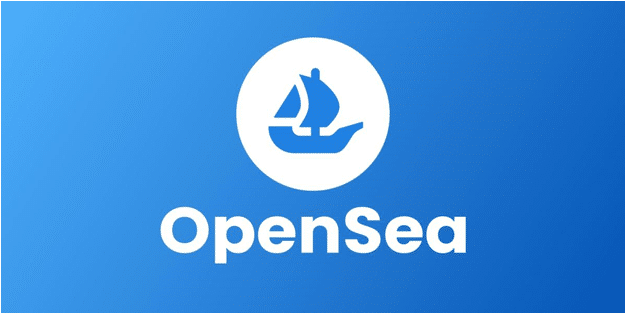 OpenSea, the long-time leading NFT marketplace, has debuted a new technique to battle its upstart rival, Blur, an NFT marketplace with more robust trading tools than the standard, zero marketplace fees, and plans to introduce NFT-based trading rewards.
OpenSea Pro is an extended and rebranded version of Gem V2, the upgraded version of the platform's aggregator that it acquired in April last year. During that time, Devin Finzer, co-founder and CEO, termed the move as one towards acquiring "more experienced, 'pro' users."
Under its new name, OpenSea Pro is still seen as a separate product from the standard NFT marketplace, although they are under the same brand umbrella. OpenSea Pro aggregates listings from over 170 NFT marketplaces, both large and small, including top NFT platforms such as LooksRare, X2Y2, and Blur.
Announcing the launch on Tuesday, OpenSea tweeted:
"Allow us to reintroduce ourselves
Starting today, Gem V2, the best-in-class NFT aggregator, is now OpenSea Pro!
OpenSea Pro will still be run by the same Gem team you know & love, but with unified brands, we are able to offer users MUCH more
Let's dive in."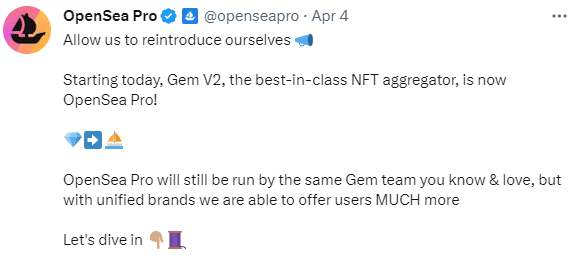 The platform also gives users more flexibility when searching for NFT listings and managing their digital asset inventory, as well as access to an aggregation of NFT collections listed across various NFT marketplaces.
Recently, OpenSea's main marketplace removed its typical 2.5% platform fee amid the rise of its upstart rival Blur, which recorded a higher trading volume than OpenSea in February. The firm announced that OpenSea will reinstate its standard 2.5% fee amid the launch of OpenSea Pro while the Pro platform will temporarily charge a 0% fee to its users.
OpenSea Pro will continue using the current OpenSea model when it comes to enforcing creator royalties. The model requires only a 0.5% minimum royalty on NFT projects not using an on-chain enforcement method. Sellers can pay more than 0.5% if they desire. A royalty is a fee paid to the creator of an NFT whenever it is resold or changes hands in the secondary marketplace.
The rise of the Blur NFT marketplace to the top can largely be attributed to the BLUR token rewards paid out to traders. OpenSea on the other hand doesn't have a token and seems it has no plans to launch any soon, but OpenSea Pro traders will receive another form of reward.
Buy and Sell NFTs for a Profit
You can grow your crypto earnings by buying cheap NFTs and selling them for a profit. NFTCrypto.io has made this even easier for you via their NFT trading signal system. They find profitable flips in the NFT market and share the signal with you in real-time. Join NFT Signals now and become a successful NFT trader. The platform users have so far earned a total group profit of over $1 Billion.