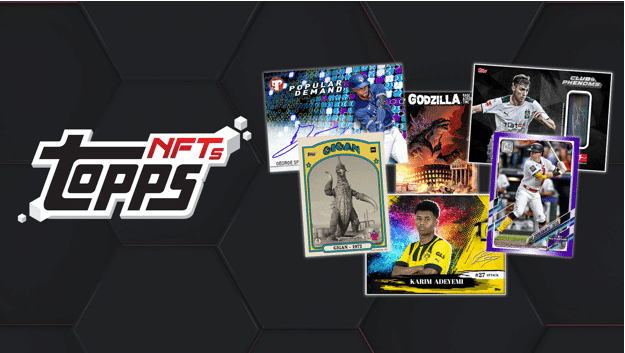 Topps NFT lets you collect digital cards for the top baseball players. If you have heard about the Tops NFT cards but don't know how to get started, this guide is for you. We will explain everything about Topps NFT, including what it is and how to buy Topps NFTs.
What is Topps NFT?
Topps is an American company that creates and sells trading cards, games, and collectibles. The company started by making candy, gum, and collectibles. Topps makes physical and digital products that include games, trading cards, stickers, special events, and albums. They have created a series of products based on things such as soccer, major league baseball, and Star Wars. Topps has also created apps that people can download and use for collecting and trading digital cards.
In 2021, Topps entered the NFT space by launching the Topps NFT, which is based on its trading cards. Before digging deeper into the Topps NFT, let's first know what NFTs are.
What is a NFT?
NFT stands for Non-Fungible Token and it refers to a unique digital asset that has no equivalent replacement. NFTs are used to represent the ownership of unique digital items such as art, videos, music, and other forms of media. For more explanation about NFTs, check out our blog about: What is a NFT?
 Why did Topps Launch the Topps NFT?
The world of sports collectibles is growing rapidly, and it was only a matter of time before top companies such as Topps joined it. Although Topps was not the first company to start selling baseball cards, it is the company that has endured the longest. The 2021 season marked the 70th consecutive year that Topps produced baseball cards.
The NBA's venture into the NFT space was a signal to Topps and other companies of the increasing demand for NFTs.
Topps NFT Collections
The Topps NFT cards are based on the Topps' trading cards and are stored on the Avalanche blockchain. This allows them to be bought, sold and traded like the traditional trading cards, but the blockchain makes them verifiable and more secure. The Topps NFT trading cards can be purchased from their official website.
Topps NFTs come in standard packs and premium packs and they can be bought with cryptocurrency or credit card.
One of the famous Topps NFT series is the Garbage Pail Kids, a collectible pack that has existed since the 1920s.
Other Topps NFT collectibles are Major League Baseball Cards, National Hockey League, Major League Soccer, Bundesliga, UEFA Champions League, Star Wars, and others.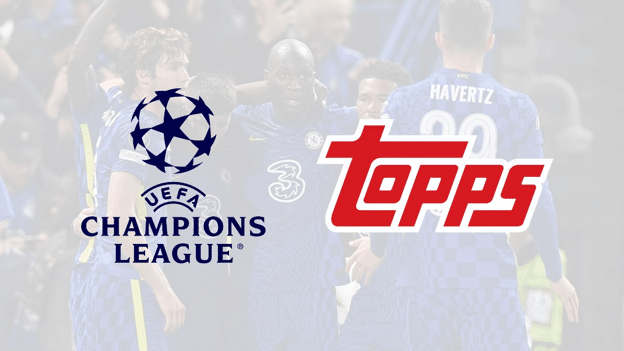 The following are some of Topps' most popular collections and trademarked games for digital trading cards:
Other than digital items, they also have physical items. Topps confections products include:
Juicy drop® (a brand of flavored gel)
Baby bottle pop® (a fruity lollipop)
Push pop® candy
Ring pop®, a wearable lollipop
How Can I Get Topps NFT?
Below are ways you can get a Topps NFT:
#1: The Official Topps Website
The most straightforward way of getting NFT Topps is by buying it directly from the official Topps website.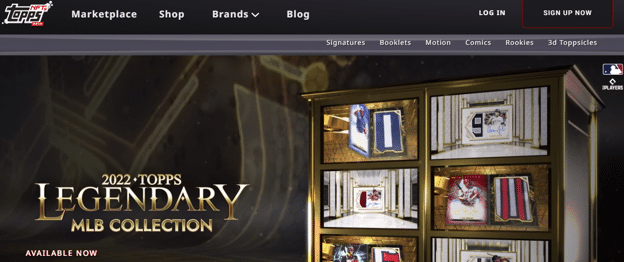 It is the company's official website where anyone can buy NFTs from their marketplace. It is easy to buy a Topps NFT on the platform. You should first submit your details and sign up for an account on the website.
Once done, open the homepage of Topps' official website and browse through the various collections. Check out categories such as signatures, booklets, rookies, motion, and comics.
After finding the Topps NFT that you want to buy, just add it to your cart, the same way you would for other online shopping sites. NFTs in some collections can be bought using a credit card. Topps will convert your dollars into crypto in the background and purchase the Topps NFT for you.
You can also purchase special editions like 3D Toppsiccles featuring amazing lenticular 3D images.
Once you have completed the checkout process, your new Topps NFT will be added to your collection.
The Topps NFT cards that are not available on the official website can be purchased on the secondary market. So, let's discuss the alternatives.
#2: OpenSea
OpenSea is the most popular NFT marketplace for buying and selling NFTs, including Topps NFT.
It has a variety of NFT collections listed for sale, including unique and rare digital collectibles.
To get started with OpenSea, visit its official website and connect your NFT wallet to the platform. You can then search for the Topps NFT that you want to purchase.
After finding the NFT, click the Buy button to purchase the NFT. ETH equivalent to the Topps NFT price will be deducted from your wallet. You may incur additional charges such as the gas price. You will then become the new owner of the Topps NFT.
#3: Rarible
Rarible is another online marketplace for buying and selling NFTs, and it has several Topps NFT cards. Rarible focuses on digital art and helping digital artists to showcase and sell their creations as NFTs.
The process of buying a Topps NFT on Rarible is straightforward and can be completed in a few steps.
First, create an account on the platform and you will be granted access to their marketplace. Find the Topps NFT of your choice and add it to your cart. Move to the cash-out page and complete the purchase.
Rarible allows you to pay in ETH or using Visa or MasterCard which are converted into ETH. So, if you don't have an NFT wallet, you can still purchase a Topps NFT on the platform with ease.
The platform will process the payment and the NFT will be added to your Rarible account, meaning you are its new owner.
#4: SuperRare
SuperRare is another alternative to find Topps NFT cards of choice. It is a unique platform that enables digital artists to sell their artwork. The platform features a wide range of digital art, including photographs, illustrations, and animations.
To buy a Topps NFT on SuperRare, you should first create an account on the platform. Browse through the marketplace to find the NFT of choice. Pick the Topps NFT of choice and pay using cryptocurrency such as Ethereum. Once done, you will receive the NFT in your SuperRare account.
#5: Auctions and Sweepstakes
You can also acquire a Topps NFT by participating in auctions and sweepstakes. Topps holds auctions for its limited edition NFTs frequently, giving you a chance to own a digital collectible.
That's why you should keep an eye on their official website and social media accounts to stay updated about any NFT auctions.
To get a Topps NFT through auction, you only need to take part in a live or online auction where Topps NFT cards are being sold. You will be required to place bids on the Topps NFTs you are interested in. The highest bidder will become the owner of the NFT. Thus, be ready for an exciting and tight competition.
To get a Topps NFT in the sweepstakes, simply enter a contest in which Topps NFTs are being given away in contests. To join a sweepstake, you may be required to complete a task, provide your personal information in a survey, share something on social media, etc.
Buy and Sell NFTs for a Profit
You can grow your crypto earnings by buying NFTs and selling them for a profit. NFTCrypto.io has made this even easier for you via their NFT signals trading system. They find profitable flips in the NFT market and share the signal with you in real-time. Join NFT Signals now and become a successful NFT trader. The platform users have so far earned a total group profit of over $1 Billion.