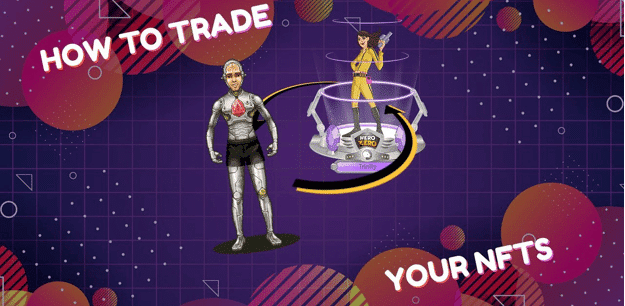 NFT trading is a hot topic not only in the cryptocurrency community but also among artists and collectors, leaving many people wondering how to invest in NFTs. In this NFT trading guide, we will discuss everything you need to know about trading NFTs.
NFTs (Non-Fungible Tokens) are records of digital files that are stored on the blockchain. NFTs can be digital records of collectibles, artwork, sports, domain names, trading cards, and virtual property that can be traded on blockchain technology.
Since NFTs run on the blockchain, each NFT is unique. NFTs also use blockchain technology to validate ownership of the digital item or commodity. Thus, you can view NFTs as deeds or certificates that show the digital ownership of intangible assets that cannot be duplicated or reproduced.
The transactions are recorded on the blockchain, which acts as a public ledger for recording deals on the decentralized web, providing transparency.
What is NFT Trading?
NFTs don't have a fixed value, and the value of an NFT is determined by its demand. This means that an NFT can be worthless or worthy of what another individual is willing to pay for it.
The goal of trading NFTs is to buy NFTs at a low price and sell them at a higher price, making a profit. Thus, trading NFTs is equivalent to trading other digital assets such as cryptocurrencies and stocks.
NFT trading is very popular today and it has dominated the headlines. Some pieces of artwork have successfully been sold as NFTs for millions of dollars. The popularity of NFTs has also risen because the NFT technology eliminates the need for middlemen, facilitating direct interaction between the buyer and the seller.
Jump Start your NFTs Success by getting early on game-changing Projects
Join our Discord Channel Today!
People have also joined NFT trading because it allows them to make money. The fact that nearly everyone can understand how to trade NFT makes the trade extremely amazing. NFTs are also highly intertwined with cryptocurrencies, and most cryptocurrency investors are increasingly venturing into trading NFTs.
So, if you had the question:
Can you trade NFT?
You now have the answer.
How to get into Trading NFTs?
NFT trading is done on NFT marketplaces. There are several NFT marketplaces that you can choose for trading NFTs. The process of trading NFTs on these marketplaces takes almost the same steps. Examples of such marketplaces are OpenSea, Foundation, Rarible, and SuperRare.
OpenSea is the largest NFT marketplace today and it has thousands of NFTs listed that offer you an opportunity for trading NFTs. Most of these NFT marketplaces also offer exclusive drops of the most demanded NFTs.
Before venturing into trading NFTs, it is worth noting that NFT trading is not a get-rich-quick scheme. Since NFTs are digital assets, their value can rise or fall. This is dictated by the forces of demand and supply. Many NFT traders have lost their money trading NFTs. Others have become dollar millionaires.
The process of starting trading NFTs is very easy. It involves the following steps:
Step 1: Set up a crypto wallet
The crypto wallet will help you to store the coins to be used in trading NFTs. Of course, you will need crypto for buying NFTs. The proceeds from your NFT sales will also be stored in the crypto wallet. MetaMask is the most popular crypto wallet. Setup a MetaMask account and fund it with ETH. Most NFT marketplaces run on the Ethereum blockchain, hence, they only accept ETH payments.
Step 2: Choose an NFT marketplace
You must choose an NFT marketplace for NFT trading. The NFT marketplace facilitates minting NFTs as well as trading them. Choose the NFT marketplace to use and connect your crypto wallet to it. The process of linking the two is almost similar to most NFT marketplaces, and it mostly involves clicking a "Connect" button.
Step 3: Acquire NFTs
To start NFT trading, you must have NFTs. You can buy these from NFT marketplaces. NFT marketplaces have thousands of NFTs listed for sale. Remember that trading NFTs involves buying NFTs at a cheaper price and selling them at a higher price. Buy undervalued NFTs that can fetch a profit when resold.
Step 4: Sell the NFTs
Now that you have the NFTs in your hands, it's time to sell them for a profit. You have to list the NFTs on the marketplace for sale. The NFT marketplace will require you to go through some steps to list the NFT for sale.
The marketplace will require you to give your NFT a title and a description. These should communicate the purpose of the NFT. Also, choose whether to sell the NFT through fixed price or auction.
The NFT will finally be listed and you will start receiving bids from potential buyers. For a fixed price, the NFT will be sold at the specified price. For auction-style, the highest bidder will become the new owner of the NFT.
Read Also :