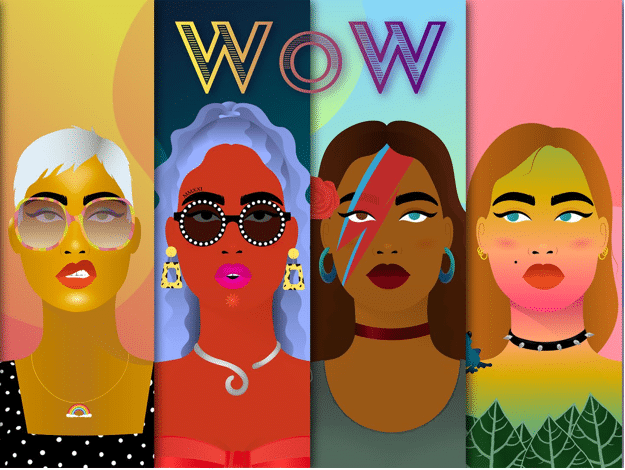 World of Women (WoW) is one of the greatest success stories in the NFT space. The project started as a collection of 10,000 profile pictures (PFPs) to give women space in the male-dominated crypto ecosystem. The World of Women NFT project has grown into a popular Web3-based brand exploring different media endeavors.
This article is a comprehensive guide to this impactful, colorful project. You will learn what the World of Women NFT is doing, why its inclusion in the NFT community matters, and how you can become part of the community.
What is World of Women NFT?
World of Women NFT started as a collection of 10,000 generative PFPs listed on OpenSea. The PFPs comprised 200 visual assets that WoW artist and co-founder Yam Karkai had drawn by hand. The project aims to create a pluralistic and positive community for all and encourage women to explore the opportunities offered by Web3.
Karkai is a digital artist who joined the NFT space in early 2021 as a single-edition NFT artist. She developed an interest in Web3 because of its flexibility in enabling artists to build in the space without relying on third parties.
"I was so excited to find such a new and unique opportunity and path for artists to showcase their work, promote themselves, and get paid for their craft," Karkai explained in one of her interviews.
For a long, Karkai has focused on empowering women using her art, depicting them using fine lines and vibrant colors to evoke a sense of fantasticality in her pieces. Her first single-edition NFT collection was Women by Yam-Females in the Spotlight, which was in a way a predecessor to the original World of Women NFT, featuring hand-drawn women depicted in bold and contrasting hues. Although the collection has since then sold out, it continues to make sales in the secondary market, with its total sales volume having hit 76.9 ETH on OpenSea.
During the NFT boom of 2021, Karkai saw an opportunity to spread her message even further, so she entered the PFP collectible space. This led to the birth of the World of Women NFT. "I knew that I wasn't the only one feeling and seeing that women and minorities were under-represented in this space," she says. "I was hopeful that it would attract people like me and people that share the same thoughts and values."
The World of Women NFT project was released for public sale on July 27, 2021, and was sold out in 10 hours. The NFT World of Women project generated a trading volume of 745 ETH within a month. By February 2023, this number had hit 74,454 ETH.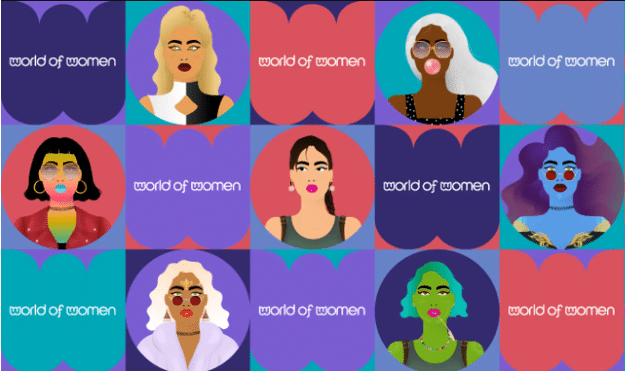 The World of Women NFT continues to grow. In March 2022, Karkai and the project's team expanded its community's universe by launching the World of Women Galaxy, which was a collection of 22,222 NFTs created from the original World of Women NFTs. The project's website states that the new pieces "traveled through a portal to join the Galaxy," multiplying and evolving as they came, finally emerging into new forms. The World of Women Galaxy collection also features 16 1/1 NFTs hand-drawn by Karkai, rather than being generated, called Guardians and Champions. The follow-up collection by World of Women NFT was sold out in three days.
Who Created the World of Women NFT?
Although the NFT World of Women project is a brainchild of Karkai, she co-founded it with Raphael Malavieille, an NFT collector and influencer BBA, and Toomaie. The team has grown by including Kashvi Parekh, Dani Ton, Julia Loiseau, Inna Modja, and Yen.
How the World of Women NFT Rose to Popularity
There are many reasons why World of Women NFT became popular. First, the NFT world was dominated by men and women are looking for an NFT project where they can fit well. The NFT World of Women is one of the successful women-led projects in the NFT space. The project has done better than other NFT projects in onboarding women to Web3. Before WoW, the Web3 ecosystem was skewed along gender-based lines. The NFT community was waiting for a project like WoW to give women a voice in the crypto space.
After the launch of the World of Women NFT, many celebrities bought the PFPs and started using them as avatars on social media platforms. Some of the celebrities who have championed this project are Eva Longoria, Napheesa Collier, Shonda Rhimes, and Reese Witherspoon. Gary Vee, a celebrated collector acquired 15 NFTs from both collections. These events helped to create awareness about the World of Women NFT, pushing the project to the level of fame it enjoys today.
Another reason behind the project's continuing staying power and cultural impact is the support of Reese Witherspoon, a vocal supporter of NFTs and the overall mission of the World of Woman NFT. Witherspoon developed so much interest in the project that in February 2022, she announced that Hello Sunshine, her production company, would enter into a partnership with World of Women NFT to expand their ecosystem into different types of intellectual property, such as TV series and feature films.
"We're proud to partner with WoW to expand their universe of characters and to develop innovative scripted and unscripted content," Witherspoon said about the collaboration. "We look forward to engaging with the remarkable WoW community at every step of this partnership and creating opportunities for WoW holders to work collaboratively with Hello Sunshine on transforming the WoW art into powerful stories."
How to Buy World of Woman NFT
The primary NFT sales for the project were done on the World of Women website. Today, you can purchase the original World of Women NFTs and WoW Galaxy NFTs on secondary NFT marketplaces such as OpenSea, Rarible, and LooksRare.
What Utility Does the World of Women NFT Offer?
Other than the eye-catching art, owning a World of Woman NFT grants you access to many in-community perks. First, you own all the rights to the image, meaning you can use it for whatever reason you wish, including commercial purposes.
Until February 2023, World of Women NFT holders qualified for exclusive airdrops from Worlds of Women airdrops, a monthly partnership between WoW and known artists in the community. The collaboration came from seven worlds with different themes such as Golden Star, Night Realm, and others, and these were released in seasons. For every season, WoW collaborated with seven artists to launch seven unique NFT pieces.
Holding an original 800 x 800 pixel World of Woman NFT grants collectors exclusive access to a 4000 x 4000-pixel file of the same art, from which they can create high-resolution derivatives, prints, or whatever they like. World of Women NFT holders also qualify to win one of 100 framed physical prints that have been signed by Karkai. The lucky winners were announced after the original minting for the collection.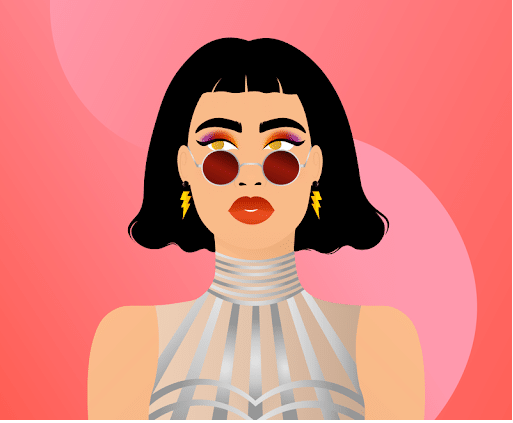 Owners of rare WoW NFTs also get an opportunity to participate in clubs. The first one is the Curator's Club, in which members choose an artist for the WoW fund to buy artwork from, once a month. There is also the Royalties Club, whose members earn proceeds from fun. The proceeds are shared equally among the club members. The proceeds are collected from 50% of all secondary sales of the original WoW NFT. The last one is the Investor's Club, in which 50% of all profits generated by the WoW fund are shared among the members monthly. The main goal of the World of Women fund is to spotlight artists within the community.
The World of Women Galaxy NFTs have their utility and perks, such as an invitation to a major gala event organized in summer 2022, concert ticket discounts, allowlist opportunities, access to private channels in the project's Discord, and more. Just like with the original World of Women NFT, WoW Galaxy NFT holders own their artwork in every way, and they can use it how they want. Collectors are also allowed to contribute to DAWoW, the governing board of the project.
Buy and Sell NFTs for a Profit
You can grow your crypto earnings by buying NFTs and selling them for a profit. NFTCrypto.io has made this even easier for you via their NFT signals trading system. They find profitable flips in the NFT market and share the signal with you in real time. Join NFT Signals now and become a successful NFT trader. The platform users have so far earned a total group profit of over $1 Billion.