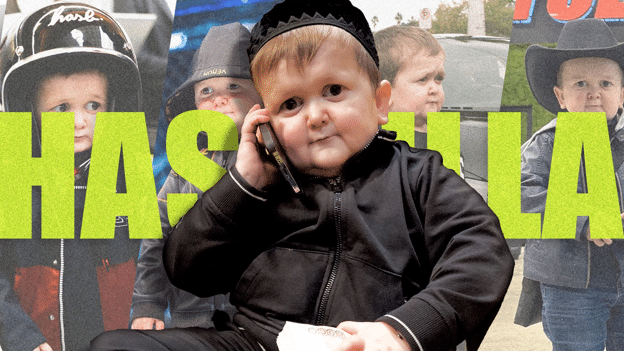 Crypto enthusiasts are always dazzled by every new NFT project release. One of the significant NFT releases in the crypto space was the Hasbulla NFT. Hasbulla Magomedov is a renowned person on Instagram and TikTok. His reactions and videos are hilarious. And just like the many celebrities who have jumped into the NFT bandwagon, the social media star also launched his own NFT collection.
The Hasbulla NFT collection comprises unique, limited NFTs, and its holders are offered access to many benefits. Hasbulla NFT could be the next big thing, hence, it's a project worth watching. Let's learn more about this NFT collection.
Who is Crypto Hasbulla?
Hasbulla Magomedov is a famous blogger from the Russian Federation. He is about 20 years but is only 3 ft 3 inches tall due to Growth Hormone Deficiency.
Hasbulla gained massive popularity for posting funny videos on TikTok and Instagram. Hasbulla has millions of followers on social media, one of them being the famous rapper Kanye West. He is also well known for his nickname mini khabib. He gained the nickname after he became friends with Khabib Nurmagomedov, a former UFC Lightweight champion. The two have met severally and posted pictures and videos with each other on social media. His many videos with other UFC fighters have made him a cult favorite in the MMA community.
What is the Crypto Hasbulla NFT collection?
The Crypto Hasbulla NFT is a collection of 10,000 unique NFTs created in January 2023. The NFT art is hand-drawn, a quality that makes them one-of-a-kind.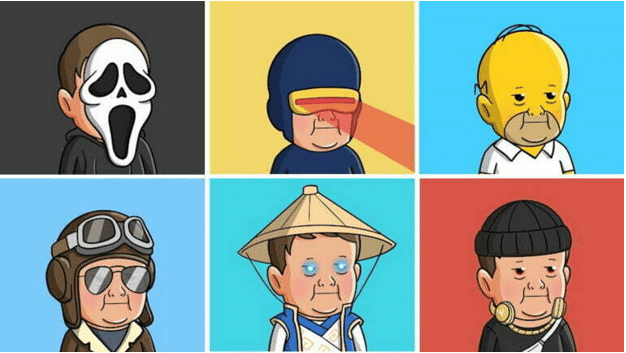 All Hasbulla NFTs are a combination of various characteristics. Each Hasbulla NFT is unique and they are hand-drawn instead of using AI to generate distinctive NFTs. Each NFT is also characterized by a unique rarity. Crypto Hasbulla NFT holders have access to various benefits.
The minting for the NFTs was live on January 19, and all the NFTs sold out in 10 minutes. The Hasbulla NFT made it Top 2 on OpenSea.
Before the launch of the project, the project issued feelers to create interest and gather their community. Their goal was to get 20,000 members on their Discord server. Hasbulla NFT managed to reach its goal and even crossed it. The project's official website has an education hub with basic details about NFTs. The purpose of this section is to help readers learn more about NFTs.
What are the Hasbulla NFT Utilities?
The crypto Hasbulla NFT offers more than just artwork. First, the Hasbulla NFT owners get an opportunity to own high-resolution artwork. They can also become members of an Exclusive Members Club. The NFT owners receive exclusive invitations to meet with Hasbulla, either online or in person. They can take part in gatherings, VIP events, get-togethers, and more. There is also an exclusive party for the members, and the owners have the freedom to choose the venue. They will also get an exclusive pass to the Eagle FC premiere combat sporting events. There will also be prizes and incentives throughout the year, and these will be in the form of NFTs created by well-known artists within the Hasbulla NFT network.
Once all the 10,000 NFTs in the Hasbulla NFT collection have been sold, Hasbi tokens will be airdropped to all the NFT owners. Hasbulla NFT owners can also stake their NFTs and earn 10% in creator royalties. Thus, you can make money by staking your NFTs. The holders will also be given access to raffles, promotions, and discounts for the official merch. The holder will be able to use 1 of the 1,000 special NFTs in the metaverse game of Hasbulla.
The Hasbulla NFT project plans to build an AI-powered play-to-earn (P2E) metaverse game in the long run. Hasbulla NFT holders can enjoy the game and get the best experience offered by the project. Additionally, the project will create opportunities where players can earn resources. The players can also get real-life rewards such as digital merch, tokens, and more that are under development.
Hasbulla NFT Rarity
The Hasbulla NFTs are hand-drawn with a combination of various traits and characteristics. The combination of these characteristics makes each Hasbulla NFT unique and one of a kind. The traits used to create unique Hasbulla NFTs include backgrounds (such as colors and designs), eyes (designs and colors), mouth (design and mood to create different facial expressions), back (using backpacks, weapons, etc.), clothes, hand items, and hair.
Where to buy Hasbulla NFT
There are many NFT marketplaces where to buy NFTs. But, where can you buy Hasbulla NFT? Hasbulla NFTs are currently being traded on OpenSea, which is a popular NFT trading platform. You can click here to visit the listing page for the Hasbulla NFTs on Opensea.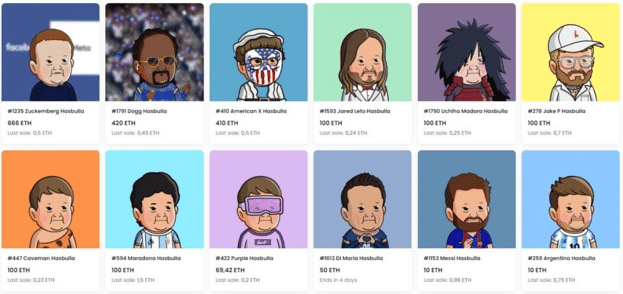 At the time of writing, OpenSea data showed that the Hasbulla NFT collection had a floor price of 0.0089 ETH. The floor price is the lowest price for which you can buy an item. Thus, the cheapest Hasbulla NFT at the time of writing was listed for 0.0089 ETH.
The process of buying an NFT on OpenSea is very simple. The platform will require you to connect your NFT wallet before buying the NFT. The NFT wallet should be funded with enough ETH for buying the Hasbulla NFT. After a successful connection of the wallet, you simply have to visit the details page of the Hasbulla NFT you are interested in and click a Buy button. OpenSea will deduct crypto from your wallet and the NFT will become yours. Note that other than the NFT price, you may incur additional charges to purchase the NFT, for example, gas fees.
Buy and Sell NFTs for a Profit
You can grow your crypto earnings by buying NFTs and selling them for a profit. NFTCrypto.io has made this even easier for you via their NFT signals trading system. They find profitable flips in the NFT market and share the signal with you in real-time. Join NFT Signals now and become a successful NFT trader. The platform users have so far earned a total group profit of over $1 Billion.