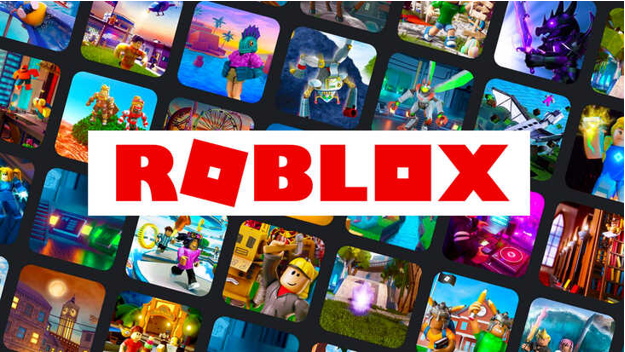 Many players are exploring the possibilities of NFTs, leading to the emergence of play-to-earn (P2E) games. Many P2E games have been launched, enabling players to earn crypto while entertaining themselves. Roblox, the highly influential traditional Metaverse, has not been left behind. Roblox announced its venture into the world of Web3 by launching the Roblox NFT project. Players can now create digital assets in the game and share them with others. This article is a 360-degree view of the Roblox NFT project.
About Roblox
Roblox is an online entertainment and gaming platform for a shared digital experience that brings people together through play.
Roblox enables anyone to imagine, create, and play with others while exploring 3D experiences produced by developers using Roblox Studio, their desktop design tool. Roblox is backed by Altimeter Capital, Warner Music Group, Investment Group of Santa Barbara, and Dragoneer Investment Group. It was established by David Baszucki and Erick Cassel in 2004.
Roblox combines social media, gaming, and social commerce. It is a platform where users can socialize, create their own spaces, and even earn and spend virtual money. Roblox games are officially known as "experiences" and they fall under various genres. The platform is free, but users can make purchases within each experience. A portion of the sales goes back to the game creator. That means that creators can make money if the games they create become popular.
For example. Jailbreak, one of the most popular games on the platform, was built by teenager Alex Balfanz, who paid for his college degree with his Roblox earnings. Alex Hicks, a serial game developer, earned more than $1 million per year creating games for the platform, all while he was below 25 years old.
What is Roblox NFT?
As gamers across the world continue to find new ways to explore virtual worlds, it is very clear that NFTs will revolutionize how we play games such as Roblox. NFTs facilitate easy tracking and secure transactions, making them suitable for players seeking efficient ways to trade with other players or manage their assets. Roblox NFT has enabled Roblox users to run safe and secure transactions while at the same time creating a unique gaming experience.
Roblox NFT is a new way for Roblox players to trade items. NFT stands for Non-Fungible Tokens, meaning that they are unique and cannot be replaced by any other item. This is made possible by the use of the blockchain, a digital ledger of public records. Blockchain records are immutable, meaning that they cannot be changed once recorded. This makes NFTs suitable for certifying and authenticating the ownership of digital assets. The Roblox NFT system allows players to trade items directly with each other without relying on an intermediary such as a game developer or an NFT marketplace.
The players can also create and share digital assets for use within the game. Roblox NFTs enable players to customize their characters, purchase in-game items, and level up their skills.
By facilitating secure transactions and easily trackable ownership, Roblox NFT enables its users to have the best digital experience.
The Benefits of Roblox NFT
There are many benefits of using NFTs in Roblox.
With NFTs, it is easy to track your inventory in Roblox. For example, if there are many different items in your inventory, it can be difficult to track them. With NFTs, it can be easy for you to track your inventory by knowing the items that you have and their location.
NFTs are stored on the blockchain and they can be used to represent anything including collectibles, digital art, or real estate. The blockchain is an immutable ledger of records. That is why NFTs cannot be altered or counterfeited.
The major difference between NFTs and other blockchain assets such as Bitcoin and Ethereum is that NFTs are not interchangeable. This makes them suitable for use in circumstances where ownership, provenance, or scarcity is essential.
Another reason to use NFTs is that they can help you to save money. If you purchase new items constantly for your inventory, it can be very costly. However, with NFTs, you can sell your old items and use the money to purchase new ones. This way, you will save a lot of money over time.
NFTs can help you to improve your gameplay. If you have trouble with a particular aspect of the game, you can use NFTs to find guides or tutorials to help you improve your gameplay. This is good for helping you become a better Roblox player.
How to Buy Roblox NFT
Roblox has a marketplace where you can buy Roblox NFTs and other items for customizing your avatars. You can access it by clicking the "Marketplace" tab from the top navigation bar. The marketplace page will be opened with details of all items on sale.

The items are grouped into various categories such as characters, clothing, accessories, animation, etc. Click any of these to access the items of choice. There is also a drop-down button that you use to filter the items by category.
By clicking any of the items, you will be taken to its details page. The page shows the item's details such as the title, its creator, price in Robux, type, whether it's tradeable, and description.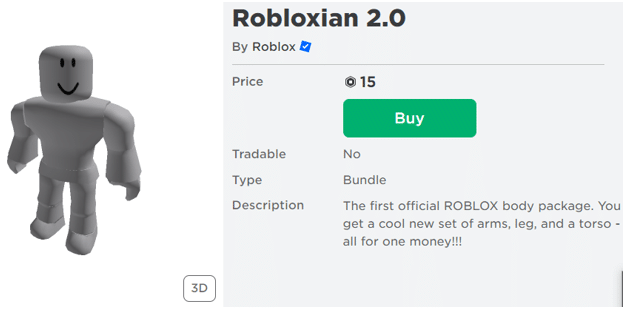 To purchase the item, simply click the "Buy" button.
If you are not logged in, you will be prompted to log in to your Roblox account. You will also have the option to sign up for an account if you don't have one. The signup process is simple as you are only asked for your date of birth, username, password, and gender.
If you have sufficient Robux in your account, you will be able to buy the Robux NFT. Otherwise, you will have to purchase Robux to buy the item. To see the items that you have just purchased from the avatar shop, go to the Inventory. To see the experiences items that you purchased with Robux, go to "Create" to check the items.
How to Buy Robux
Robux is the native token of the NFT Roblox ecosystem. It lets you buy upgrades for your avatars or purchase special abilities in experiences.
Robux is sold in various packages, with the cheapest one going for $4.99 and you get 400 Robux. The most expensive package goes for $199.99 and you get 22,500 Robux.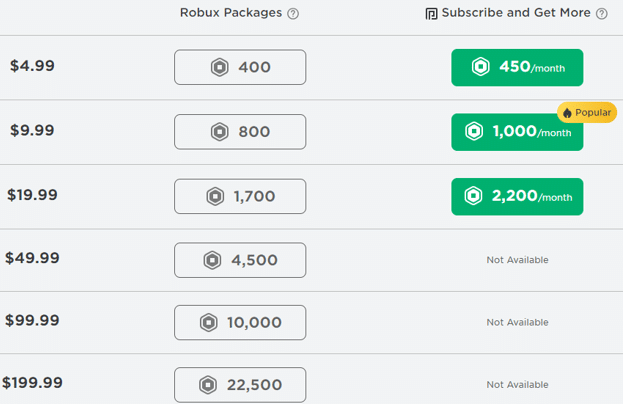 The good thing is that Roblox supports different payment methods when buying Robux. You can pay with a credit card, debit card, PayPal, Amazon Pay, mobile money transfer, or by redeeming your Roblox card.
Note that once you buy Robux, you only get a limited, non-transferable, non-refundable, revocable license to use Robux, which has no value in real currency. You can also subscribe to the premium packages and authorize Roblox to charge your account every month. You can cancel the subscription any time you wish.
Buy and Sell NFTs for a Profit
You can grow your crypto earnings by buying NFTs and selling them for a profit. NFTCrypto.io has made this even easier for you via their NFT signals trading system. They find profitable flips in the NFT market and share the signal with you in real time. Join NFT Signals now and become a successful NFT trader. The platform users have so far earned a total group profit of over $1 Billion.