The Okay Bears NFT project is one of the most popular NFT collections based on Solana. The collection has been featured in headlines across many crypto and tech sites recently. The collection comprises 10,000 fine-looking bears creating a virtuous and diverse community. The project has given its holders up to 100x returns, even leading the OpenSea charts at some point. Before investing in this Solana NFT project, you should first learn what Okay Bear NFTs are, the project's blueprint, and its performance. This article is a deep dive into the Okay Bears NFT project and everything you should know about the collection.
What is Okay Bears NFT?
Okay Bears are algorithmically-generated NFTs launched in April 2022 on the Solana blockchain. It comprises 10,000 bears initially priced at 1.5 SOL each and it has taken over the Solana NFT market.
Okay Bears NFT was founded by a team of individuals who wanted to create a relaxed yet vibrant NFT community. To achieve this, the team focused on acceptance, progress, and good vibes. The Okay Bear NFTs were generated by an algorithm, and each Okay Bear NFT comes with utility. Examples include merch drops, outdoor campaigns, and live events. Okay Bears offers these utilities in collaboration with global brands. All Okay Bear NFTs were sold out on their first day, breaking records and creating NFT history.
At their time of minting, the purchase price of the NFTs was equal to about $150 in American currency. The price of the NFTs rose to about 90 SOL, or $8,850, in one month. Two main factors contributed to the success of the Okay Bears NFT project at the time of its launch: the hype the creators created around the project and the innovative design of the project's blueprint.
The success of the Okay Bears NFT has changed the way people view Solana NFT projects. After the project sales hit $18 million in one day, it marked the first time a Solana NFT project surpassed the daily trading volume of an individual Ethereum NFT project.
Who Created Okay Bears NFT?
Just like many other Web3 projects, the founders of Okay Bears NFT are anonymous. The official website reveals that the team comprises 12 individuals.
The team is led by Kais and Suby. The team also has illustrators, digital artists, full-stack developers, concept artists, a writer, game developers, a software engineer, and motion designers working on Okay Bears NFT.
Although having an anonymous team was considered risky some time back, the NFT community has learned to embrace that, and most popular NFT projects have no known founders.
Okay Bears NFT Traits
Okay Bear NFTs, just like other NFT collections, comprise drawn characters consisting of multiple traits. Each trait is limited, creating the possibility for rare combinations. Each Okay Bear NFT is a bear. The traits are divided into 7 categories including mouth, fur, eyewear, hat, clothes, eyes, and background.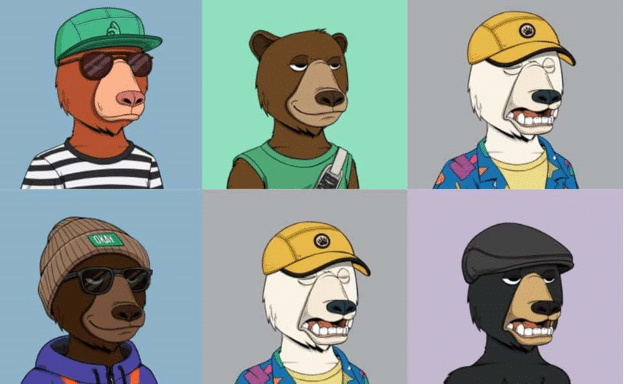 The rarest Okay Bear NFT has a rarity of 0.0000000001562%. The project's art is relatable, and since the main purpose was to serve as a profile picture (PFP), it's easy to tell why the collection received so much hype immediately after its release.
Why are Okay Bear NFTs So Popular?
Other than the intriguing stories of the Bears and their associated benefits, many reasons made Okay Bears gain momentum rapidly. Consider projects such as the Bored Ape Yacht Club (BAYC) and Azuki. They have exclusive membership structures and benefits, and they are still popular. BAYC comprises ape characters that are similar to Okay Bears in some ways. Azuki is suitable for anime fans and has a strong focus on community. While there are similarities among these projects, there are things that set Okay Bears NFT apart, helping it to build strong hype at the start.
Although BAYC and Azuki built hype, Okay Bears took it to another level by giving open spots to random winners who completed given tasks. The tasks included creating poems, changing social media profile pictures, and sharing posts with hashtags. This made many people develop an interest in the project.
Okay Bears NFT puts a strong emphasis on accepting members just as they are and creates a judgment-free kindness culture. It helps members know they are valuable parts of the project. This is similar to the concept of corporate citizenship used by businesses to retain workers and let them feel valued. The creators followed this idea in promoting the Okay Bears NFT from the start, turning fans into brand ambassadors.
How Can I Buy Okay Bear NFT?
Okay Bear NFTs are being sold on secondary NFT marketplaces. OpenSea and Magic Eden are the two common places to buy Okay Bear NFTs.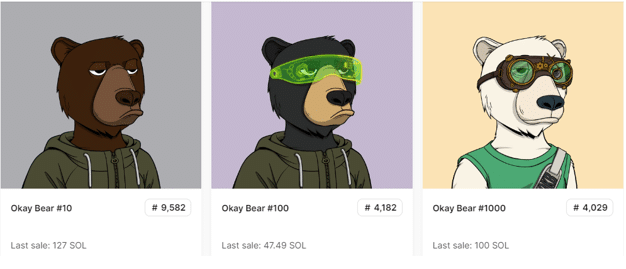 The platforms will however require you to connect your Solana-based wallet. Phantom wallet is the most popular choice. Your wallet should also be funded with enough SOL to purchase the Okay Bear NFT. You can purchase it from crypto exchanges such as Coinbase and transfer it to your wallet. You can then search for the official Okay Bears NFT collection on the marketplace. You can search for it on the search bar, and choose the collection with a blue checkmark on it. Next, choose the Okay Bear NFT to buy and click the Buy button.
The marketplace will deduct crypto from your wallet and you will become the new owner of the NFT. You may incur additional charges such as marketplace fees. The NFT will then be transferred to your NFT wallet.
Okay Bears NFT Utility
Each Okay Bear NFT grants the holder access to The Park. This is a digital space, a middle ground in the Okay Bears universe, where all people in the community get together. It comprises a Discord channel with no OG roles, which helps the team promote equality and the different social platforms of the brand. The community will soon transcend into the real world.
Holders of Okay Bear NFTs are granted access to exclusive live events, member-only merch drops, outdoor campaigns, and collaborations with popular brands and indie businesses. Such initiatives will lead to a community-centric and globally recognized brand in due time.
Okay Bears Blueprint
One of the key highlights on the project's website is the Okay Bears Blueprint. The blueprint provides its community with a well-planned roadmap for the project.
The Okay Bears team has a strong focus on collaborations. Okay Bears NFT has partnered with the Magic Eden NFT marketplace. This collaboration will give birth to many member-only perks in the future. Its integration with Shopify will also see various IRL plans come to pass.
Okay Bears also has the Honeypot, which is an incubator for investing in community initiatives, giving licensing options, and awarding grants to outstanding start-up concepts that can support the growth of the Okay Bears brand. The team will also organize meet-ups and conferences with the community members to champion innovation and thought leadership.
Celebrities Who Own Okay Bear NFTs
Many NFT projects have caught the attention of celebrities, and Okay Bears NFT is one of them. The NFT collection has attracted fans from diverse fields, including top celebrities. Tobias Harris, the NBA star is a member of the Okay Bears community and engages the members on Twitter.
Daramola, a Miami-based singer-songwriter, also holds an Okay Bear NFT. Daramola creatively combined his Okay Bear NFT with another NFT from The Supply Chain Project, giving a kickass cyborg-like bear.
Buy and Sell NFTs for a Profit
You can grow your crypto earnings by buying NFTs and selling them for a profit. NFTCrypto.io has made this even easier for you via their NFT signals trading system. They find profitable flips in the NFT market and share the signal with you in real time. Join NFT Signals now and become a successful NFT trader. The platform users have so far earned a total group profit of over $1 Billion.