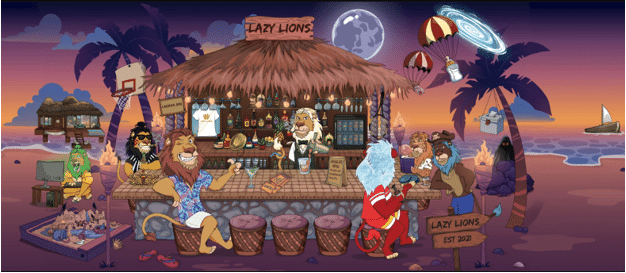 It is hard to find a boring NFT project. Most of them offer a unique, versatile, and fun way of owning digital assets. The Lazy Lion NFT project is one such example.
Lazy Lions was launched in 2021 and the entire collection was sold out within 5 hours after launch. This made it one of the most popular PFP NFT collections at that time.
So, why is the Lazy Lions NFT one of the loudest collections in the NFT space? Let's find out!
What is Lazy Lion NFT?
Lazy Lion is a collection of 10,000 NFTs that run on the Ethereum blockchain. Lazy Lion NFTs are generated programmatically, just like the Bored Ape Yacht Club NFTs. The collection has more than 160 possible traits unique to each NFT, such as clothing and facial expressions. The combination of these traits varies from one Lazy Lions NFT to another, ensuring that each NFT is unique.
The idea behind Lazy Lion NFT was a success from the start, with the NFTs sold out within 5 hours to between 3,000 and 4,000 customers and generating approximately $1.5 million. By September 16, 2021, the price ceiling of the collection had risen to above $2,000, the highest level between competing companies at that time. The most valuable Lazy Lions NFT was sold on October 11, 2021, for 99 ETH, which was equivalent to about $300,000.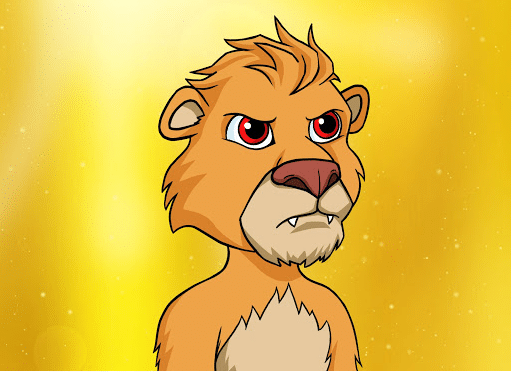 The NFT characters, which are known as Kings and Queens, are profile picture NFTs that the holders can use as personalized avatars online. The Lazy Lions sport different accessories and personal stylings, some chew bubblegum, roar, wear zebra stripes, or even moonlight as cops.
The pride of lions roam around on a private island, which is a digital space in The Sandbox Metaverse. The NFT holders can enter the virtual world to network and hang out with other NFT holders.
Lazy Lion NFT has a vibrant community whose vision is to explore the possibilities of Web3 through the Metaverse. The Lazy Lions NFT holders have full commercial rights to their NFTs.
Who Created Lazy Lions NFT?
Lazy Lion NFT was founded by Blockchain Media Pty Ltd, whose current CEO and co-founder goes by the online handle Ashur. Other co-founders are Anlion, Nine, and Nin L.
What Makes Lazy Lion NFTs Unique?
The Lazy Lion NFT is a combination of an imagined backstory, an online digital community, new business partnerships, and the built-in collectibility of PFPs.
#1: Lazy Lion NFT Backstory
Lazy Lion's backstory is part of its uniqueness. The four buddies from Sydney, Australia, dug into their Assyrian roots during the COVID-19 lockdown to build the project. They were inspired by the statues of the Uruk king, Gilgamesh, with a lion firmly held on his left arm, hoping that their NFTs would be as majestic as the lion.
The versatile traits of each Lazy Lion NFT were designed by a pseudonymous artist called Rizzio.eth (or RIZZIO).
#2: Lazy Lions NFT Community
Being a holder of a Lazy Lion NFT grants you access to an online community created around this project. The NFT holders also receive ROARwards, which give them IP access to vendor products and services. They can also visit the virtual Lazy Lions island, network with other Lazy Lion NFT holders, and take part in biweekly Twitter Spaces hangouts. The team behind the Lazy Lions NFT project continues to add new benefits for the community members.
#3: Strategic Partnerships
Lazy Lions has partnered with Chainlink, Polygon, and The Sandbox to add more value to the project. The partnership with Chainlink, for example, will see each Lazy Lion NFT holder get an opportunity to mint a new NFT within the upcoming related projects.
What are the Utilities of Lazy Lion NFT?
The Lazy Lions NFT collection has grown so quickly to become a popular NFT project. Buying a Lazy Lions NFT gives you access to an exclusive group of collectors, and networking opportunities within the community. Some NFT traders may develop a personal connection with specific Lazy Lion NFTs and decide to purchase them in appreciation of the project.
Purchasing a Lazy Lion NFT is also a gateway to the digital spaces built by the community, plus all the future developments released by the Lazy Lions team. After the team launched the Bungalows, a personal space within their private island on Sandbox, each Lazy Lion NFT holder was awarded a free Bungalow.
Lazy Lions NFT owners can also earn ROARwards, paid in ETH (the native token of the Ethereum blockchain), for participating in the Lazy Lions community at large. There are also many dedicated channels within the project's Discord Server, which allow Lazy Lions NFT holders to connect with like-minded individuals.
The project introduced ERC-1155 collectible trading cards to enable new members to join the Lazy Lion NFT community without the need to buy a relatively expensive Lazy Lion NFT. For example, every Lazy Lions NFT holder and person invited to the official Lazy Lion Discord channel was issued a Thanksgiving-themed collection of Lazy Lions Collectible Cards.
Lazy Lions NFT Price
Lazy Lions NFT was launched on August 7, 2021, and all NFTs were sold out within five hours after the launch. During the launch, the mint price for the Lazy Lion NFTs was 0.05 ETH, which was equivalent to $150 at that time. You can now buy a Lazy Lion NFT on OpenSea, one of the top NFT marketplaces available today.
At the time of writing, the collection had a floor price of 0.2864 ETH and a total trading volume of 32,876 ETH.
The price of an individual Lazy Lion NFT will depend on its traits. Some of the Lazy Lion NFTs have rare attributes such as pink fur which makes them more valuable. However, the most expensive Lazy Lion NFT was a simple lion cub, #678 sold in October 2021 for 99 ETH, which was equivalent to $299.21K at that time.
How to Buy a Lazy Lion NFT
You can easily buy a Lazy Lions NFT on the OpenSea NFT marketplace. The marketplace requires you to connect your NFT wallet to the platform. The NFT wallet should also be loaded with crypto for purchasing the NFT. Most NFTs on the OpenSea platform are sold and bought in ETH, the native token of the Ethereum blockchain. You should have enough ETH in your wallet to cater for the cost of the NFT and other expenses such as gas price. MetaMask is the most popular NFT wallet.
There are many NFTs listed for sale on the OpenSea NFT marketplace. Thus, you must take time to explore the collections and narrow down to the Lazy Lion NFT to purchase. Once ready, click the "Buy Now" button next to the NFT you need to purchase. If you've not connected your NFT wallet, you will be prompted to do so. Otherwise, OpenSea will display the entire amount, including the fees. You will also be required to approve the transaction in your wallet after buying the NFT.
Should you buy a Lazy Lions NFT?
Although Lazy Lion NFT is not a blue-chip NFT project, its creators are doing everything possible to make it a truly exclusive investment. The team is structuring the project to attract and retain NFT enthusiasts.
The Lazy Lions community is one of the key strengths of the project. Owning a Lazy Lion NFT gives you access to a vibrant NFT community that is always networking and interacting. Joining this community will earn you rewards paid in ETH.
Lazy Lion NFT holders will also benefit from future developments of the project. For example, after the team launched the Lazy Lions Bungalows NFT, each Lazy Lion NFT holder at that time was given a free Lazy Bungalow. These Bungalows are available for trading on OpenSea.

Lazy Lions has also added value to its project through strategic partnerships with other brands for the benefit of its community.
Buy and Sell NFTs for a Profit
You can grow your crypto earnings by buying NFTs and selling them for a profit. NFTCrypto.io has made this even easier for you via their NFT signals trading system. They find profitable flips in the NFT market and share the signal with you in real time. Join NFT Signals now and become a successful NFT trader. The platform users have so far earned a total group profit of over $1 Billion.