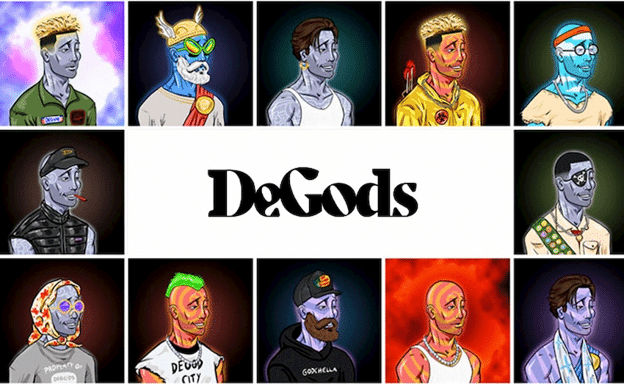 DeGods NFT is one of the top blue-chip NFT collections initially launched on the Solana blockchain. The collection has captured the hearts of collectors, and it has seen a significant rise in value and popularity since its launch in 2021. Although the project has migrated to Ethereum, it continues to win the hearts of investors. In this article, we dive into the world of DeGods and reveal the reasons behind its growing popularity in the NFT space.
What is DeGods NFT?
DeGods NFT is a collection of PFP NFTs that comprises godly characters with modern streetwear and art inspired by ancient deities. The project was launched on the Solana blockchain in October 2021, and it offers an array of gods with various traits. The gods are produced by a generative art algorithm by varying the attributes of each god.
Each DeGod NFT has 4-7 traits from eight possible traits, which determine the rarity of each NFT. DeGods offers more than just a collection of NFTs, as it enables the holders to generate DUST tokens by staking their DeGod NFTs. The holders are also granted access to DeDAO, a decentralized autonomous organization that governs the ecosystem. A DeGod NFT owner can also transcend their NFT into a second version called DeadGod.
Who Founded DeGods NFT?
DeGods is created and managed by a Web3 studio known as Dust Labs, which is led by FrankDeGods. Dust Labs also founded the y00ts NFT collection. Dust Labs is well-known for its strong focus on developing innovative projects and building a vibrant community around its NFT projects.
History of DeGods NFT
Currently, the DeGods NFT collection comprises 9,465 NFTs on Ethereum and 535 on Bitcoin. When the project was initially launched on Solana on 8 October 2021, each DeGod NFT was available for only 3 SOLs.
The project encountered some administrative mistakes and bot issues, which left many suspecting it was a rug pull. The project was almost dead by the end of 2021, and the founders were thinking of quitting. So, it is very impressive to see where the project is today.
DeGods was made viral by its first experiment, the Paper Hands Bitch Tax (PHBT), which involved taxing 33.33% on any DeGods NFT sale under the floor price. After accumulating taxes that equaled the price of the lowest-priced DeGod NFT, the NFT was burned immediately using a Burn Bot.
What Makes DeGods NFT Unique?
Several factors make DeGod NFT unique from other NFT collections:
Exclusive and engaged community
DeGods is a community of innovators, developers, and builders. DeGod NFT holders are granted access to an exclusive community that promotes collaboration and creativity, creating a strong ecosystem around the project, and they are very active on social media.
Resilience and Adaptability
Although DeGods faced early challenges, including accusations of a rug pull and a low interest in Solana, the project has managed to bounce back and thrive. This demonstrates the level of commitment by the team towards the success of the project.
Ongoing Developments
DeGods NFT project is constantly evolving, with the team coming up with new community initiatives, partnerships, and rewards to keep its community excited. Their 2023 roadmap has kept its community engaged and speculating about the upcoming updates.
What are the Utilities of DeGod NFTs?
Other than being a highly sought-after NFT, holding a DeGod NFT comes with other benefits.
DeGod NFTs are deflationary. Since you can burn them, their value will continue rising. When you burn your DeGod NFT, it automatically upgrades to a DeadGod, and its value increases.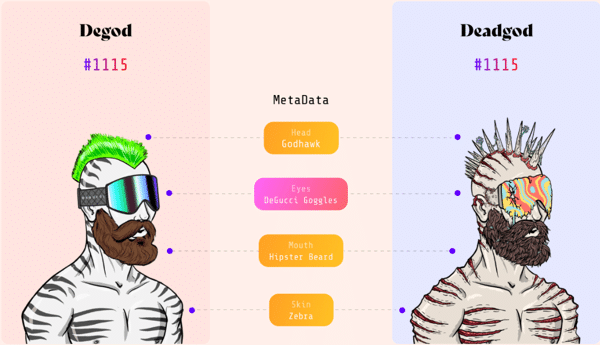 You can stake your DeGod NFTs and earn rewards in the form of $DUST. You can use the tokens for upgrades, and participate in raffles, auctions, and more. Burning your NFT in favor of a DeadGod will earn you $DUST. The reason is that DeadGod holders have a daily stream of 7.5 $DUST.
DeGod NFT holders are also granted access to the content platform owned by the community. The holders can publish their content for reading by other holders.
From Solana to Ethereum
In December 2022, DeGods announced its plan to migrate from Solana to Ethereum. The move was inspired by the need to explore new opportunities and avoid the challenges faced by the Solana blockchain that year.
The transition happened in April 2023 and DeGods NFT continues to run on the Ethereum blockchain, joining the list of the top ten NFT collections by trading volume. DeGods encouraged its community to migrate their NFT as soon as they could, covering the gas fees in the first 24 hours after the transition. DeGod NFTs on Ethereum have a royalty fee of 0.33% on all NFT marketplaces.
The DeDAO
DeDAO is the central autonomous organization governing the DeGods ecosystem. It comprises three groups namely DAO Leads (the project founders), the Alpha Team (market experts), and the Divine Council (contributing members voted in by DeDAO). The DAO is responsible for the decision-making process of the project and it directs the funds in its treasury.
The project charges a marketplace fee of 9.99% per transaction to sustain DeDAO. 6.66% of that amount goes to DeDAO while 3.33% goes to the core team for DeadGods and DeGods sales. DeDAO uses these funds to buy assets for raffles and auctions, fund community events, and pay community-based talents for works done by the community.
Where Can I Buy DeGods NFT?
DeGod NFTs are on sale on various NFT marketplaces. Examples of these platforms include OpenSea, Magic Eden, Blur, and Rarible.

Since DeGods now runs on Ethereum, it is available to a wider audience than when it was on Solana.
The marketplaces will require you to connect your NFT wallet to the platform to buy DeGods NFT. Some of the common wallets are MetaMask, WalletConnect, and Coinbase Wallet. The platforms provide an easy way of connecting your wallet as you only have to click a connect button and follow on-screen instructions to complete the connection.
Your wallet should also be funded with enough crypto to buy the DeGod NFT. You can purchase the crypto from exchanges such as Coinbase and transfer it to your connected wallet.
Finally, find the DeGod NFT of your choice from any of the above NFT marketplaces and buy it. Crypto will be deducted from your wallet and you will become the new owner of the NFT. Note that you may incur additional charges for buying an NFT, for example, marketplace fees, gas price charges, etc.
DeadGods vs. DeGods
Dust Labs launched the new version of DeGods NFT in March 2022 and named it DeadGods. It is not a new collection, but an enhanced version of DeGods with enhanced visual appearance and benefits.
DeadGod NFTs are more valuable and rarer than ordinary DeGod NFTs, and you can get one by burning your DeGod NFT and paying some fee.
DeadGods act as a gateway to y00ts in addition to many other benefits within the DeGods ecosystem. For example, a DeadGods NFT grants you access to the DeGod DAO and the ability to vote on community initiatives. Staking a DeGod NFT earns you some DUST token rewards, but staking a DeadGod NFT triples the rewards.
DeadGods are highly sought-after NFTs by investors and collectors, and they have fetched significant prices in the secondary market.
Buy and Sell NFTs for a Profit
You can grow your crypto earnings by buying NFTs and selling them for a profit. NFTCrypto.io has made this even easier for you via their NFT signals trading system. They find profitable flips in the NFT market and share the signal with you in real time. Join NFT Signals now and become a successful NFT trader. The platform users have so far earned a total group profit of over $1 Billion.