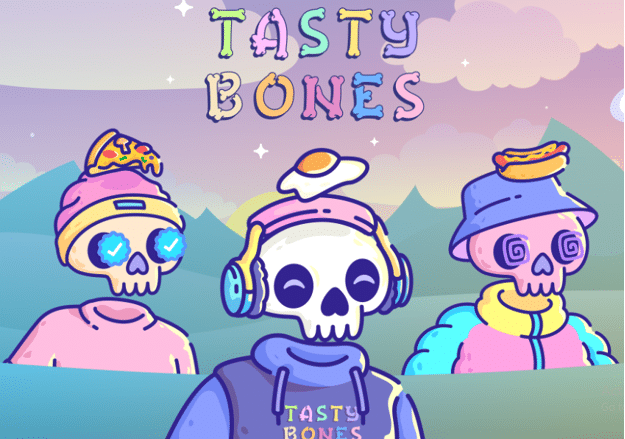 Tasty Bones NFT is one of the most talked-about collections in the NFT space. The project attracted over 224K followers on Twitter before its February 2022 launch, a figure that has so far grown to over 248K. The Tasty Bones NFTs are a set of 4,999 skeletons stored on the Ethereum blockchain. The NFT project has caused much excitement in the NFT space, creating speculation that it will follow the lead of Doodles. This article is a comprehensive review of the Tasty Bones NFT.
What is the Tasty Bones NFT Collection?
Tasty Bones is an NFT collection created by Royal Labs. This NFT project has a storyline behind it that involves skeletons that fetch food from the land of the living and take it to their souls in the land of the dead. The collection comprises a total of 4,999 skeletons.
The Tasty Bones however have to contest with 45 Hungry Ghosts and 5 Demons who attempt to steal the food offering. The Demons are of different shapes, sizes, and power levels.
The Tasty Bones NFT team has stated that the collection is meant to be an interactive, community-driven NFT project. Holders can interact with their NFTs to improve their rarity.
Jump Start your NFTs Success by getting early on game-changing Projects
Join our Discord Channel Today!
Each NFT in the Tasty Bones NFT collection is generated algorithmically by combining 240+ unique traits with varying rarities across categories.

People have been calling Tasty Bones NFT the "new Doodles" because of its art. Its basic design and diverse colors give you a Doodles sense. It is basic yet detailed, pleasing to the eyes, and uses a variety of colors. Their huge Twitter following is also an indication that the project has an excellent design.
Who Founded the Tasty Bones NFT?
The Tasty Bones NFT was developed by Royal Labs, an NFT launchpad, and released on February 13, 2022. The project lead was Foster West, a medical physics doctoral student using the pseudonym 5TimesDistilled.
The other two members of the Tasty Bones NFT development team were Eyah, the lead artist, and Evak, the community manager.  The two are only known by those pseudonyms.
What makes Tasty Bones NFT unique?
Every Tasty Bones NFT is a unique digital collectible created by combining more than 240 traits. The collection comprises 4,999 skeletons that fetch food offerings, plus 45 hungry ghosts, and 5 demons that try to steal these food offerings.
Since they are digital collectibles, their design is the main selling point, and their success depends on how many people like the art style. The Tasty Bones NFT collection also comes with other perks.
Tasty Bones NFT holders can connect their NFT wallets to the web portal of the collection for interactive experiences and exclusive benefits. The experiences and benefits depend on the type of Tasty Bones NFT one is holding, and they include collecting or stealing food offerings and receiving giveaways.
The art can also be commercialized for any Tasty Bones NFT that you hold. This is very common among other major NFT collections such as the Bored Ape Yacht Club which gives holders commercial rights.
Jump Start your NFTs Success by getting early on game-changing Projects
Join our Discord Channel Today!
How Tasty Bones NFT Works
The Tasty Bones NFTs are stored on the Ethereum network and grouped into 5 rarity tiers. These include the following:
#1: Funny Bones (Common) – 2,999 NFTs, also called "The Entertainers"
#2: Meaty Bones (Uncommon) – 1,500 NFTs, also called "The Fighters"
#3: Speedy Bones (Rare) – 500 NFTs, also called "The Runners"
#4: Hungry Ghosts (Epic) – 45 NFTs, also called "The Departed"
#5: Demons (Legendary) – 5 NFTs, also called "The Forgotten"

There are over 240 traits across seven trait categories, that is, body, background, food offering, eyewear, headwear, head, and nose that determine how each Tasty Bones NFT looks like.
The traits and the type of a Tasty Bones NFT determine the value and the rarity of the NFT.
How to Buy Tasty Bones NFT
You can buy the Tasty Bones NFT on OpenSea, one of the top NFT marketplaces today. To buy the NFT on OpenSea, you will need an NFT wallet funded with ETH. Luckily, OpenSea is compatible with many NFT wallets, so you will many options to choose from. Examples of these NFT wallets are MetaMask and WalletConnect. You can buy ETH from crypto exchanges such as Coinbase and CoinMarketCap and transfer it to your NFT wallet.
After connecting your wallet to OpenSea, you can search for the Tasty Bones NFT to buy. You can then make an offer on it or place a bid if it is being sold via auction. After successfully buying the NFT, it will be transferred to your wallet. An amount equivalent to the NFT price will be deducted from your wallet. Note that you may incur other charges for purchasing a Tasty Bones NFT on OpenSea, for example, gas fees charges. At the time of writing, OpenSea data showed that the Tasty Bones NFT collection had a floor price of 0.0205 ETH.
Are Tasty Bones NFTs a Good Investment?
Tasty Bones NFT has already established a solid fanbase, and the NFT project has a lot in common with other successful NFT projects. There is also a lot to like about this project. It has an interesting art style, and the team behind the project has created a very interesting backstory. The project also has an interactive element, and the NFTs are not ultra-expensive.
However, investing in NFTs comes with a lot of risks, including high volatility, NFT scams, and insider trading. This means that however promising Tasty Bones NFT could be, you should proceed with caution in investing in the project and only spend the amount of money you'd be willing to lose.
Buy and Sell NFTs for a Profit
You can grow your crypto earnings by buying NFTs and selling them for a profit. NFTCrypto.io has made this even easier for you via their NFT signals trading system. They find profitable flips in the NFT market and share the signal with you in real-time. Join NFT Signals now and become a successful NFT trader. The platform users have so far earned a total group profit of over $1 Billion.