Are you an NFT enthusiast looking for ways to profit from the volatile market? If yes, you should know the importance of using reliable trading software for long-term success. NFT Nerds is one of the best NFT trading software that you can find today.
Due to the huge competition in the NFT market, a serious trader should seek the assistance of virtual software such as NFT Nerds. If you have heard about this tool but don't know what it represents, you've come to the right place. In this article, we discuss why the entire NFT community is crazy about Nerds NFT and how it can improve your daily trading experience in the NFT market.
What is NFT Nerds?
NFT Nerds is a trading software that gives NFT traders a real-time view of what is happening with a specific project and the NFT market in general. Its dashboard offers a one-stop overview of the current performance of a project, with some changes in prices being reflected even quicker than on major NFT marketplaces such as OpenSea. NFT Nerd also shows the NFT rarity rankings, which enables potential buyers to make comparisons without having to browse through menus to find them.
NFT Nerds also shows new and trending collections. It also notifies you of gas prices and allows you to customize them. The platform has a purchasing portal where you can directly buy an NFT without navigating to a marketplace such as OpenSea. However, it only supports NFTs running on the Ethereum blockchain.
NFT Nerd charts reflect live data, giving users access to the latest information before making investment decisions. That's why those looking to buy NFTs or those searching for quick flips are encouraged to use Nerds NFT premium account. However, you must have an adequate budget to justify your investment, and that's why only devoted traders who want to make significant returns use it daily.
Who Created NFT Nerds Software?
The NFT Nerds software tool was developed by a team of enthusiastic coders and mathematicians to come up with the best NFT trading tool in the NFT space. If you want to get in touch with the developers, you can contact them via their official Twitter accounts or Discord servers.
How to Get NFT Nerds
You can access NFT Nerds by typing "nftNerds.ai" in the address bar of your web browser or by clicking this link. Avoid relying on Google searches as you could fall victim to phishing scam attacks.

While some of the elements of NFT Nerd are free to use, the platform also has a premium offering for those who want to make maximum use of its powerful functions. You don't pay anything to use the free version of NFT Nerds. This type of account allows users to track mints and trending collections and it is free forever. The premium account offers three payment options. You can pay 0.09 ETH per month, 0.27 ETH for three months, or 0.54 ETH for six months. The premium account offers features such as a reveal calendar, direct 2-click buying process, fastest possible listings, and trades feed, access to full data, customizable filters, and live charts and stats, with rarity.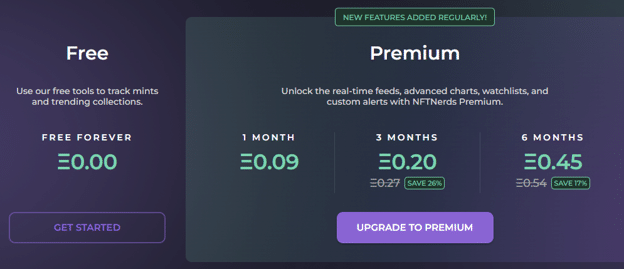 The above list of features is very important to note because it means the data non-premium users get is not the latest available. Thus, premium users have an edge that can be the difference between catching a blue-chip NFT such as a Bored Ape and missing out on one.
However, if you are only interested in getting an overall view of the markets and specific collections, then the free account will serve you well.
How Can NFT Nerds Help Me?
Nerds NFT is a great tool for those in the NFT industry for financial gains rather than utility. The tool provides exactly the type of data and insights that an NFT trader would want. NFT Nerds keeps traders updated with the latest trends in the NFT market and helps them easily and quickly identify collections that are going upwards or downwards. The tool also gives traders insights into the rarity of NFTs in a collection at a glance and allows them to trade directly within the site.
NFT Nerds also offers additional features such as the reveal calendar that helps users know when new NFT drops will be launched, alerts for events such as price drops, and the ability to customize gas prices.
NFT Nerds is not for experienced traders only. Its Discord has an "academy" section that teaches users how the tool works and gives them an introduction to the NFT space in general. However, remember that if you are a free user, you will not be getting the very latest information.
Users can find valuable and trending NFTs under the "trending section" of the software, and they can go by one minute, five minutes, fifteen minutes, one hour, or four hours.
With NFT Nerds, you can see the listings, every trade that happens, the floor price of the NFT, and the floor price fluctuations of the NFT in the past. These can be sorted by time such as the past seven days, 30 days, 40 days, 60 days, and, so on.
What Makes Nerds NFT Unique?
Most NFT trading tools allow their users to go back 30 days. However, NFT Nerds allows users to go back 60 days. This could be the biggest difference between the software and other trading tools. This is a good feature for NFT traders who want to evaluate blue-chip NFT projects.
Another major difference between NFT Nerds and other trading tools is that users can buy NFTs from within the software and without visiting an NFT marketplace. That is why it may be important for you to buy a premium account, which although may not be cheap, can be very valuable.

NFT Nerds also allows you to snipe NFTs at the floor. When looking for the best NFT projects to buy, you can sort them by rank. This is an interesting feature of NFT Nerds not offered by other NFT trading tools.
You can also go to a particular NFT and learn more about it. Once you click on a particular NFT within the software, you can see details such as what it looks like, its traits, how often it is sold, and more.
NFT Nerds also has both monthly and yearly subscriptions. You can also access its services via its mobile app available for both Android and iOS devices.
The Firehouse Section in NFT Nerds
NFT Nerds has the "Firehouse section" that shows the current situation in the NFT market in general. It shows all the non-fungible tokens that are being bought or sold, which can give you real-time information and help you make the right decision regarding the NFTs to buy and the NFTs to sell.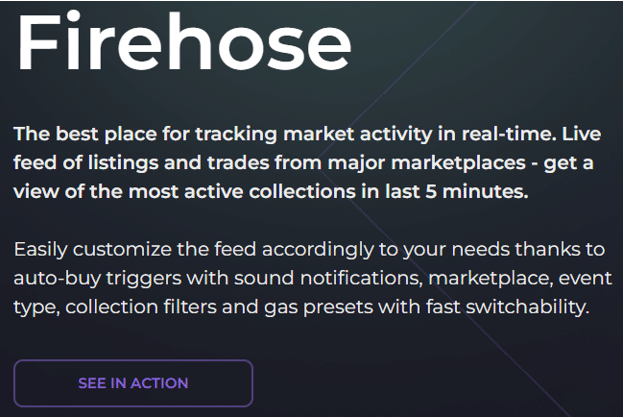 Additionally, you can also see all the active NFT collections. This is valuable information for serious NFT traders and investors as they can easily spot new and "less-known" NFT collections with great potential before they become well-known.
NFT Nerds Wallet Alerts
The alerts feature of Nerd's NFT software allows users to set up alerts on wallets and addresses. This requires you to go to the "Alerts section" and add a new alert, such as when the price drops to 2.5 each, and when the price rises to five each.
However, it is worth noting that NFT Nerds doesn't send alerts to your email address. To access the alerts, you must log in to your Nerds NFT account.
NFT Nerds Chart Data
The chart data provided by Nerds NFT represents the current state of the world, with automatic syncing in the background. However, note that not all NFT collections are available on the official Nerds NFT website.
After joining the Discord server of the software, you will be able to ask about the next project that should be added. Its Discord server is the perfect destination to keep you in touch with like-minded individuals who value NFTs. You will also get clear insights and an understanding of NFT trading practices.
Buy and Sell NFTs for a Profit
You can grow your crypto earnings by buying NFTs and selling them for a profit. NFTCrypto.io has made this even easier for you via their NFT signals trading system. They find profitable flips in the NFT market and share the signal with you in real-time. Join NFT Signals now and become a successful NFT trader. The platform users have so far earned a total group profit of over $1 Billion.