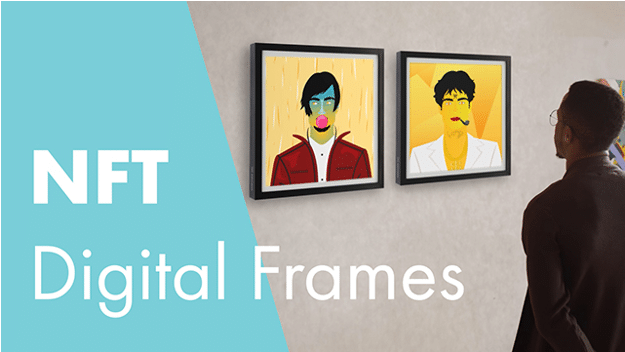 Digital art is one of the many use cases of NFTs. Artists can now fetch thousands or even millions of dollars for their NFTs. The NFTs can now be sold not only on digital marketplaces but also on legitimate auction houses. But NFT buyers need a way of showing off their unique pieces of art. An NFT frame lets you showcase your prized digital artwork in an elegant and technologically advanced way. As more people enter the NFT space, the demand for NFT frames continues to boom. This article explores how to use an NFT frame to display your digital artwork.
What is an NFT Frame?
An NFT frame is a digital display shaped like a photo frame that operates like a small television and displays digital art.
Imagine a sleek frame hanging on your wall. But instead of a static photograph or painting, the frame displays digital art that can be changed with the tap of an app. The NFT frame can help you to showcase your digital NFTs around your office or house.
NFT frames come in different shapes and sizes, from backlit photo frames to 90"+ displays.
Many NFT frames enable you to change what NFTs are being displayed, while others come already "pre-printed" from the manufacturer to display only a single NFT.
NFT frames are becoming increasingly popular as they provide a way of displaying artwork that can be easily changed. They don't take up any physical space, making them ideal for small apartments or homes.
To display an NFT in an NFT frame, you simply have to upload the image file of your NFT to the frame. Most NFT frames come with Wi-Fi capabilities, making it easy to transfer files from your phone or computer to the frame.
Can an NFT Frame Play Videos?
Not all NFT frames play videos. It is a feature offered by the top NFT frames in the market. The NFT frames also differ in terms of the maximum length of the supported videos. Some allow you to include the video clips in slideshows alongside photos. You can also play your favorite songs over slideshows.
How Can I Send NFTs to an NFT Frame?
NFT frames support various photo-sharing methods, including mobile apps, USB/SD cards, importing photos from social media, and sharing them via email.
Some NFT frames allow you to import photo albums as web albums. The web albums are saved in the internal storage of the frame and automatically saved to the cloud. You only have to link and sync your NFT album from a platform supported by the NFT frame you are using. Many NFT frames support platforms such as Facebook, Dropbox, Google Photos, Flickr, Google Drive, Instagram, and more. It's possible to sync a folder from your computer to the NFT frame. Web albums can be set to update automatically every time you add new photos, automating the photo-sharing process.
USB/SD cards offer a great way of sharing photos offline with your NFT frame. It is less effective compared to cloud and Wi-Fi photo-sharing methods but works perfectly for bulk offline sharing. You only need a USB or SD card with the photos that you need to share with the NFT frame.
Some NFT frames have a plug-and-play feature that allows you to play photo slideshows directly off the USB or SD card. This gives you highly accessible and unlimited offline storage space and saves you from filling the internal storage of the frame.
Do NFT Frames Have Cloud Storage?
NFT frames have cloud storage, some free, others paid. All photos that you send to the frame NFT via email, web albums, or mobile app are automatically saved to the cloud. Only photos stored in a USB or SD card are not saved in the cloud. Note that some NFT frames lock the cloud storage feature behind a subscription paywall.
How Many Photos Can an NFT Frame Store?
The number of photos that an NFT frame can store varies from one frame to another, and it depends on the available internal storage space and whether it supports USB/SD cards with a plug-and-play feature.
Most NFT frames have an internal storage of at least 4GB, with the high-end ones offering an internal storage of 8GB or 16GB. An NFT frame with a local storage of 8GB can hold between 10,000 and 30,000 photos locally on the frame if the photos are scaled down to meet the native display resolution of the frame.
A USB/SD card storage will give external storage for all your photos. Some NFT frames allow you to play photo slideshows directly from your connected USB or SD card. There is no restriction to the size of the connected USB or SD card, which gives you unlimited storage space.
Best NFT Frames in 2023
The best NFT frames are the perfect way of showing off your NFT art collection. The best NFT frames are built with NFTs in mind. The following are the top NFT frames in 2023:
#1: Tokenframe
Tokenframe allows NFT collectors to display their works on various NFT frames. The NFT frame has four frame options, including mahogany, birch, solid white, and solid black. Its NFT gallery app lets you cast any of your NFTs to the frames, with support for over 50 NFT wallets. It also rotates the photos automatically depending on the orientation of the frame, whether portrait or landscape. It offers cheap frames, with their prices starting from just over $300.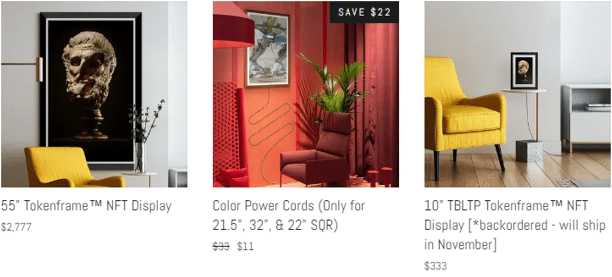 You can pay with a crypto or credit card. You can change the NFTs that are displayed on your NFT frame using their mobile app. It is good for NFT collectors who want to display multiple NFTs without worrying about monthly subscriptions.
#2: Atomic Form
The Atomic Form NFT frame is known for its high quality. Its frames power galleries at top NFT auction sites such as Sotheby's, Christie's, and Art Basel. It offers a high level of customizability, including color of matte, size, aspect ratio, name, artist info, and NFT contact address.
Atomic From tracks the portrait and landscape orientation, rotating the NFT when necessary, and offers a 4k playback with a slideshow option. Users also have access to Wi-Fi, Bluetooth audio, Bluetooth 5.0, and a five-button user interface.
#3: Infinite Objects
Infinite Objects is an NFT video print with the size of a photo frame. An Infinite Objects user can choose either acrylic or bamboo frames to frame NFT. It has partnered with Top Shot and Chromie Squiggles, making printing a breeze. It comes with a battery, letting you display your artwork for 2 hours on a single charge. The NFT frame also offers a collection of NFT artworks going for as low as $79 per video frame. Its small frame size makes it a perfect bedside table or bookshelf accessory.
#4: NiFTy Displays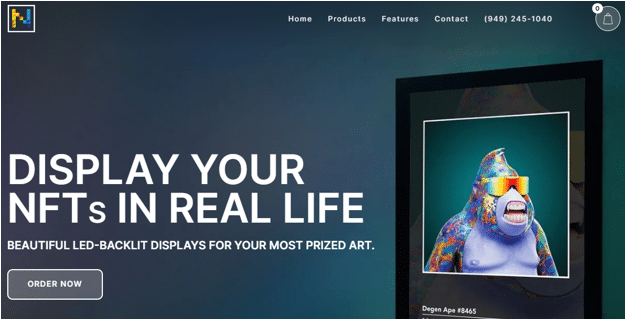 NiFTy Displays are LED-backlit acrylic NFT frames for illuminating physical prints. You can choose between a 12" square frame and a 16.5" portrait frame for your backlit display. The initial purchase comes with 1 NFT print, and you can buy additional prints for $49 each.
NiFTy Displays NFT frames come with a magnetic mounting system for hanging on the walls. You can add a custom QR code to the backlit display, which can be scanned to verify the ownership of the NFT.
#5: Blackdove Digital Canvas
The Blackdove Digital Canvas lets you choose from three types of frame materials. It also provides its users with white-glove-in-home installation of its NFT frames. You can manage your displayed artwork across many Blackdove screens from their mobile and web apps. All their NFT frames provide 4k, 60 frames/second playback.
Buy and Sell NFTs for a Profit
You can grow your crypto earnings by buying NFTs and selling them for a profit. NFTCrypto.io has made this even easier for you via their NFT signals trading system. They find profitable flips in the NFT market and share the signal with you in real-time. Join NFT Signals now and become a successful NFT trader. The platform users have so far earned a total group profit of over $1 Billion.