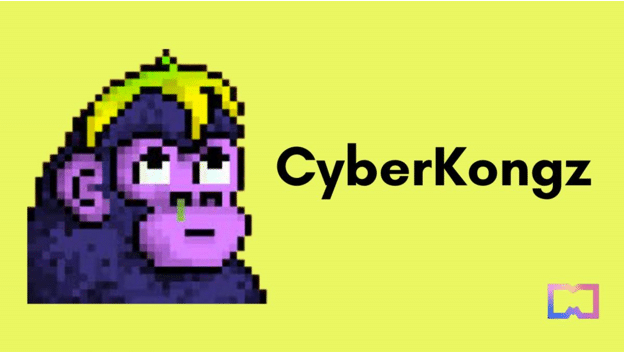 CyberKongz NFT has evolved into an NFT ecosystem with many unique collections. It was among the first projects to explore innovative Web3 gameplay like breeding mechanics and introducing a social token, BANANA. CyberKongz also made a step into the gaming world by partnering with Ronin and launching a gaming-focused collection, Genkai. So, as CyberKongz continues to venture into the gaming world, does it have a promising future? Let's find out!
What is CyberKongz NFT?
CyberKongz is one of the pioneer PFP NFT collections. Its genesis collection comprises 1000 randomly generated pixelated NFT gorillas. The chubby-looking cyber apes were launched in March 2021 and rose to fame quickly.
The spirit of innovation lies at the core of CyberKong's success. The project distinguished itself from other NFT projects by introducing sub-collections and a utility token known as BANANA, enhancing the engagement and experience of the community by far. As NFT CyberKongz continued to evolve, it expanded its ecosystem to feature the VX collection, 3D avatars, and Baby Kongz, with the much anticipated Genkai collection on the Ronin network set to join the CyberKongz NFT ecosystem soon.
Other than its technological side, CyberKongz has shown a great commitment to charity. It has been channeling part of its sales to different animal welfare organizations, improving the lives of its ape fams in the real world.
Who Founded CyberKongz NFT?
The CyberKongz NFT project was initially founded by artist Myoo, but it has evolved to become a community-driven project. Members play an important role in the development of the project by voting on proposals using their BANANA tokens.
CyberKongz Ecosystem NFTs
CyberKongz has a diverse ecosystem with four unique NFT collections namely Genesis, Baby CyberKongz, VX, and the upcoming Genkai. Each collection serves a distinct role in the CyberKongz NFT ecosystem. The CyberKonz can be traded on popular NFT marketplaces such as OpenSea and Blur. The CyberKongz NFT buy process is very easy on these platforms.
Let's discuss these collections one by one.
CyberKongz Genesis
These were the initial 1000 CyberKongz launched, including 10 Legendary ones and MyooKong (#810), the Mascot. The NFTs were OG PFPs for the 2D social world and brought unique benefits to their holders.

As of August 23, 2023, the CyberKongz Genesis collection had a floor price of 6.899 ETH and a total trading volume of 29,118 ETH. This CyberKongz NFT comes with several utilities, including:
10 BANANA tokens each day until 18 March 2031.
Each Genesis can claim a matching VX Kongz avatar.
2 Genesis Kongz and 600 BANANA were used to breed the 4,000 Baby Kongz.
Access to exclusive events and merchandise.
Genesis Kong can get a kongz.eth ENS subdomain.
Baby CyberKongz NFT
Baby Kongz are adorable creatures produced by breeding two Genesis Kongz. However, the breeding process consumes a substantial amount of energy, costing users 600 BANANA to fuel the breeding process. The collection comprises 4000 unique items in the form of cute baby gorillas which serve an important role in the CyberKongz NFT gamification experience, Play & Kollect.
At the time of writing, the Baby CyberKongz NFT collection had a floor price of 0.665 ETH and a total trading volume of 35,464 ETH. It comes with various utilities including:
Each CyberKongz Baby can claim a VX Kongz avatar.
Access to exclusive events and merchandise.
A Baby Kongz NFT can get a kongz.eth ENS subdomain.
Baby CyberKongz generates non-transferable shards, which are convertible into Charmz. Charmz helps you to improve your Play & Kollect results.
CyberKongz VX
The NFT CyberKonz VX collection offers 14,846 Metaverse-ready 3D voxel-based avatars, specifically designed to be used in online Metaverse platforms such as The Sandbox. The avatars were minted in September 2021 at 0.07 ETH, but Genesis and Baby Kongz NFT holders can claim them for free.

At the time of writing, the CyberKongz VX collection had a floor price of 0.169 ETH and a trading volume of 35,542 ETH. It comes with the following utilities for the holders:
Exclusive access to events and merchandise.
Get a kongz.eth ENS subdomain.
The NFTs are playable characters in the on-chain Play & Collect.
VX Kongz are compatible and integrated ready to explore The Sandbox.
The Genkai Collection
Genkai is the next phase of CyberKongz NFT, and it features a collection of 20,000 anime-inspired collectibles. The NFTs will play a very important role in Niakea, CyberKongz's alternative universe.
The expansion aims to reach the Japanese and Southeast Asian markets, crafting Web3 IP through a gamified approach. The project has partnered with Ronin to help it achieve this. Ronin is an Ethereum sidechain popular for hosting Axie Infinity and specializing in blockchain gaming.
The NFTs will be distributed as follows:
A total supply of 20,000 NFTs.
16,000 NFTs on Ethereum. 9,000 NFTs will be for sale, and 7,000 will be airdropped to CyberKongz holders with a 180-day vesting period.
3,000 NFTs on Ronin for sale in RON/ETH, 939 NFTs gifted to Mystic holders by Sky Mavis with a 180-day vesting period. 61 NFTs held by Sky Mavis for the incentive program.
CyberKonz Genesis NFT Market Performance
Genesis is the most valuable collection in the CyberKongz NFT ecosystem. The collection has only 1,000 items, making them extremely scarce. On 15 April 2021, the collection attained a significant milestone after its secondary market sales hit 2,000 ETH, which was equivalent to $5 million at that time.
On 4 October 2021, the collection set a historical record after its average trading price on OpenSea hit 178 ETH, or approximately $609,808 at that time.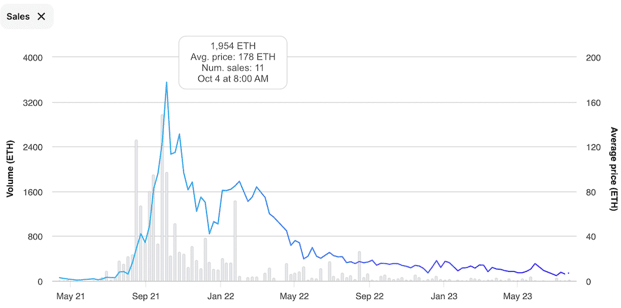 The collection also gained more prominence through an auction held between 4 and 7 December 2021 at Christie's. CyberKong #201 was sold for 185 ETH ($793,439), while CyberKong #46 was sold for 96.6 ETH ($414,304) during the auction. The proceeds from the sales went to the Virunga National Park.
What is the BANANA Token?
BANANA is the utility token that runs the CyberKonz NFT ecosystem. The token has the following use cases:
It can be used for breeding Baby CyberKonz NFT.
You can use your BANANA tokens to customize CyberKonz.
Holding BANANA tokens grants the user voting rights in the CyberKongz DAO.
With 0.4 BANANA, you can send one of your CyberKongz VX on a jungle adventure to collect exclusive NFTs and participate in the competition for the seasonal BANANA prize pool.
Genesis CyberKonz generates BANANA on the Ethereum mainnet, while Polygon BANANA (pBANANA) was created for Play & Kollect. A contract migration was done in early 2022, enabling BANANA bridging from Ethereum mainnet to Polygon, making the two types of BANANA tokens available.
There are different ways of acquiring BANANA tokens. You can participate in Play & Kollect gamified experience, or take part in various bounties and contests organized by CyberKongz and their partners.
You can also trade BANANA on Uniswap and Quickswap.
Is CyberKongz NFT a Good Investment?
The CyberKongz NFT ecosystem presents collectors with a captivating blend of collections, each providing users with unique experiences. At the core of the ecosystem is the Genesis collection, featuring 1,000 rare and unique 2D avatars. These NFTs were initially minted for only 0.01 ETH but have grown to 5.7 ETH.
However, just like with other NFT collections, CyberKongz NFT experienced a significant drop in value during the NFT crash. The volatility in the NFT and the cryptocurrency market in general raises concerns for potential investors, as it calls for caution and careful consideration before venturing into NFTs.
CyberKongz's partnership with Ronin opens the door to seamless integration with the growing gaming scene on the platform.
As players interact with their Genkai adventures, they will realize how the diverse collections of the ecosystem intertwine and complement each other. BANANA, the utility token, will also improve the gaming experience.
But just as with any investment, it is essential to conduct thorough research and understand the dynamics of the NFT market before making an investment decision.
Buy and Sell NFTs for a Profit
You can grow your crypto earnings by buying NFTs and selling them for a profit. NFTCrypto.io has made this even easier for you via their NFT signals trading system. They find profitable flips in the NFT market and share the signal with you in real-time. Join NFT Signals now and become a successful NFT trader. The platform users have so far earned a total group profit of over $1 Billion.