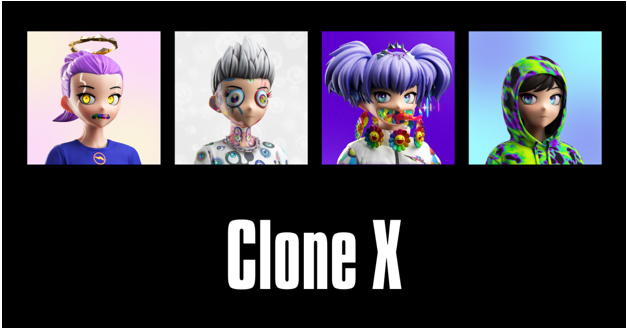 CloneX NFT is one of the powerful forces in the NFT space. Its futuristic concept has made it a choice for prestigious NFT collectors. The project has also amassed a huge online community on platforms such as Twitter and Discord. CloneX NFT has also captured mainstream media attention, with articles and interviews featuring on Forbes and leading media houses. It is one of the top NFT projects today, but what makes it so special? Let's find out!
What is the RTFKT CloneX NFT Project?
RTFKT announced that it was building a collection of 3D Metaverse-ready NFT avatars under the working title "Akira." The company held more than half of the collection's mint for the company's first NFT collectors.
The CloneX NFT drop happened in late November 2021, after months of anticipation. Each NFT CloneX was being sold for 2 ETH, and all the NFTs were sold out within minutes.
The ultimate Metaverse uses NFTs, augmented reality, blockchain validation, and the latest in-game engines to create digital artifacts capable of transmitting human consciousness to sophisticated clone forms. The quality and community-driven ecosystem starts with the CloneX NFTs. The CloneX collection will be usable across various platforms.
History of CloneX NFT
The protagonists of the project's narrative are three extraterrestrials known as Orbitar, located in the Draco galaxy. The goal is to clone human traits and behaviors to make them more advanced. The only humans in the advanced civilization are their digital avatars or clones, with the aim of scouring the galaxy for new habitats.
CloneX NFT started with sneakers as a cultural collectible, paving the way for clothing such as the Metajacket and other wearables from Decentraland. RTFKT then created Forging events, where NFTs were used to acquire unique sneakers or other goods.
Avatars were then launched, enabling people to design fashion items and put them on to represent themselves in the Metaverse. The Metaverse has revolutionized the video gaming industry by introducing a virtual environment where people can make new friends, gather virtual possessions, and do much more.
Who Created CloneX NFT?
The CloneX NFT project is the product of a collaboration between RTFKT studios and Takashi Murakami, a Japanese artist. RTFKT Studios is not new in the NFT space, having partnered with Nike to launch Nike CryptoKicks, which is a collection of customizable NFT sneakers. It also has other NFT collections like the RTFKT x Nike MNLTH collection.
Murakami on the other hand has been known as an artist and a sculptor since the 90s. He is the founder of the Biannual Art Fair Geisai and Kaikai Kiki Co. There are chances that even those who don't know Murakami have come across some of his legendary works. He has collaborated with celebrities such as Louis Vuitton, Vogue Pharrell, Kanye West, and several others.
After Murakami collaborated with the CloneX team for a drop in 2021, he turned the project from a "great NFT project" into a "potential funnel for mainstream NFT adoption."
In an interview with Hypebeast, the artist revealed that he collaborated with the CloneX team to build traits for many new generative PFP avatar NFTs to be added to the initial 20,000.
What is CloneX Forging?
The forging season began on August 20, 2022, after RTKFT launched its debut CloneX lookbook. Forging refers to the events that enable CloneX NFT owners to redeem physical and digital goods.
CloneX's forging process combines DNA from different species such as Demon, Robot, Human, and Angel. You should unlock the option to buy things, depending on the type of DNA. For example, if you choose an Angel, you are shown a collection and allowed to purchase clothing accessible to CloneX NFT holders who also own an angel. This way, each DNA will finally have its collection.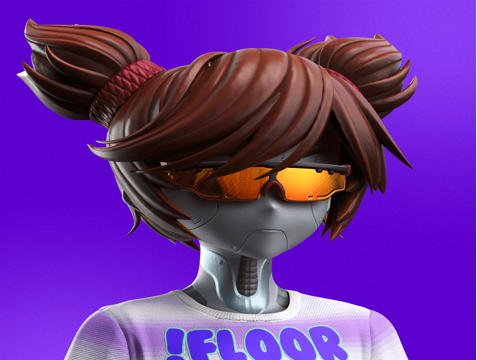 If you don't have an angel but you want the clothing, you will get the message, "Hey, no angel, get one now." You will then be connected to a platform such as OpenSea where you can buy your preferred CloneX NFT.
What Makes CloneX NFT Unique?
The RTFKT team is building a Metaverse and CloneX NFTs are the first goal towards achieving this. Instead of 10k NFTs like most other projects in the NFT space, the team created 20k avatars to let more people into the RTKFT ecosystem.
11,133 CloneX NFTs were allocated for the presale and 500 NFTs for the team. The remaining 8367 NFTs were open for public sale.
For the 20,000 CloneX NFTs, there are eight DNA types with different levels of rarity. About 30% of the CloneX NFTs are robots, while about 50% are humans. Aliens are the most uncommon creatures in CloneX (0.51%), followed by reptiles (less than 1.25%).
There are also distinct variants of each DNA type, and 15% of the NFTs have "Murakami Drip Traits." The CloneX NFT holders can customize their avatars further. They are given access to 3D files to customize the attributes and express themselves more accurately.
CloneX NFTs have a secondary market royalty of 5% and two licenses: one for CloneX NFTs without Murakami Drip traits, whose value can rise up to $1,000,000, and another for CloneX NFTs with Murakami Drip traits.
What is CloneX NFT Utility?
CloneX NFTs are the beginning of a larger RTFKT ecosystem, hence, the future Metaverse will be developed around this collection. The team behind CloneX NFT is an industry leader in NFTs, game engines, augmented reality, and blockchain authentication.  This combined with their huge network and manufacturing will see CloneX NFT holders see various utilities as the project continues to expand.
So far, all CloneX NFT holders have received their CloneX Space Pods. This is a space where clone holders can customize, upgrade, and hang out with other clones. Holders can also access the 3D vault to download 3D files of their clones. The files come in different formats, ready for use in various Metaverses in the space.
CloneX NFT Roadmap
CloneX roadmap is anchored on four objectives:
Metaverse Ready
Forging Events
Clonex Wearables
Special Access
The main objective of the roadmap is to make the Metaverse easily accessible for users to interact in a real-world simulation environment. Users can customize their NFT CloneX using the 3D file that is provided in the Metaverse.
CloneX is also set to introduce a new clothing line. CloneX NFT holders can benefit directly from a superior ecosystem. Other than virtual collectibles, the game players can buy actual collectibles.
CloneX NFT holders will also gain access to exclusive events and in-person experiences. All in all, CloneX NFT seems to have an awesome destination. We only have to wait patiently and see what the team has in store for CloneX and the RTFKT community.
Where Can I Buy CloneX NFT?
You can easily buy CloneX NFTs from NFT marketplaces such as OpenSea and LooksRare. At the time of writing, CloneX NFTs had a floor price of 1.1 ETH and a total trading volume of 399,308 ETH.

The marketplace will require you to connect your NFT wallet to the platform. Some of the common wallets are MetaMask and Trust Wallet. Your wallet should also be funded with enough ETH to buy the NFT. You can buy the ETH from crypto exchanges such as Coinbase and transfer it to your wallet.
Finally, search for the Clone you desire to buy on the NFT marketplace and click the buy button. ETH will be deducted from your wallet and you will become the new NFT CloneX owner.
Buy and Sell NFTs for a Profit
You can grow your crypto earnings by buying NFTs and selling them for a profit. NFTCrypto.io has made this even easier for you via their NFT signals trading system. They find profitable flips in the NFT market and share the signal with you in real time. Join NFT Signals now and become a successful NFT trader. The platform users have so far earned a total group profit of over $1 Billion.