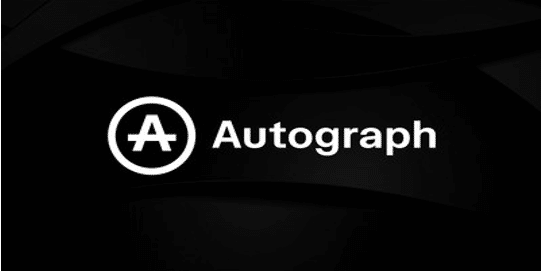 Launched in August 2021 and cofounded by Tom Brady, the Autograph NFT platform allows users to buy digital assets signed by great athletes. Autograph amplifies the sports and entertainment merchandising system in a more personal way by offering exclusive non-fungible tokens (NFTs) to fans. The NFT Autograph platform is easy to use and is a great option for those in the sports world and seeking to get into the world of digital collectibles. In this article, we uncover everything about Autograph NFT.
What is Autograph NFT?
The Autograph NFT platform enables famous athletes and celebrities to create their NFT collections of real-life experiences and engage their fans. Famous athletes such as Rafael Nadal and Tiger Woods are directly involved in creating their NFTs apart from adding the final touch of their signature.
The Autograph NFTs are not mere illustrations, but they come as high-graphic digital representations. Some of the collectibles include interactive posters, limited edition magazines, and digital figures of iconic game-breaking highlights.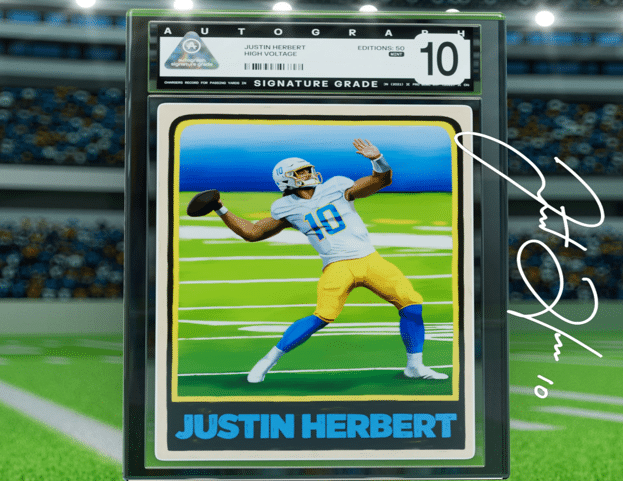 The Autograph NFT platform does not restrict NFTs to only music. It also features special items from cult classic movies such as "Saw" and R&B artist The Weeknd's Billboard magazine cover.
The NFT Autograph platform seeks to include more NFTs from different entertainment fields, including music, gaming, books, and TV series.
What makes NFT Autographs Unique?
Autograph NFT focuses on nostalgic moments in sports history and pop culture memorabilia, taking advantage of the sports stars' fan followings. For example, Rafael Nadal, the legendary tennis player, launched the EI Rey container, featuring exclusive images from his past games.
The Autograph NFT platform allows users to manage their digital collectibles. The platform is easy to use and offers many features that make it a good option for those seeking to enter the world of digital collectibles. Those outside the NFT bubble can know the value of an NFT Autograph or sports memorabilia and may desire to acquire an NFT from such a platform.
Buyers earn rewards as they purchase the Autograph NFTs. A higher bid translates to greater rewards from Autograph NFT.
You can also get an NFT Autograph through airdrops. After a collection of NFTs is first introduced to the market, the "drop" date and time will appear as the collection's drop date. You can visit the DraftKings Marketplace with others on the drop date to wait and access your desired collectible.
You will be able to see the number of people ahead of you, just like the queue for entering a sports stadium or an online ticket queue, and you will finally be able to buy the Autograph NFT that you selected.
Autograph NFT can be very similar to other sports-based NFTs such as NFT All Day and NBA Top Shot from a technical point of view. However, NFT Autograph strongly focuses on selling iconic moments as 3D-animated statues and adding motion-graphic elements even to the most basic collectibles such as cards to create unique NFTs.
As buyers visit the Autograph ecosystem, they can purchase Autograph NFTs using Autograph Coins. Autograph Coins are ERC20 tokens used for buying NFT Autographs on the Autograph NFT platform.
How to Get Started on Autograph NFT
It is easy to get started with the Autograph NFT platform. First, you should visit its official website and sign up.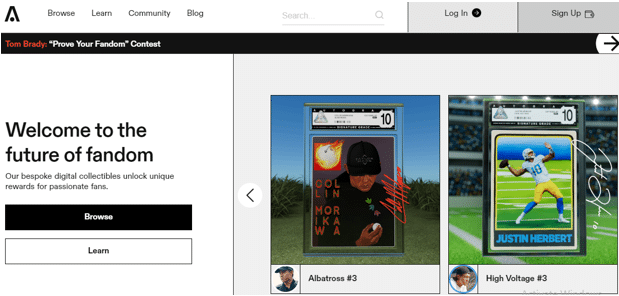 You only need a valid email address to create an account with the platform. You will also be required to choose a secure password for your account. Autograph NFT also allows you to sign up using your Google, Facebook, or Apple account.
After successfully signing up for an account, you will be required to connect your NFT wallet to transact. Autograph NFT supports three types of NFT wallets, namely Coinbase, MetaMask, and WalletConnect.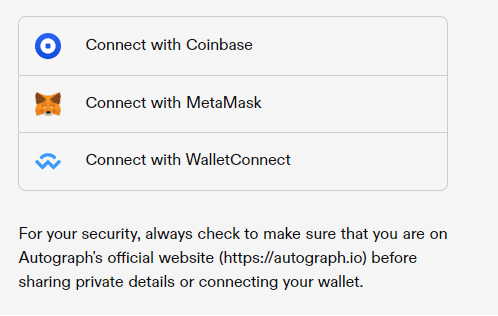 Choose your NFT wallet of choice and connect it to the Autograph NFT platform.
You will then be ready to complete various tasks on the platform.
How to Create an Autograph NFT
The process of creating an NFT Autograph is simple and only requires a few steps. However, you must have an Autograph NFT account to accomplish this.
To create your NFT Autograph, you must give it a name and upload an image for your token. You can also give it a brief description, which will help buyers know what it is about. Once your Autograph NFT is successfully created, it will be stored in your connected NFT wallet.
To share your NFT Autograph with others, you only have to send the link to it. The Autograph NFT platform will also provide you with a short code that you can use to embed your Autograph into your blog or website.
The Autograph NFT team is constantly working to implement new features on the platform. The team is planning to add support for various languages and enable users to create NFT Autographs that represent real-world objects.
What is the Price of NFT Autographs?
Autograph NFTs initially sell for a price of between $12 and $1,500 each after they are first dropped. Once the drop is over, the Autographs can be sold on the DraftKings marketplace at a price of between $12 and $88,000 depending on their rarity. The platform has so far sold more than 100,000 NFTs since its launch.
You can also buy NFT Autographs on OpenSea at a price of between 2 and 750 ETH.
This means that Autograph NFTs are very valuable and if you can manage to acquire one after they are dropped, you can make significant returns on your investment.
To receive notifications about Autograph NFT drops, you can sign up for the DraftKings marketplace newsletter or join their Discord. This will ensure that you don't miss out on any important drops.
How to Buy and Sell Autograph NFTs
To buy and sell NFT Autographs, you must create an account on autograph.io and register an account on DraftKings NFT marketplace. However, it is worth noting that only those residing in the US and Canada can access the marketplace.
The DraftKings NFT marketplace has also imposed age restrictions for its users. You must be 18 years and above to buy or sell on the platform. 19+ in Alabama and Nebraska, and 21+ in Iowa, Louisiana, and Massachusetts.
The DraftKings NFT marketplace supports many payment methods for buying NFT Autographs. These include credit and debit cards, online payments, PayPal, DraftKings gift cards, and Electronic gift cards.
After signing up for an account on the marketplace, add funds to it via the above payment methods and you will be ready to go. The platform processes all orders in US dollars.
There are two ways to buy NFT Autographs on the DraftKings NFT marketplace:
#1: Primary Drops
When an Autograph NFT is first introduced to the market, you will see the drop date and time when the collection will be launched. Once the drop is launched, you will be able to join a virtual queue with other users on the DraftKings NFT marketplace for an opportunity to grab an Autograph NFT. You will also see the number of people in the queue and when your turn to shop comes.
Note that in some cases, new collections sell out within minutes. Hence, you should stay in the queue to avoid missing out on the drop.s
#2: Secondary Marketplace
The DraftKings NFT marketplace has a browse section that you can visit any day, any time, and see the NFTs that users are selling. You can choose the Autograph NFT you are interested in and buy it from the seller.

Note that once the initial drop is over, holders usually list their Autograph NFTs for sale at higher prices. This means that it is cheaper to buy an Autograph NFT during the primary drop than from the secondary marketplace.
Is Autograph NFT a Good Investment?
Autograph NFT is still a new project, but the chances of it being a good investment are high. More than 100,000 NFTs have so far been sold, with their prices ranging between $2 and $88,000.
Autograph NFT is also one of the first Sports and Entertainment NFT platforms to enter the market. The platform is also growing in popularity and early investors stand a chance of making a profit.
If you are a fan of a particular individual in sports and you believe in the potential of NFTs, then Autograph NFT is a good investment for you.
Buy and Sell NFTs for a Profit
You can grow your crypto earnings by buying NFTs and selling them for a profit. NFTCrypto.io has made this even easier for you via their NFT signals trading system. They find profitable flips in the NFT market and share the signal with you in real time. Join NFT Signals now and become a successful NFT trader. The platform users have so far earned a total group profit of over $1 Billion.