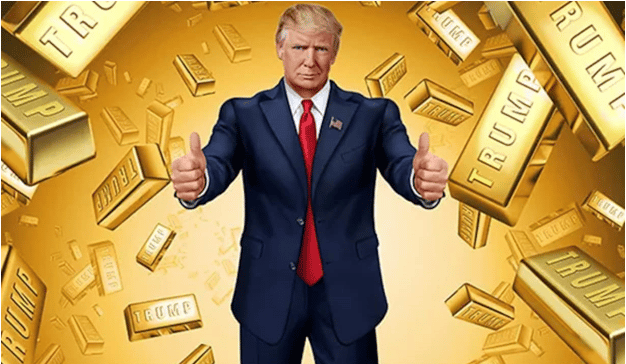 Trump Digital Trading Cards, the NFT collection launched by former US president Donald Trump, faced widespread ridicule, sold out, and saw a surge in prices and sales before crashing. Now, the Trump Digital Trading Cards sales are rising again.
The total daily sales for the collection surged nearly 800% from Tuesday to Wednesday, rising from about $34,000 worth on Tuesday to more than $306,000 worth yesterday. This is according to the data obtained from CryptoSlam, an analytics platform. The data shows that sales worth $168,322 have been made from the collection over the past 24 hours. The Trump Digital Trading Cards have generated sales worth $878,736.00 over the past 7 days, which is a 229.80% jump compared to the previous week. At one point today in the morning, CryptoSlam showed a 1,900% increase in 24-hour trading volume compared to the previous reporting period.
Both the number of NFTs sold and the average sale price kept on rising from day to day. On Tuesday, CryptoSlam data shows that a total of 115 transactions were recorded at an average sale price of $296 worth of ETH per NFT. This rose yesterday to 704 NFTs traded with an average sale price of $435.
At the time of writing, NFT Price Floor data showed that the collection had a floor price of 0.339 ETH (or about $525). On Wednesday, the NFTs had a floor price of about $235, which means that it has nearly doubled.
Although there is no absolute reason behind the recent jump in activity, some cryptocurrency enthusiasts on Twitter believe that the rise in demand is connected to a report that the former US president is planning to return to mainstream social media networks. Trump was banned from Twitter and Facebook for inciting the January 6 attack on the U.S. Capitol Building.
Trump launched his NFT collection on December 15, which he announced via his Truth social media platform. The collection comprises 45,000 NFTs minted on the Polygon blockchain, an Ethereum sidechain. The collection features digital trading cards depicting Trump in various guises such as superhero, Nascar driver, and astronaut. They can be purchased via ETH or even fiat currency. Each NFT was sold for $99, and they came with a chance to win a special perk, such as a meet-and-greet or a dinner with Donald Trump.
Buy and Sell NFTs for a Profit
You can grow your crypto earnings by buying cheap NFTs and selling them for a profit. NFTCrypto.io has made this even easier for you via their NFT trading signal system. They find profitable flips in the NFT market and share the signal with you in real-time. Join NFT Signals now and become a successful NFT trader. The platform users have so far earned a total group profit of over $950M.