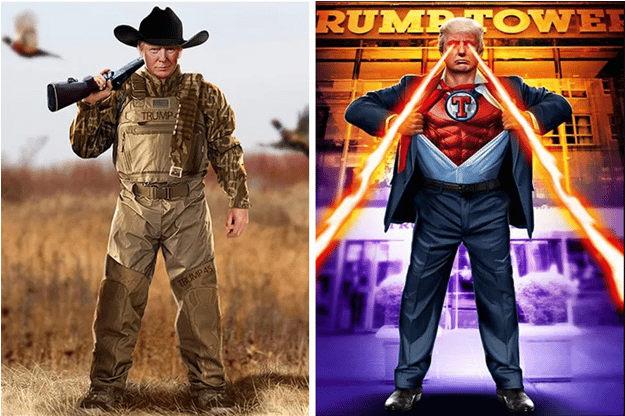 Former U.S. President Donald Trump has launched a collection of 45,000 NFTs (Non-Fungible Tokens). Trump announced this on Thursday via Truth social, the social media platform he launched last year.
The collection features digital trading cards depicting Trump in various guises such as superhero, Nascar driver, and astronaut. The tokens were minted on the Polygon blockchain and they can be purchased via ETH or in fiat currency.
Before they complete the checkout process, customers are asked to choose the number of Trump Trading Cards that they want to buy. The pop-up has a message that guarantees the customer a ticket to a gala dinner with Trump for buying 45 NFTs at once, which will cost the customer $4,455.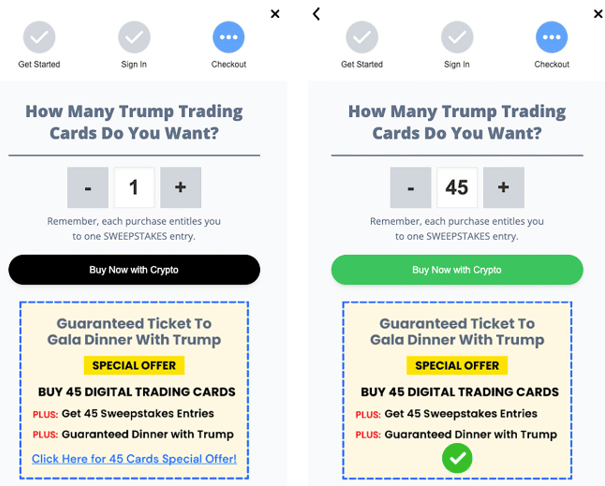 Collectors who buy the digital trading cards will automatically join a "sweepstakes" to get experiences with Donald Trump, including a dinner in Miami, a zoom call, and a cocktail hour at Mar-a-Lago. Rarity traits will be used to differentiate the cards, from one-of-ones to "2, 5, 7, or 10 copies. No Trump Digital Trading Card will have more than 20 copies in existence" according to the collection's site.
In July 2019, Trump stated that he was "not a fan" of cryptocurrency, but he now appears enthusiastic to promote his new collection. "GET YOUR CARDS NOW! Only $99 each! Would make a great Christmas gift. Don't Wait. They will be gone, I believe, very quickly!" Trump wrote on his platform.
Trump has also uploaded a promotional video on the site, in which he states "Each card comes with an automatic chance to win amazing prizes like dinner with me. I don't know if it's an amazing prize but it's what we have."
Trump's NFT Collection Attracts Criticism
Trump's NFT project was initially criticized on Twitter, with some terming it a "scam." Others raised concerns over his questionable campaign fundraising efforts in 2020 and allegations of murky spending.
The Digital World Acquisition Corp (DWAC) shares were down by 7% after the announcement. DWAC is a special purpose acquisition company that entered a merger deal with Trump's social media company.
Although this is the first NFT project owned by Donald Trump, Melania Trump, the former first lady, launched her first NFT collection named "Cobalt Blue Eyes" about a year ago.
Start Making Money with NFTs Today
Do you desire to make money with NFTs?
You can grow your crypto earnings by buying cheap NFTs and selling them for a profit. NFTCrypto.io has made this even easier for you through their NFT trading signal system. They find profitable flips in the NFT market and share the signal with you in real-time. Join NFT Signals now and become a successful NFT trader. The platform users have so far earned a total group profit of over $600M.