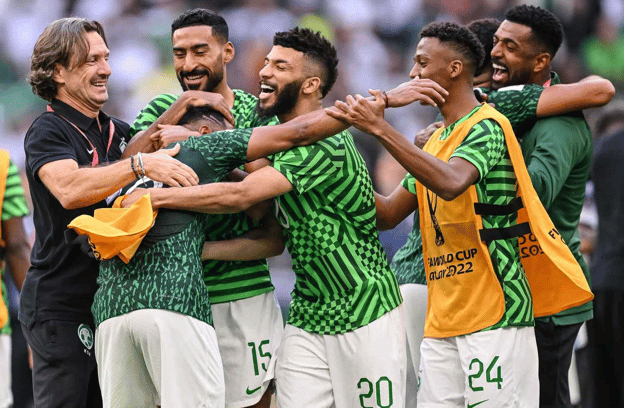 The FIFA World Cup in Qatar started only a few days ago and fans have already started to bet on who will make it far in the tournament. Saudi Arabia seems to be a popular choice in the cryptocurrency space right now.
On Tuesday, "The Saudis," the Saudi Arabia-themed NFT (Non-Fungible Token), saw a spike in its sales by 387%. The surge in the NFT sales came after the country's surprise 2-1 win against Argentina, a respected soccer team globally.
On the other hand, Argentina's fan token (ARG) recorded a 24.04% drop in price within 24 hours. At the time of writing, CoinMarketCap data showed that the token had a price of $5.54. Many expected the South American team, led by Lionel Messi, to win Monday's match.
Argentina's fan token 24-hour price chart (source-coinmarketcap)
Cryptocurrency tokens are very popular among gamblers in the World Cup tournament this year. Chiliz (CHZ), the native crypto token of the Chiliz blockchain and the token behind Socios.com, the leading sports fan platform for creating tokens, spiked by 39% this week before the start of the tournament as fans jumped into a fresh wave of the hype.
However, the hype did not last for long but died quickly and some fan tokens (such as those of Brazil (BFT) and Portugal (POR)) dropped after Monday, underperforming both Bitcoin and Ethereum.
"Big events often present big opportunities for traders," wrote Priyansh Patel of Delphi Digital on Monday. "Some market participants begin positioning a few weeks before the actual event to take profits when the event occurs." Patel wrote that the World Cup was no exception and fan tokens "experienced hefty corrections just two days before the event began."
Cristiano Ronaldo, Portugal's all-time leading goal scorer, also launched his first NFT collection on Friday, November 18, as part of a multi-year partnership with Binance, the leading cryptocurrency and blockchain ecosystem infrastructure provider in the world. Ronaldo becomes the latest of the many celebrities who have ventured into the NFT industry. The launch of the NFT collection was supported by a global marketing campaign that featured Ronaldo as he seeks to introduce his fans to Web3 through NFTs.
The new NFT collection by Ronaldo is named CR7 and it features 7 animated statues, bringing up memories of his childhood, and his career to becoming a star. His iconic moments have been featured, including his famous childhood bike kick.