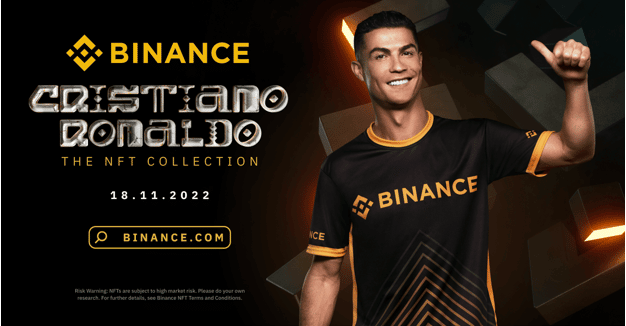 Cristiano Ronaldo, Portugal's all-time leading goal scorer, launched his first NFT collection on Friday, November 18, as part of a multi-year partnership with Binance, the leading cryptocurrency and blockchain ecosystem infrastructure provider in the world. The launch of the NFT collection was supported by a global marketing campaign that featured Ronaldo as he seeks to introduce his fans to Web3 through NFTs.
With the cryptocurrency hype that has lasted for the last five years, the popularity of NFTs is also rising, introducing a new way of representing the ownership of digital assets such as pieces of artwork. Ronaldo is the latest of the many celebrities who have ventured into NFTs.
The new NFT collection is named CR7 and it features 7 animated statues, stirring memories of his childhood, his career as a soccer player to becoming a star. His iconic moments are covered, including his famous childhood bike kick.
About the NFT Release
Before the release of the NFT project, Ronaldo spoke expressing his excitement and explaining the reason for the release.
"It was important to me that we created something memorable and unique for my fans as they are such a big part of my success, with Binance, I was able to make something that not only captures the passion of the game but rewards fans for all the years of support," said Ronaldo.
He Yi, the Binance Chief Marketing Officer, and Co-Founder, also spoke to the media before the launch saying:
"We believe the metaverse and blockchain are the future of the internet. We are honored to collaborate with Cristiano to help more people understand blockchain and showcase how we are building Web3 infrastructure for the sports and entertainment industry."
Binance's partnership with Ronaldo is part of the plans by the cryptocurrency exchange platform to revitalize its offering. The launch of the collection is just the first step in a multi-year agreement between the exchange and the soccer star. Before buying the collection, you can choose to familiarize yourself with using the Binance platform. This will make it easy for you to buy the Ronaldo's or any other NFT collection.
The Ronaldo's CR7 NFT Collection
A lot of changes have happened in the NFT space in 2022, and the new collection will seek to add to the evolving industry. The collection will start with four levels of rarity, which include:
Super Super Rare (5)
Super Rare (40)
Rare (600)
Normal (6000)
Initially, only the Super Super Rare and Super Rare NFTs were made available in a 24-hour auction. Bidding for the Super Super Rare NFTs started at 10,000 BUSD while that for Super Rare NFTs started at 1,700. The Rare and Normal NFTs were later put up for sale at a lower price, with bidding starting at 77 BUSD for the Normal NFTs.