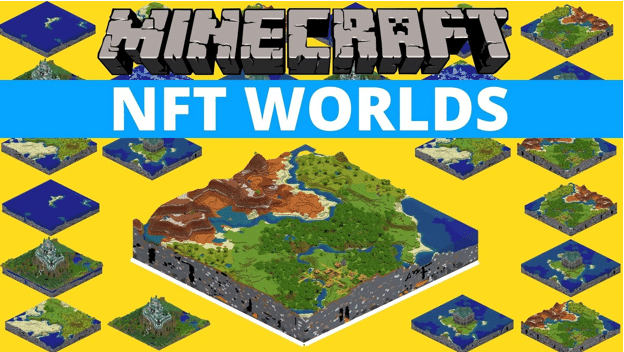 NFT Worlds is rising again. After Microsoft banned NFTs from its gaming platforms, which meant that NFT Worlds could no longer depend on Minecraft infrastructure, the platform started its journey of transformation and rediscovery. NFT Worlds is now ready to rise again and reclaim its place as one of the best blockchain games. In this article, we explore NFT Worlds in depth.
What is NFT Worlds?
NFT Worlds is a decentralized, massively multiplayer Metaverse game ecosystem in which players can own and create limitless experiences using the 10,000 unique worlds that make up the collection. Initially, NFT World used the Minecraft ecosystem, but it now has its ecosystem.
With NFTs World, users can collect unique plots of digital real estate. Each plot is generated algorithmically by combining manual inputs with computer-generated randomness to create an open virtual world of 16 million x 16 million blocks, which makes it larger than all Metaverse worlds of similar projects.
The collection was created based on the open-source Minecraft ecosystem, hence, the individual NFT Worlds look like Minecraft maps. The NFT Worlds are stored on the Ethereum blockchain and can be developed just like physical real estate, letting the owners create in-game experiences, mini-games, community gathering spots, and anything that they can think of.
The NFT Worlds are procedurally generated 3D voxel worlds that comprise two elements: their visual appearance and in-game experiences that are linked to the blockchain, and their resource information and on-chain data that will be tied to token distribution NFT dapps, and more in the future.
Think of NFT World as a scarce piece of digital land that you can turn into anything that you can imagine for others to experience, play, and more.
NFT Worlds users use a cryptocurrency known as WRLD for transactions and interactions. WRLD is an ERC-20 token that facilitates a play-to-earn (P2E) economy. You can earn WRLD payments for hosting experiences within your NFT World. You can also win WRLD through mini-games in the broader ecosystem.
What Makes NFT Worlds Unique?
NFT Worlds uses the gameplay and environment of Minecraft as its foundation, to make the experience more personalized and accessible to a broader audience.
You can bootstrap NFT Worlds with Minecraft's open-source code to enjoy an experience with simple-world building tools, familiar controls, and custom in-game mechanics.
The multiplayer game will also be compatible with Minecraft consoles. This enables Minecraft account holders who play Minecraft on a PC or console to play with users in different NFT Worlds.
Each NFT World has a unique composition, which is created by varying the combinations of three characteristics:
World Geography
The world geography includes the total land area, elevation, land vs. water coverage, and the amount of annual rainfall it receives. It has 46 possible environments, ranging from common ones such as the Deep Ocean to rarer ones such as the Badlands.
Resources
If you have played Minecraft, you may be familiar with the resources provided by the map generator of the game. Each NFT World has its allocation of Minecraft resources including varying percentages of oil, lumber, gemstones, etc.
Unique Features
Some NFT Worlds have poisonous bogs, others have wild horses, and others feature catacombs or heavenly lights. Each NFT World gives players a variety of possibilities that they can explore.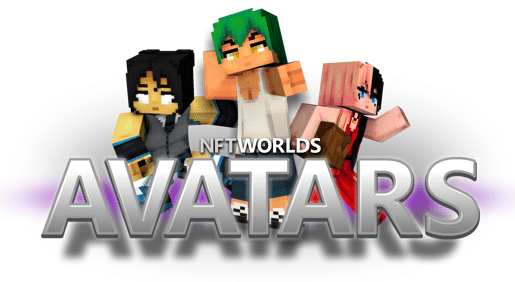 Combining rarer World traits can give owners some perks such as higher returns for staking WRLD tokens, exclusive benefits, and better visibility for other NFT World gamers to find their world more easily.
The goal of NFT Worlds is to become an open-ended system that incorporates aspects of various NFT and Metaverse projects. This includes profile picture (PFP) NFTs generated algorithmically that players can use as wearable in-game skins.
Some Metaverse gaming projects have purchased NFT Worlds to create their own unique gaming experiences while leveraging the community behind NFT Worlds.
How Can I Get Started with NFT Worlds?
You can use the explorer dapp to explore any of NFT Worlds. The dapp is accessible from the web browser.
The web dapp is easy to use as you only have to search for a specific world number and type the URL https://nftworlds.com/WORLD_NUMBER on your web browser.
The web dapp can be accessed from both mobile and computer devices. You can use the on-screen controls on mobile devices to move up/down and forward/backward.
On computers, use the following mouse and keyboard controls to explore NFT Worlds:
Use the W, A, S, and D keys to move.
Hold the shift key to go down.
Hold the spacebar to go up.
Click and drag to look around.
Everything in the game starts with worlds. Gamers can play the game by owning one and building within it. You should have access to an NFT World to build in the ecosystem. The NFT World offers you the foundation for building your game Metaverse and accessing the infrastructure of the ecosystem, WRLD token, blockchain layer, community support, and more.
There are two options for acquiring an NFT World. You can purchase one from the secondary market or use the rental system to rent one long-term. With this system, you can rent complete ownership of a world from its owner and pay a monthly fee in WRLD tokens.
After acquiring or renting a world, you can build any game experience or mode, such as shooters, racing, battle royales, and role-playing games.
You can also play NFT Worlds by visiting worlds, enjoying what other builders have created, and participating in whatever competitions and challenges they have created.
There is not much difference between playing as a gamer and playing as an earner in NFT Worlds. You can play NFT Worlds as a land owner and build an experience within your world, then charge people to enter the experience and play.
You can also buy WRLD tokens and NFT Worlds land and sell them for a profit. You should time well to sell them for more than you purchased them. This can be risky because it involves speculation.
You can also stake your NFTs World and earn WRLD tokens regularly. This involves locking up your NFT, and the amount of WRLD tokens you earn will depend on the rarity of the NFT.
You can rent out your NFT World by setting a monthly rental fee and the duration of availability for renters. This way, you will earn WRLD tokens from both staking and rental fees.
Is NFT World a Good Investment?
Crypto gamers with Minecraft experience are most likely to join NFT Worlds because it follows a similar style of gameplay. An NFT World gives players space on the blockchain where they can explore, develop, and build a familiar environment.
As the world increasingly becomes digital, NFT Worlds is a potential investment opportunity for physical real estate owners. Since the collection only has 10,000 worlds, the rarity of NFT Worlds is most likely to create value in the future.
With NFT Worlds, owners can create mini-games and experiences that can generate revenue for creative collectors in WRLD, its native cryptocurrency.
Buy and Sell NFTs for a Profit
You can grow your crypto earnings by buying NFTs and selling them for a profit. NFTCrypto.io has made this even easier for you via their NFT signals trading system. They find profitable flips in the NFT market and share the signal with you in real time. Join NFT Signals now and become a successful NFT trader. The platform users have so far earned a total group profit of over $1 Billion.