As blockchain-based innovations continue to evolve, NFT staking has become a popular way of earning passive income through digital assets. While crypto staking has existed for some time, staking NFTs is a relatively new concept that is gaining traction. NFT staking allows NFT holders to earn rewards and benefits without losing ownership of their digital assets. In this article, we discuss NFT staking in detail and what you should consider before getting started.
What is NFT Staking?
NFT staking refers to the process of depositing NFTs into a system or platform to obtain rewards and other benefits. It enables NFT owners to earn passive income from their digital assets while maintaining their ownership. NFTs are unique digital assets stored on the blockchain and they represent the ownership of digital assets such as images, videos, and audio.
However, not all NFTs can be staked. Before buying an NFT for staking purposes, it is good to research to establish whether the NFT is accepted on the staking platform of choice.
How Does NFT Staking Work?
NFT staking works in the same way as staking cryptocurrencies since NFTs are tokenized assets. The NFTs can be deployed on staking platforms via a smart contract on the appropriate blockchain.
Although staking NFT is a relatively new concept, it has been an exciting development among many NFT holders. The reason is that NFTs are unique digital assets, making holders reluctant to sell. This makes them different from cryptocurrencies, which are easy to buy and sell. To stake an NFT, you must have a crypto wallet compatible with the NFT in question.
You should first check whether the wallet is compatible with the blockchain where the NFT is stored. Next, connect the wallet to the staking platform and send the NFT to the platform. Your NFT will be locked in a smart contract, allowing you to use it as collateral to earn rewards during the staking period.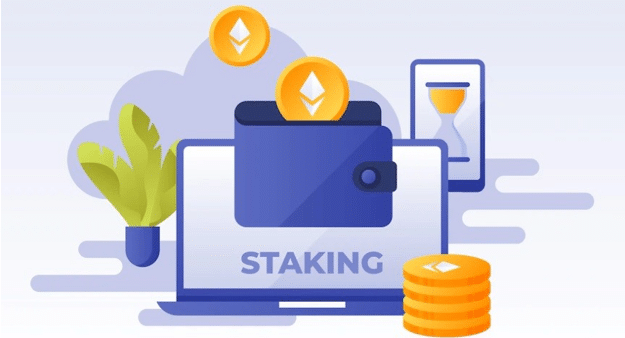 The rewards are based on the established annual percentage yield (APY) and the number of staked NFTs.
NFT Staking Rewards
The type of reward that an NFT holder earns for staking their NFT depends on the staking platform used and the type of NFT staked. Most NFT staking platforms offer daily or weekly rewards. The staking rewards are issued in the native utility token of the platform, and the token is listed on crypto exchanges to allow for its trading with other cryptocurrencies or fiat money.
Some NFT staking platforms have a decentralized autonomous organization (DAO), where NFT holders can lock up their assets in the DAO pool and participate in the platform's governance and voting on proposals. The NFT holders can then play an active role in the community, and have a say in how the project runs.
Some projects also choose to reward their holders with free NFTs from their new NFT collections.
How are NFT Staking Rewards Calculated?
Most NFT projects offer staking rewards in terms of annual percentage yield (APY). The reward rates increase with the length of time the NFT is staked. That is why NFT holders are encouraged to stake their NFTs for as long as it's feasible.
Some systems may show your predicted returns in terms of tokens instead of an APY. For example, you can receive 20 tokens for each day the NFT is staked.
Best NFT Staking Platforms
Many platforms have been launched to offer NFT staking opportunities. It is easy to get started as you only need a compatible wallet. Below are some of the best platforms for staking NFT:
NFTX
NFTX is an online platform that facilitates buying, selling, staking, and swapping NFTs. Users can deposit their NFTs into an NFTX vault and mint an ERC-20 token that can be exchanged at a 1:1 ratio. The tokens, which are called vTokens, can be staked to generate rewards or be used to buy specific NFTs from a vault.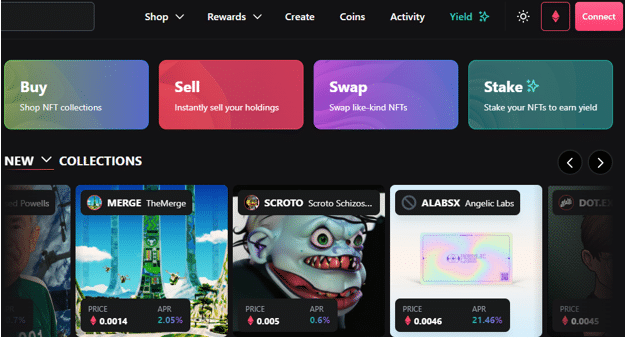 The token holders can pull their vTokens in automated market makers (AMMs) to create a liquid market for other traders. This enables them to earn trading fees as a liquidity provider (LP).
It's worth noting that when you stake your NFT with NFTX, you will have given up ownership of the NFT. For example, if you stake CryptoPunks #2222 on NFTX, you will receive another NFT, such as CryptoPunk #3333. This makes NFTX a suitable NFT staking platform for NFTs that are not very rare and have common traits.
You can learn more about NFT rarity here.
Ape Coin
ApeStake.io allows holders of Bored Ape Yacht Club (BAYC), Bored Ape Kennel Club (BAKC), and Mutant Ape Yacht Club (MAYC) to stake their NFTs and earn APE tokens.
The NFT holders are given access to exclusive staking pools, each pool featuring different rewards and terms. Holders have the flexibility of choosing the terms they are comfortable with before staking their NFTs. For BAKC holders, they must pair their BAKC NFT with either BAYC or MAYC before they can start earning rewards. They can also stake their APE tokens to earn more APE.
If an owner sells the NFT before the end of the staking period, they will lose their staked APE. The staked APE and the rewards will go to the new owner.
The Sandbox
The Sandbox Metaverse players can stake their land NFTs and earn rewards in the form of SAND tokens. The team behind The Sandbox has set aside SAND worth $10 million to be distributed to stakers. This allows The Sandbox players to earn as the project continues to develop more utility.
To understand how The Sandbox ecosystem works, read this blog.
Axie Infinity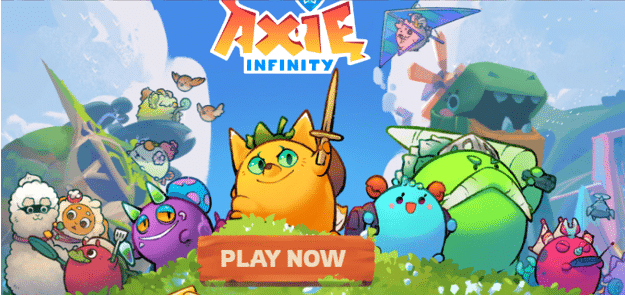 Axie Infinity started its Land Staking campaign in July 2022. It offers five different types of land NFTs, Savannah, Arctic, Forest, Mystic, and Genesis. Players can earn AXS tokens by staking their Axie land NFTs. The reward rates differ based on the rarity of the land NFTs.
Splinterlands
Splinterlands is a collectible card game based on the blockchain. Players can build up a collection of cards listing different abilities and stats, and use them in matches.
Splinterlands has its native token called SPS (short for "Splintershards) set up as a DAO on Binance Smart Chain (BSC). SPS token holders can stake their SPS tokens on players participating in liquidity pools, ranked battles, and the DAO for governance voting.
Is NFT Staking a Good Investment?
The concept of staking NFTs is still in its early days. Liquidity is also a big issue for NFTs because most people buy NFTs for HODling as long-term investments and the ecosystem is underdeveloped. Nevertheless, the NFT hype has created interest among crypto investors who want to explore and earn rewards on NFT platforms.
Currently, NFT staking may not be as popular as cryptocurrency staking, but it has the potential to grow in the future, especially considering that Ethereum has transitioned from proof of work (PoW) to proof of stake (PoS) consensus.
Prominent NFT projects such as the Bored Ape Yacht Club (BAYC) already have a good foundation for NFT staking, paving the way for more innovation. Currently, the biggest advantage of NFT staking is that NFT holders don't have to sell their collections to earn rewards. They only have to stake their NFT in a staking pool and start earning rewards.
Buy and Sell NFTs for a Profit
You can grow your crypto earnings by buying NFTs and selling them for a profit. NFTCrypto.io has made this even easier for you via their NFT signals trading system. They find profitable flips in the NFT market and share the signal with you in real time. Join NFT Signals now and become a successful NFT trader. The platform users have so far earned a total group profit of over $1 Billion.