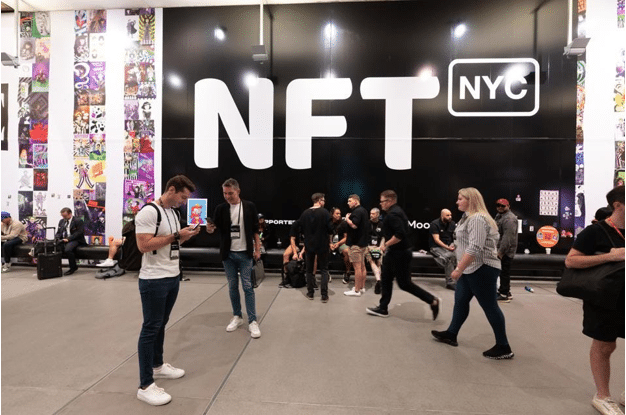 Non-Fungible Tokens (NFTs) have revolutionized the art world and provided artists with a new way of monetizing their work. NFT NYC is a global event that brings NFT creators and fans together to discuss the impact of NFTs on the global economy. The event allows attendees to learn from thought leaders and industry experts and gain a better understanding of the NFT industry. In this article, we discuss the NFT NYC in detail and what you can learn from the event.
What is NFT NYC?
NFT NYC is the leading NFT industry event in the world. The event was founded on the principle of giving people a voice, and it is packed with panels, keynotes, exhibitors, and others, featuring experts from both inside and outside of web3.
Other than the buzz surrounding the event, NFT.NYC is also known for its many other side events and after-parties. NFT NYC 2022 saw impressive experiences from NFT projects such as Cool Cats, Doodles, Goblintown, and others, and NFT NYC 2023 was not different.
NFT NYC helps the attendees interact with industry experts and thought leaders to learn more about the industry. Creators and innovators are also allowed to showcase their NFT projects and connect with potential investors. The attendees also gain an understanding of the current and future state of NFTs.
NFT NYC was founded in 2018 with the following core objectives:
#1: Give the community a voice
NFT NYC puts many speakers on stage to give the NFT community a forum where they can voice their most relevant ideas at the moment.
#2: Connection
NFT NYC brings together people from across the globe who are working on like projects.
#3: Proselytize
NFTs are a relatively new technology. Many have heard about NFTs but have no real understanding of the technology. NFT NYC seeks to educate the global community about the value of NFTs.
#4: Engage
The NFT NYC team seeks to use NFTs to create an engagement that delivers the above core values.
Where is NFT NYC held?
The NFT NYC 2023 digital art and blockchain conference was held in New York City's Javits Center, a convention venue on the west side of Manhattan, with more than 6000 attendees. NFT NYC 2023 was held in a single place, unlike NFT NYC 2022 which used a scattered approach, with programming in seven different venues in Times Square. The event was an informative and exciting gathering of digital artists, blockchain developers, crypto enthusiasts, and art industry professionals from across the world.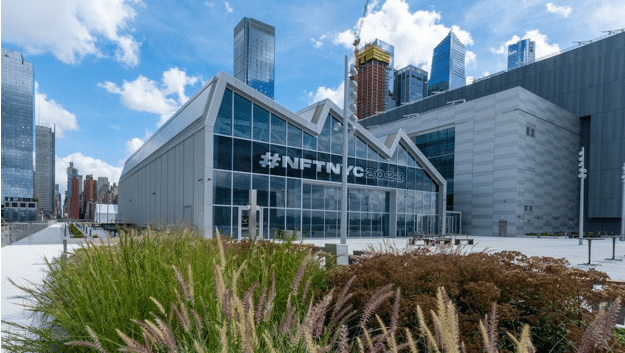 The NFT NYC attendees had an opportunity to explore the latest trends in digital art and blockchain technology, create connections with like-minded individuals, and discover new projects.
The conference featured talks from leading figures in the NFT and blockchain industry, as well as panel discussions, workshops, and networking events that discussed how NFTs have impacted the world. Participants had an opportunity to learn from industry leaders and connect with top developers and entrepreneurs. The event also featured a series of hackathons and design competitions to promote creativity and innovation within the NFT industry.
NFT NYC 2023 was an informative and inspiring event for anyone interested in the future of NFTs. Attendees gained valuable insights into the potential of the NFT technology.
Who were the Sponsors of NFT NYC 2023?
The NFT NYC 2023 conference was sponsored by companies that have been very active within the NFT space. These include Immutable (a layer 2 blockchain), OpenSea (an NFT marketplace), and Amazon Web Services. The event partners hosted Metaverse exhibitions, event galleries, and lounges for degens to do their networking.
Other past sponsors of NFT NYC include Doodle Labs, Animoca Brands, Coinbase, Chritie's, Flow, Ledger, PwC, Polygon, Sony Electronics, WAX, TRON, Algorand, Alethea AI, Cool Cats NFT, CryptoKitties, DappRadar, and several others.
Who were the Speakers at NFT NYC?
NFT NYC is the world's premier event for Non-Fungible Tokens. It gives the world's leading entrepreneurs, NFT experts, and innovators a platform to come together and explore the potential of NFTs.
The NFT NYC 2023 speakers are pioneering the adoption of NFTs in different industries, such as art, finance, gaming, music, and more. The event featured engaging workshops and interactive panel discussions exploring the various applications and implications of NFTs.
Speakers at the NFT NYC 2023 conference included prominent figures in the blockchain and NFT space, such as Sebastian Oddo (Director of NFTs, Blockchain and Web3 Marketing at Mastercard), Jane King (CEO of LilaMax media at the NASDAQ), Brittany O'Hagan (VP, Partnerships at Dapper Labs), Yorker (Cofounder blockchain at Microsoft), @sidneyswift (Founder & CEO of Defient), Yat Siu (Co-Founder and Executive Chairman, Animoca Brands Founder and CEO, Outblaze), Sumeet Chugani
(Coinbase – Associate General Counsel), Aniko Berman (Web3 Talent Management and Creative Consulting), and Alex Atallah (Co-Founder of OpenSea), among others.
NFT NYC 2023 brought together the biggest names in the NFT space to discuss the potential of NFTs and the future of the NFT industry. Attendees experienced a full array of presentations, live demos, and workshops, plus a wide variety of NFTs and art pieces available for purchase. From finance and tech, NFT NYC 2023 was a unique opportunity to experience the ability of Non-Fungible tokens to revolutionize the digital economy and their full potential.
The event covered topics such as NFT regulation gaming, Intellectual Property (IP), health, fashion, and the Metaverse. The content of the event seemed to mature since Web3 has become synonymous with the emerging Non-Fungible Tokens industry.
Who can Attend NFT NYC?
NFT NYC is a New York-based event whose major focus is on the growing NFT industry. It is a good event for those interested in learning more about NFTs and their potential, as well as those who have already ventured into the NFT industry.
The event runs for three days featuring a variety of workshops, panels, and discussions from leading experts in the field. Attendees get to learn about topics such as the legal and regulatory aspects of NFTs, NFT technology, and the potential applications of NFTs.
The NFT NYC event is open to anyone with an interest in NFTs, from developers to entrepreneurs, artists, investors, to hobbyists. NFT NYC is sure to be an invaluable experience for those seeking to explore the potential of NFTs and the creative industry. Be sure to check this event every year for an opportunity to network, learn, and establish meaningful connections with other players in the industry. NFT NYC 2024 will run from April 3 to April 5.
NFT NYC 2023 Featured Artists
Over 3000 artists expressed their interest to show their art at NFT NYC 2023. Over 300 community artists were featured at NFT NYC 2022. The following were some of the featured artists at NFT.NYC 2023:
#1: aeforia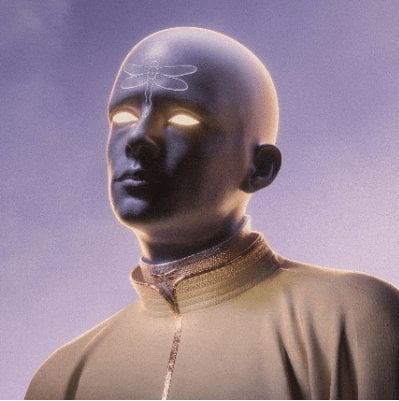 aeforia is an artist based in Montreal, Canada. His works are all about colors, balance, and emotion. He blends surreal landscapes and digital portraiture, and he has managed to come up with a unique style over the years and develop a keen eye for details while focusing on the emotional impact. His works comprise different types of artistic self-expression such as musical composition, and photography, with a great focus on 3D art and animation. He began his digital art career using his phone in 2014. He has collaborated with brands such as Pantone, Bershka, and Opera, as well as musicians such as Deathpact, Odesza, Haywyre, Yung Gravy, and Kidswaste.
#2: Andrea Bonaceto
Andrea Bonaceto is an Italian artist and entrepreneur. He uses visual art as a means to express himself together with poetry and music, bringing these disciplines together into a comprehensive practice.
His artworks are an intersection of art and technology, and they are created independently or in collaboration with other artists such as Sophia the Robot and Humanoid.
#3: Baeige
Baeige is a Vancouver-based digital artist. Her artworks are a reflection of her appreciation for surrealist landscapes, architecture, and interior design.
#4: Bryan Brinkman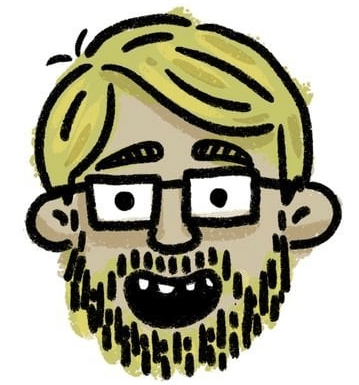 Bryan Brinkman is a multi-media artist who uses his career in animation and motion graphics to create fun and come up with inventive ways of conveying ideas about creative processes and the NFT space that is appealing. His Artwork has been listed on platforms such as SuperRare, Async, ArtBlocks, NiftyGateway, and more.
#5: Carmilla
Carmilla Sumantry is a designer and interdisciplinary artist based in Vancouver, Canada. She is a creative jack of all trades and a trained industrial designer, and she is experienced in many fields and mediums, including graphic design, furniture design, oil painting, and digital art.
Buy and Sell NFTs for a Profit
You can grow your crypto earnings by buying NFTs and selling them for a profit. NFTCrypto.io has made this even easier for you via their NFT signals trading system. They find profitable flips in the NFT market and share the signal with you in real-time. Join NFT Signals now and become a successful NFT trader. The platform users have so far earned a total group profit of over $1 Billion.