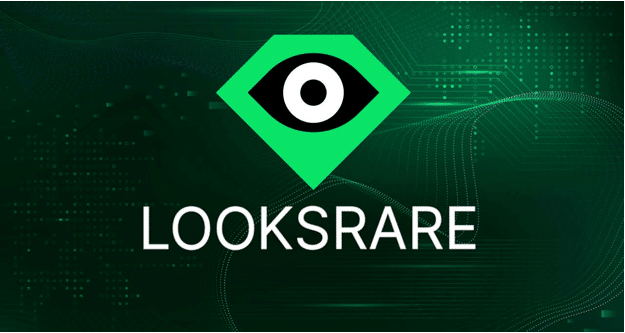 As NFTs continue to rise in popularity, many people are desiring to learn more about NFT marketplaces such as LooksRare. The LooksRare NFT marketplace takes a community-first approach, distinguishing itself from the competitors. Whether you want freshly launched NFT collections or NFT community favorites such as the Bored Ape Yacht Club, LooksRare NFT has it all. It has many community reward mechanisms, making it a major OpenSea contender. In this article, we answer every question that you may have about LooksRare NFT.
What is LooksRare NFT?
LooksRare is an Ethereum-based NFT marketplace that rewards users for buying and selling NFTs on the platform. As a community-driven platform, LooksRare NFT rewards all its collectors, creators, and traders with its native token, LOOKS. Thus, the platform has a great emphasis on giving back to the NFT community.
Currently, the marketplace charges a 2% fee on each LooksRare NFT sale. It offers many attractive features such as trading rewards, trait offers, staking rewards, and more. The LooksRare NFT marketplace has also adopted a modular framework for its smart contract to facilitate the addition of new features in the future.
Who Founded the LooksRare NFT Marketplace?
LooksRare was launched by anonymous co-founders "Zodd" and "Guts" in January 2022 as a competitor to the OpenSea NFT marketplace. They announced their plans to implement additional features to attract new users, with most of them revolving around its LOOKS token rewards.
How can I Buy LooksRare NFT?
Below are the steps on how to buy NFTs on the LooksRare NFT platform:
Step 1: Visit the LooksRare homepage and click the wallet icon to connect your crypto wallet. Some of the common wallet options on the platform are MetaMask, Phantom, WalletConnect, Rainbow, and Coinbase Wallet.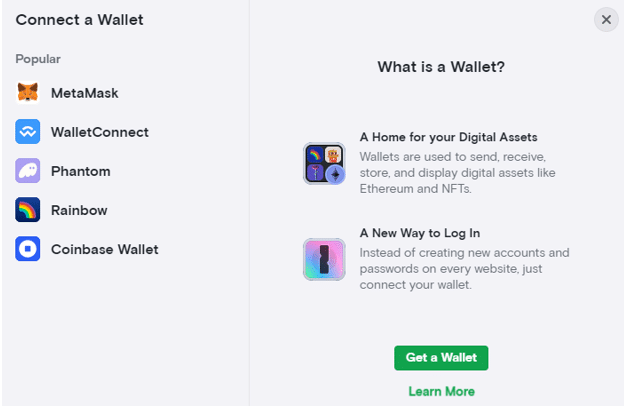 Choose your wallet and ensure you have enough crypto for buying LooksRare NFTs.
Step 2: Next, open the "Explore" or "Collections" tab to find the LooksRare NFTs that you like. You can search for the NFTs using names or token IDs. You can also use filters such as the price range to look for NFTs of choice.
Step 3: After finding the LooksRare NFT that you like, place an offer on it using ETH or wETH. Also, if you have an interest in a particular NFT collection, but you've no preferred NFT in the collection, you can make a "Collection Offer."
Step 4: If you're interested in a fixed-price NFT, click the "Buy Now" button to immediately purchase the NFT.
How to Mint LooksRare NFTs
NFT creators can also mint their NFTs on LooksRare. The LooksRare NFT marketplace offers a third-party service, Manifold Studio.
Connect your wallet to the platform and click the "Create a Collection" button. Look for the "Manifold" tab and click it. You can use Manifold to import files into LooksRare and use them to create new NFTs before listing them for sale on the marketplace.
To learn more about how NFT minting works, read our blog here.
How to Sell NFTs on LooksRare
If you already have an NFT, it is easy to sell it on the LooksRare NFT marketplace. Follow the steps given below:
Step 1: Begin by connecting your crypto wallet to the platform.
Step 2: Click the "List an NFT" button. You will be presented with the list of NFTs in your NFT wallet.
Step 3: Select the LooksRare NFT that you want to sell, then click the "Sell" option.
Step 4: Set the NFT price and the number of days that you want the NFT sale to remain active.
For a detailed guide on how to price your NFT and boost your profit, read this blog.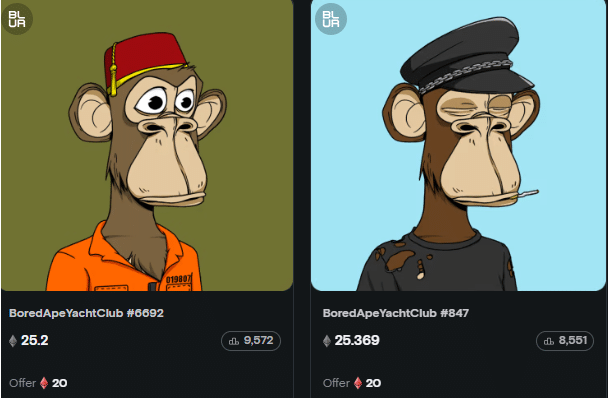 The LooksRare NFT marketplace has an additional feature known as "Conditional Listing." This feature allows the platform users to list two items for sale. When one of the items is sold, the other one is canceled. It is a useful feature for sellers who want to sell one NFT without minding which one.
The LooksRare LOOKS Token
LOOKS is the native ERC-20 token of the LooksRare NFT marketplace and it is based on the Ethereum blockchain. This is one of the features that make LooksRare a unique NFT marketplace since most NFT marketplaces don't have native tokens. LOOKS has a total supply of 1 billion tokens. At the time of writing, the token was trading at $0.0535 on Coinbase.
LOOKS is at the core of LooksRare's reward programs. LOOKS holders can stake their tokens for more rewards. The platform also rewards active traders for listing particular NFT collections for sale.
Listing Rewards on LooksRare NFT Marketplace
LooksRare uses rewards programs to attract users to the platform. One of the popular ones is "listing rewards." The program rewards NFT traders and collectors with LOOKS tokens just for listing NFTs for sale on the platform. The sellers are awarded points every 10 minutes for all eligible listings.
So, what makes a listing eligible for reward points? First, the NFT must belong to one of the top 5 NFT collections by 24-hour trading volume. The listing should also be active, and the price should not be more than 1.4x the global collection floor price. Additionally, the LooksRare NFT should be on sale for at least 10 minutes, be within the maximum limit of 200 eligible listings per collection, and must not expire before 1 hour of each snapshot.
LooksRare counts each day's points from 9:00 AM UTC until 9:00 AM UTC the next day, with 144 snapshots every 10 minutes. Users are assigned LOOKS tokens at the end of this period, depending on the total points for the day.
How to Stake LOOKS Tokens
Another key feature of LooksRare NFT is LOOKS token staking. This feature allows users to stake their LOOKS tokens and earn rewards in the form of wETH or LOOKS.
There are two types of staking on the LooksRare NFT marketplace:
Active staking- This type of staking allows users to unlock all their LOOKS immediately. The users earn rewards in both wETH and LOOKS.
Passive staking- In this type of staking, users only get wETH but don't earn extra LOOKS for staking their tokens. The LOOKS are locked, hence, they cannot trade them.
To stake your LOOKS tokens, open the LooksRare homepage and click the "Rewards" tab. You can choose to do "standard staking" or auto-compound your tokens. With standard staking, you stake the tokens you want for rewards. With auto-compounding, your staking rewards are automatically re-staked.
The amount of rewards you receive are calculated at the end of each period and they depend on several factors. For example, the daily trading volume, whether you compound your tokens, etc. Once you unstake your tokens, your staked tokens and the final rewards are added to your wallet.
Why Choose LooksRare NFT?
As we stated above, one of the key features that differentiates LooksRare from other NFT marketplaces is its token. This enables the marketplace to offer its users different reward mechanisms. LooksRare also charges a bit lower transaction fee, that is, 2%, compared to OpenSea (one of the top NFT marketplaces) which charges a transaction fee of 2.5%. LooksRare NFT also promises to return 100% of platform fees to those who stake their LOOKS tokens. Thus, the LooksRare NFT marketplace is the best option for those looking to earn rewards and enjoy LooksRare's additional features.
Buy and Sell NFTs for a Profit
You can grow your crypto earnings by buying NFTs and selling them for a profit. NFTCrypto.io has made this even easier for you via their NFT signals trading system. They find profitable flips in the NFT market and share the signal with you in real time. Join NFT Signals now and become a successful NFT trader. The platform users have so far earned a total group profit of over $1 Billion.