Supercar lovers are everywhere in the world, but because of the high cost, not everyone can afford to own one. NFTs can represent anything, so why not racing automobiles? A group of hypercar collectors came up with Hyper NFT, a collection of hypercars. Hyper NFTs provide owners an opportunity to acquire digital assets connected to automobiles. The NFT project creates a bridge between the actual and virtual worlds using the Metaverse (Learn more about the Metaverse here). In this article, we look at what Hyper NFT entails, including who is Hyper NFT, who created Hyper NFT, and the benefits of buying these NFTs. Let's get started.
Who is Hyper NFT?
Hyper NFT is a decentralized network for exchanging supercar NFTs and other virtual assets. It is an NFT that can be used to buy or sell supercar-themed NFTs.
The team has developed an ecosystem where users can buy and sell any car-themed Hyper NFT Supercar, such as Lamborghinis, Ferraris, Bugattis, etc.
Supercar NFT is a new type of token used to buy various products. The platform lets users buy and sell products using tokens linked to the price of the item they buy. Thus, Hyper NFT is a token built on the blockchain that allows users to exchange NFTs between themselves.
If you have an extra token and you want to sell it, you simply have to create an offer for your product on the Hyper NFT app or website. Users wishing for your item can send you their tokens in exchange for your tokens.
The Hyper NFT blockchain brings together the digital collecting world with a members-only experience. The Hyper NFT collectors are granted access to Supercar seminars, motor rallies, showrooms, VIP events, road displays, and genuine driving experiences.
NFTs are designed to be bought and sold on the secondary NFT marketplaces. Hyper NFTs are non-fungible tokens on the Ethereum blockchain. However, Hyper NFTs are not designed to be exchanged. Instead, they indicate the ownership of digital assets inside the Ethereum ecosystem. This makes them very efficient in tracking the ownership of digital assets. It is easy to determine who owns which Hyper NFT. They also lower transaction charges on the blockchain. Hyper NFTs seem to be a promising way of handling digital assets on the Ethereum blockchain.
Who Owns Hyper NFT?
Hyper NFT is owned by a blockchain project businessman named Thomas Gavache. Although he launched the project firsthand, a group of people have worked for its blockchain and cryptocurrency for years.
Supercar NFT is a wonderful technology that enables you to transform your NFT into any vehicle. It can transform a Bugatti Veyron into a Lamborghini in seconds. You can transform your Hyper NFT Supercar into as many cars as you like.
Hyper NFT Experience
The Hyper NFT experience uses a combination of renewable energy sources and high technology to provide an exhilarating ride that makes one feel like they are flying through space. One experiences faster acceleration than any other car on the road with zero emissions during the trip.

The Supercar NFT community members can access the 30,000 sq. ft Museum of Hypercars. They can also meet all the needs of the Hypercar industry with a free tour of hypercar factories. Users can experience hypercars elements on closed tracks or roads and enjoy riding hypercars in the Metaverse. They can view all dream Hypercars with real-world experience. The exclusive hypercar digital NFTs are usable in the Metaverse.
Is Hypercar NFT Legit or a Scam?
The Hyper NFT team is very transparent with the information they have provided on their website, including their team members and advisors. They have also added a detailed roadmap regarding the platform's development and plans to expand to new markets.
Hyper NFT is a supercar-themed NFT that you can use to drive your Hypercar. Hyper NFT is not spam, but it is also not a real car. It is an NFT that you can trade with others. Hyper NFT founders have also launched other popular NFT projects. These NFTs have fetched millions of dollars in the NFT market because of their legitimacy.
However, it is always good to do scrutiny before investing in any NFT project. Your decision to invest in NFTs should be determined by your risk tolerance and how the technology progresses in the future. NFTs are not as secure as traditional assets such as commodities or financial instruments.
You can learn how to stay safe from NFT scams here.
Hyper NFT has attained notoriety for its innovative use of NFTs. Users can buy, sell, or exchange digital autos stored on the blockchain. Thus, whether one wants to invest in this kind of project is a personal decision.
As a buyer, it's good to remember that NFTs are not acquired only for representation purposes, but also an investment tool that can produce profits in the short or long term. But before investing in an NFT, keep an open mind and do your research.
What are NFAST Supercars?
NFAST is a unique automotive collection created for the Metaverse. The automobiles have unique ownership and are connected to the blockchain-based REVV racing game. The NFAST sports vehicle brand was founded by Thomas Gavache and Arseny Kostromin, an experienced auto designer.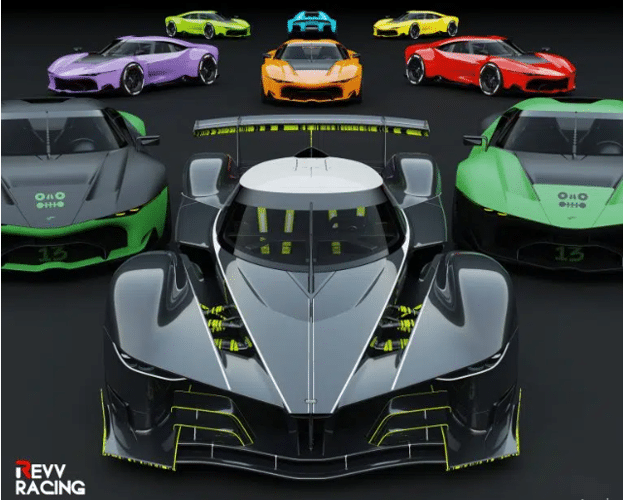 NFAST has partnered with Animoca brands, a pioneer of blockchain gaming with a strong motorsports ecosystem, to accomplish its goal of revolutionizing the experience of operating premium supercars for competing in the Metaverse.
NFAST hypercars are bought and sold as non-fungible tokens (NFTs). NFAST vehicle collectors can enjoy watching their hypercar in high definition. However, it is made simple by augmented reality, allowing children to race and win with it.
Hyper NFT Events
The Hyper NFT experience starts with events and exhibitions of supercars at Speed Festivals, Monterey Car Week, and Formula Drift competitions.
The first event took place at Formula Drift in Long Beach, California. The community was thrilled to see many people come out to show off their Hypercars. It is easy to participate in these events, provided you know how to create cool art with NFT tools. The tickets to the events are sold as NFTs on the official website. To learn how this works, read our blog about NFT tickets.
What is the Future of Hyper NFT?
Hyper NFT could be the future of car ownership. The team of automotive enthusiasts and experienced technologists is dedicated to bringing you the best of both worlds. It gives you a chance to own your dream car without the hassle of theft, insurance, or maintenance.
Hyper NFT is not simply a car, it's a lifestyle. It is about going fast and having fun, and at the same time doing it in style. With Hyper NFT, you can drive around in your Supercar without ever worrying about repairs or maintenance. It's also a perfect fit for those who are always on the go and don't have the time to take their car for fixing when something breaks down.
Hyper NFT is a Supercar created to be the future of the automotive industry. It also comes with a high-performance engine, enabling it to travel at very high speeds. Additionally, the goal of the company is to offer users an experience that is close to driving a real car while maintaining the benefits provided by the blockchain.
Buy and Sell NFTs for a Profit
You can grow your crypto earnings by buying NFTs and selling them for a profit. NFTCrypto.io has made this even easier for you via their NFT signals trading system. They find profitable flips in the NFT market and share the signal with you in real-time. Join NFT Signals now and become a successful NFT trader. The platform users have so far earned a total group profit of over $1 Billion.