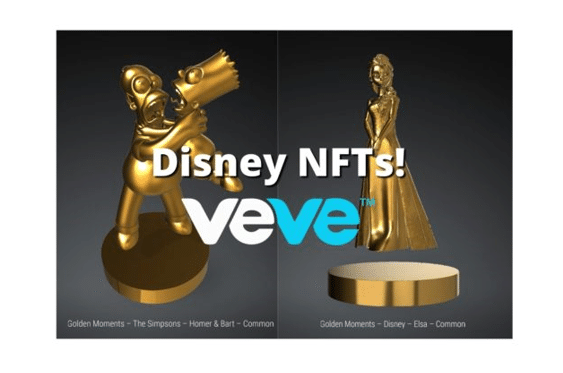 From toys to movies, Disney is a popular brand that's recognized and loved by many. Walt Disney has now taken its brand even further by offering its digital collectibles as NFTs. But, how can you buy Disney NFT?
The Disney NFTs are now on sale on the Veve NFT App. The Veve NFT App is available in Android and iOS versions, but you can also access it on a desktop via the Veve Web App. In this article, we discuss where and how to purchase Disney NFT.
Where Can I Buy Disney NFTs?
Disney NFTs are only available on Veve's digital collectible platform. According to Disney, if you find a Disney NFT outsidfe Veve, it is not an officially licensed product. To see the upcoming Disney NFT drops, visit the Drops Page. You can find the Disney NFT of your choice by visiting the "Store" tab.
Thus, unlike other NFTs that are sold and bought on NFT marketplaces such as OpenSea and Rarible, Disney NFTs are only available on a single platform, that is the Veve market.
What Do I Need to Buy a Disney NFT?
You need the following to buy a Disney NFT:
Veve app- The Veve app is available for both mobile and desktop devices. It can also be accessed via the web.
Government-issued ID and ID number- to be used in conducting the Know Your Customer (KYC) process.
Proof of Address- such as bank statement, utility bill, credit card statement, etc.
GEMs- the native currency used for buying NFTs on the Veve platform. You can buy GEMs via crypto or fiat currency. have to proof your
During the early days of the Veve app, users didn't have to go through the verification process. However, the marketplace has implemented a verification process to keep users safe, especially at a time when NFT scams are on the rise.
Veve has also made it possible for users to cash out their GEMs for real money and cryptocurrency.  The KYC process is also needed to make this feature effective. Hence, you have to prove your identity and address.
After submitting all that is needed for the verification process, it can take between 2 minutes and 48 hours for the process to be completed. Once the verification process runs successfully, you will be ready to buy a Disney NFT!
How to Buy Disney NFTs on Veve
You can follow these steps to buy a Disney NFT on the Veve app:
Step 1: Download the Veve app
You need the Veve app on your Android, iOS, or Desktop device to buy Disneys NFT. For Android and iOS users, download the app on your device. For Desktop device users, open the Veve Web App.
Step 2: Create a Veve Account
After downloading the app, you will be required to register an account. You only need a username, a valid email address, and a strong password to create a Veve account.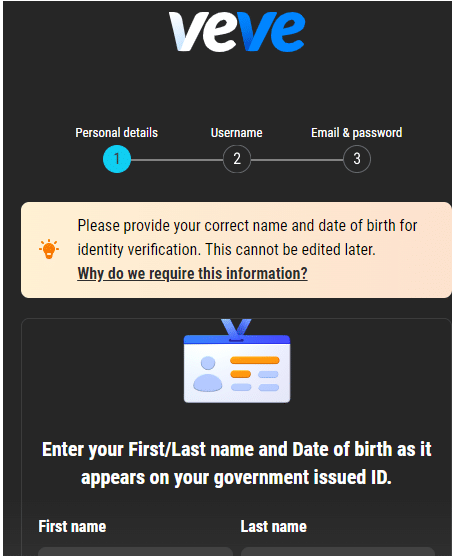 After submitting all the required details, a code will be sent to your email for authentication. Enter the code on the Veve app and complete the process of creating an account.
Step 3: Verify your Veve Account
You must verify your Veve account to access all the features offered by the platform. After verification, you will be able to access features such as:
NFT drops (new NFT releases)
Marketplace (buy NFTs on the secondary market)
Payout (cash out your GEMs for real money or crypto)
Promos (get special promotional deals from Veve)
Master Collection Program (Earn points as you collect Disney NFTs to gain access to features for enhancing your collection)
Note that if you fail to complete the account verification process, you will not be allowed to buy Disney NFTs.
Step 3: Buy GEMs
The GEMs can be bought in-app. 1 GEM costs $1.00. Veve provides many payment methods, including PayPal, Credit Card, Google Pay, and Apple Pay for buying GEMs.
However, it's worth noting that you may be required to pay more depending on your payment method and the fees and taxes charged by your payment processor.
Step 4: Browse for Disney NFTs or Wait for a Drop
Now that your NFT wallet is loaded with GEMs, you are ready to purchase a Disney NFT. You have two options to buy an NFT on the Veve NFT marketplace:
Browse the market
The "market" tab of the app shows the available Disney NFTs at any particular time. With this option, you will have an option to "Buy Now" or place a bid on a Disney NFT on the "Auction" page.
However, there are some factors to consider when browsing for NFTs on the Veve app. You may end up paying a higher price for a Disney NFT than if you were to buy it when it drops. You can also get a better deal for a Disney NFT if its value drops after the initial release. Hence, it can go either way.
View Upcoming Drops
If you prefer buying an NFT when it drops, open the "Store" tab and choose "Drops."
The Drops page allows you to see new Disney NFT drops, upcoming NFT drops, as well as the rarity and price of the Disney NFTs.
Note that Disney NFT drops generally sell out within minutes.
That means that as the times get closer, you should be in the Veve app and ready to purchase. So, have enough GEMs and be ready to tap the buy button immediately after the drop goes live.
If you don't get an NFT after it drops, you can still buy it in the market later. However, the price usually goes high after the drop ends. So, you can wait for some time to see if the secondary market price of the Disney NFT drops after the initial drop ends.
Step 5: View your Disney NFT
After purchasing a Disney NFT, you can find it under the "Collection" tab. The Veve app provides awesome and interactive options for viewing your digital collectibles. These include:
Your virtual vault
Augmented reality
On-screen
How to Sell Your Disney NFT
Other than buying, the Veve market also allows you to sell your Disney NFT. The following steps can help you to sell your NFT on Veve:
Step 1: Sign in to your Veve Account
Sign in to your Veve account on your mobile or desktop device.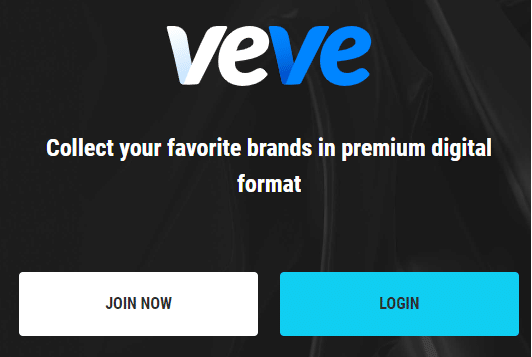 Step 2: Select your NFT on the Collection tab
Open the "Collection" tab. You will see all your Disney NFTs. Select the Disney NFT that you want to sell.
Step 3: Tap the Sell Button
After clicking the Disney NFT that you want to sell, a new page will be opened with the NFT details. Tap the "SELL" button.
Step 4: List your Disneys NFT for Sale
It is now time to list your Disney NFT for sale on the Veve market. The platform allows you to choose between fixed price and auction. For a fixed price, the NFT will be sold at the price that you specify. For the auction, you will receive bids from different potential buyers. The highest bidder will automatically become the new owner of the NFT once the bidding period expires. The funds paid for the NFT will be transferred to you.
Regardless of the option you choose, set the price for which you want to sell the NFT and tap the "Confirm Details" button.
Your Disney NFT will be listed for sale on the Veve market.
How Much Does a Disney NFT Cost?
On average, all Disney NFTs listed on the Veve market cost between 40 to 60 GEMs ($40 to $60) at the time of the drop. If your goal is to save money when buying Disney NFTs, you can check the platform for lower-priced NFTs once they drop. Note that some Disney NFT prices may jump 2-10X their initial drop price.
The following steps can help you know whether a Disney NFT has changed in value since its initial release date:
Step 1: Search for an NFT on the Veve Market
Step 2: Tap the Disney NFT to view its initial "List Price"
Step 3: Open the tab "for sale in the Market" to see the current floor price of the NFT.
If the floor price of the NFT is lower than its list price, it means the value of the NFT has dropped. If the floor price of the Disney NFT is above its list price, the value of the NFT has increased.
Buy and Sell NFTs for a Profit
You can grow your crypto earnings by buying NFTs and selling them for a profit. NFTCrypto.io has made this even easier for you via their NFT signals trading system. They find profitable flips in the NFT market and share the signal with you in real-time. Join NFT Signals now and become a successful NFT trader. The platform users have so far earned a total group profit of over $1 Billion.