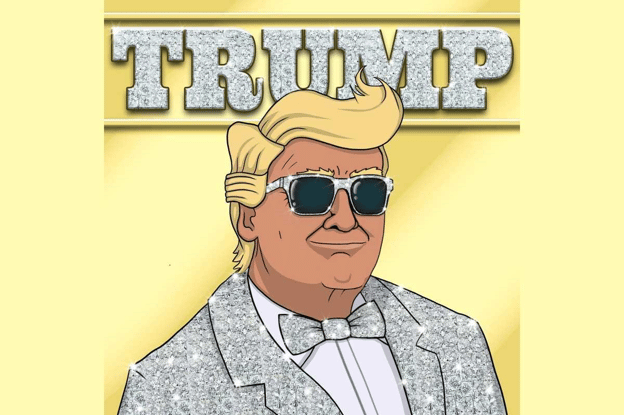 Despite attracting criticism from the online community, former US President Donald Trump's collection of digital trading cards was sold in less than a day, netting sales worth US$4.5m.
Trump launched the collection on Thursday last week after alerting his followers to a "major announcement" on Wednesday via his Truth social media platform. Trump announced that he was offering "limited edition cards featuring amazing ART of my Life & Career", promising they would be "very much like a baseball card but hopefully much more exciting".
Trump's cards feature the 76-year-old former US commander-in-chief in a boxing ring, ready to wrestle, as an astronaut, race car driver, and on a football field. Each card has Trump's presidential number, 45, stamped on it.
The Trump's NFTs were on sale on OpenSea and people could reach them via a site developed and set up for the sale of the NFTs. On Friday, the site reported that all of Trump's Digital Trading cards were sold out.
45,000 Digital Trading Cards were listed for sale, with each card going for US$99. Just like with other Non-Fungible Tokens, the NFT buyer will hold the ownership of the specific Trump card, but the image can be copied and shared by anyone over the internet.
Unlike digital imagery, which is unlimited in supply as long as one knows how to click and save, NFTs have a limited supply.
Some of the images were only associated with one NFT, while others had up to 20. That is how NFT projects create rarity.
Collectors who bought the digital trading cards automatically joined a "sweepstakes" to get experiences with Donald Trump, including a dinner in Miami, a zoom call, and a cocktail hour at Mar-a-Lago. Rarity traits will be used to differentiate the cards, from one-of-ones to "2, 5, 7, or 10 copies. No Trump Digital Trading Card will have more than 20 copies in existence" according to the collection's site. More rare NFTs tend to be expensive compared to the less rare ones.
Although Trump stated in July 2019 that he is not a fan of cryptocurrency, he was committed to promoting his new collection. This is what he wrote on Truth:
"GET YOUR CARDS NOW! Only $99 each! Would make a great Christmas gift. Don't Wait. They will be gone, I believe, very quickly!"
Trump has also uploaded a promotional video on the site, in which he states "Each card comes with an automatic chance to win amazing prizes like dinner with me. I don't know if it's an amazing prize but it's what we have."
Grow your Crypto Earnings Today!
Grow your crypto earnings today by trading NFTs with NFTCrypto.io. They will find profitable flips for you in the NFT market and share the signal in real time. Join their Telegram Channel now to start receiving signals. The platform users have so far earned a total group profit of over $600M.