What is an NFT Marketplace?
An NFT marketplace is an online platform where assets backed by NFTs can be bought, sold, and traded. NFT marketplaces have played a significant role in pushing NFTs to the level they are today. NFT marketplaces display different types of NFTs, including art, video clips, music, trading cards, in-game assets, memes, and more.
NFT marketplaces can run horizontal or vertical trades. Horizontal trade is where an NFT marketplace sells different types of NFT assets for a generic audience. Vertical trade is where an NFT marketplace sells specific NFT assets that target a niche audience.
How NFT Marketplace Works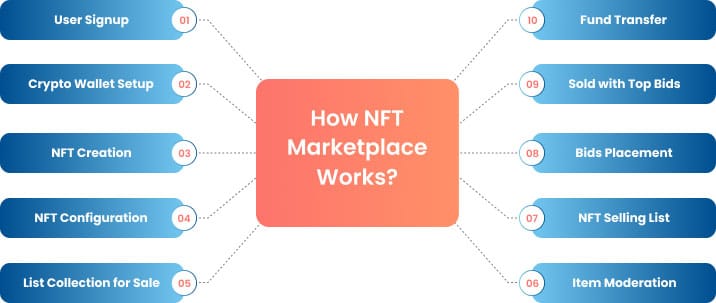 Now that you have known what an NFT marketplace is, your next agenda should be knowing how NFT marketplace works. That's why we had to feature this section in this buying NFT guide. Here is the workflow of how NFT marketplace works:
First, users should sign up for an account with the NFT marketplace. This applies to both NFT buyers and sellers. They should also connect their crypto wallets to the NFT marketplace.
Sellers should create NFTs to help in backing their digital assets. The seller must describe his NFT, and give details about its name, price, benefits, and more to make it stand out from its competitors.
The NFT marketplace admin will review the NFT asset and moderate the NFT asset, and if it adheres to the NFT marketplace rules and regulations, it will be listed on the portal. Some NFT marketplaces can list your NFT on the main page, even for free.
Potential buyers will look at the NFT and place their bids or decide to pay the amount that you have quoted. The amount is deducted from the crypto wallet of the buyer.
If the seller accepts the offered bid or the deadline is reached, the offer is accepted, and the NFT will be released to the buyer. The amount paid by the buyer is transferred to the seller.
The transaction will attract some fees. Examples include gas fees and transaction fees. One may also incur additional charges when buying or selling on an NFT marketplace. The money helps to maintain the NFT marketplace and run its operations.
List of NFT Marketplaces
There are many NFT marketplace platforms available today. This leaves you and other NFT lovers with questions such as…
"Which NFT marketplace is best?"
"What is the most popular NFT marketplace?"
Below is the list of NFT marketplaces and NFT tips on how to buy and sell NFTs on these marketplaces:
1. OpenSea
If you have the question…
"What is the popular NFT marketplace?"
OpenSea is the answer. It is also the largest NFT marketplace today. OpenSea hosts popular NFTs such as art, photography, music, virtual worlds, and trading cards.
OpenSea accepts core cryptocurrencies such as Ethereum, USDC, and Solana. It also accepts other payment options but it doesn't accept fiat currencies such as Euros and dollars.
OpenSea is a very user-friendly NFT marketplace. It makes signing up for an account very easy. It is also easy to browse for NFTs and even mint your own NFTs on the platform.
OpenSea charges a fee of 2.5% for every transaction. You will also be charged gas fees if you use Ethereum. You can avoid the gas fee charges by buying and selling NFTs with Polygon.
OpenSea is the best NFT marketplace for beginners who need to browse a variety of NFTs.
2. Rarible


The Rarible NFT marketplaces allows its users to buy and sell art, video game assets, collectibles, and NFTs. It also allows you to make payments with Ethereum, Tezos, and Flow.
The platform charges a fee of 2.5% for each transaction and gas fees where applicable. Rarible also accepts payments using credit cards, allowing the use of fiat currencies.
Rarible has also created a native token, RARI. RARI owners are allowed to take part in the company's decision-making process through voting.
3. SuperRare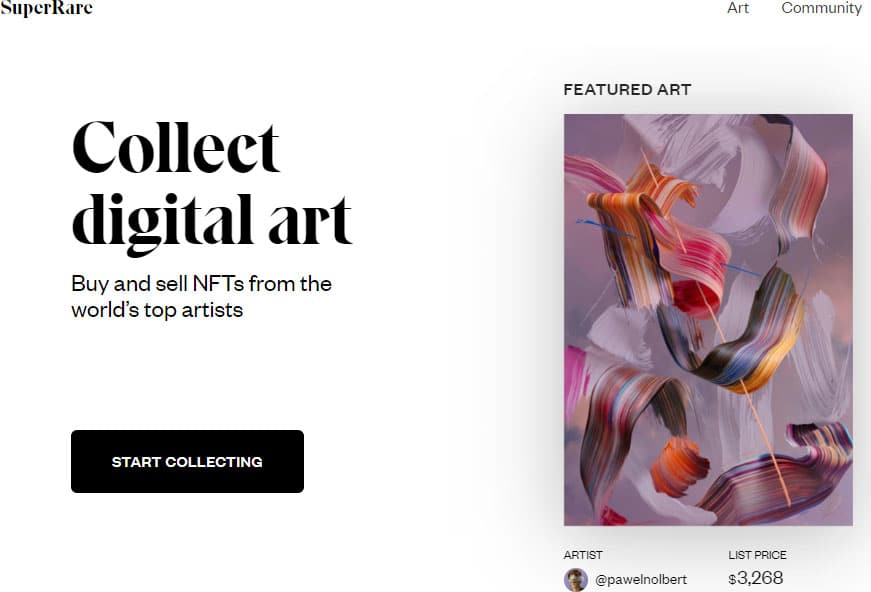 SuperRare is an NFT art marketplace that is viewed as an art gallery. This NFT marketplace is very selective when it comes to NFT submissions, and it does not accept meme-style NFTs.
SuperRare takes time to review work before listing it for sale, hence, only quality submissions are listed. It charges 15% once an NFT is sold for the first time on the primary market. Buyers also pay a flat fee of 3% for every transaction.
SuperRare is a good NFT marketplace for those in need of high-end NFT artwork, particularly NFT pieces with a classical style.
4. Foundation
Foundation is number 4 in our list of NFT marketplaces. The platform was meant to bring together crypto natives, creators, and collectors. It focuses majorly on digital art and it has been branded the new digital economy.
Artists earn 10% for every secondary NFT trade run on Foundation, that is, the artist gets 10% of the amount sold when a collector re-sells their work at a higher price.
5. NBA Top Shot
This NFT marketplace allows you to buy NFTs that represent memorable moments in the basketball industry.
The NFT marketplace allows you to buy videos and play art for both NBA and WNBA, although not cheaply.
This NFT marketplace was built by the NBA team and they have exclusive rights to the ownership of the video clips. If you choose this NFT marketplace, you will be sure that you're dealing with a reputable firm. It is a good NFT marketplace for basketball fans.