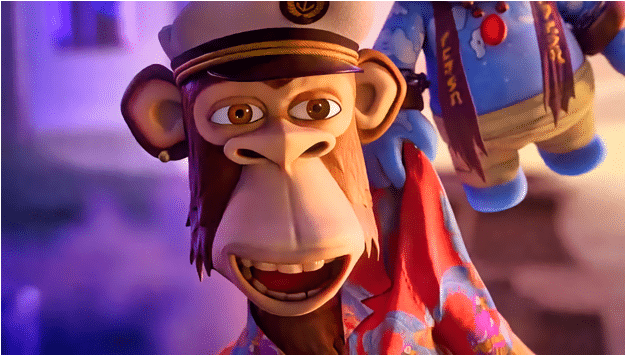 Yuga Labs, the creator of the Bored Ape Yacht Club BAYC), has announced plans to expand its non-fungible token (NFT) ecosystem starting with a free mint and a skill-based game.
The unique drop, which will involve many steps, will start on January 17 with a free mint for the holders of Bored Ape Yacht Club and Mutant Ape Yacht Club NFTs, and the tokens will be called "Sewer Passes." The tokens will also give their holders access to a skill-based game known as "Dookey Dash," which will be opened for gameplay on January 18.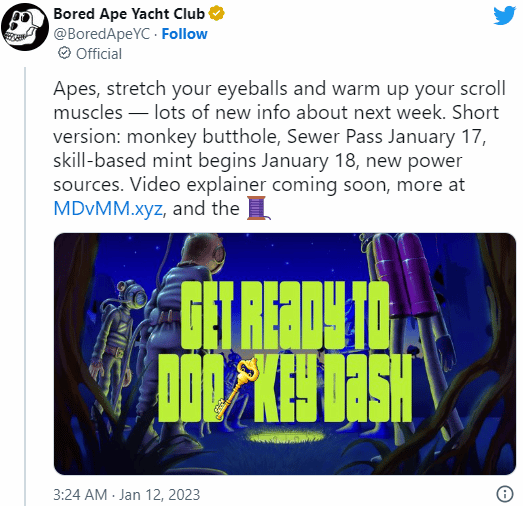 You will need Sewer Pass to play Dookey Dash. You can acquire the Sewer Pass through minting or by purchasing it from secondary NFT marketplaces. The Sewer Pass holders will be able to play the game an unlimited number of times. The goal of the players will be to receive a goal above 0 to validate their Sewer Passes and turn them into a mysterious power source.
The results will be revealed once the Dookey Dash gameplay ends on February 15.
"Sewer Pass holders will compete for the highest score and earn their new power source," BAYC wrote on Twitter on Wednesday. "The highest single-run score on your specific Sewer Pass and accompanying wallet that achieved the run will determine what it reveals."
They also hinted that whatever is revealed will be evolved throughout 2023 and will be used in other battles.
The new mint started with an NSFW animated video called "The Trial of Jimmy the Monkey" released on December 21. The new NFT mint is also part of Yuga Lab's plans to create an interoperable metaverse experience known as "The Otherside." The platform players will be able to own plots of land known as "Otherdeed" and turn their NFTs into playable characters.
"All of the projects that we have are deeply important to us," said Wylie Aronow, one of the Yuga Lab's co-founders. "Where we see the Otherside is at that intersection."
According to the project's roadmap, NFTs created from the experiment will be part of a narrative experience known as "Chapter 1" at a later date.
Buy and Sell NFTs for a Profit
You can grow your crypto earnings by buying cheap NFTs and selling them for a profit. NFTCrypto.io has made this even easier for you via their NFT trading signal system. They find profitable flips in the NFT market and share the signal with you in real-time. Join NFT Signals now and become a successful NFT trader. The platform users have so far earned a total group profit of over $800M.