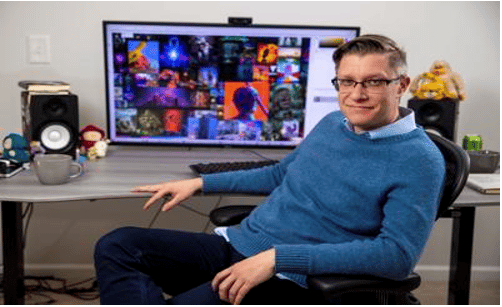 Mike Winkelmann, a digital artist popularly known as Beeple, brought a lot of attention to the NFT (Non-Fungible Token) space through his digital art. This was after an NFT of his art was sold for $69 million at Christie's. Therefore, he can be regarded as an important figure as far as the adoption of NFTs is concerned. His creations are also an example of one of the use cases of NFTs, and this may push other creative professionals to do the same.
So…
Who is Beeple?
Beeple, whose real name is Mike Winkelmann, is an American digital artist and graphic designer. He was born in June 1981. Beeple grew up in a village called North Fond du Lac, Wisconsin. His father was an electrical engineer while his mother worked at a senior center. He studied computer science at Purdue University and graduated in 2003. Before he became popular in the NFT space, Beeple's work was displayed in concerts by celebrities such as Nicki Minaj, Justin Bieber, and Childish Gambino.
Beeple did not gain fame from a long career in traditional art galleries or expertise in NFTs (Non-Fungible Tokens). He was just experimenting with NFTs as many people had recommended the use of NFTs as a new way of publishing his art. Beeple credits Pak, a cryptocurrency investor for guiding him on how to sell NFTs after starting the journey in October 2020. Although his identity is unknown, Pak is known to have launched a platform for burning NFTs (removing them from circulation) to receive crypto in the form of Ash tokens. Today, Beeple's Instagram account has more than 2 million followers and he is one of the three most influential artists.
Beeple's NFT art often references pop-cultural icons and politicians. It also satirizes trending global events and interprets modern culture and politics. Beeple has found a way of attracting the attention of the traditional art sector through animated art NFTs while expressing visual political and social commentary.
How did Beeple Become Famous?
Beeple began selling NFTs in February 2020. His digital art sales reached tens of thousands of dollars, surprising the technology and art worlds. One of his first NFTs was called Crossroad. The NFT was designed to change based on the result of the 2020 U.S. presidential election. The NFT was sold for 66,666.66 US dollars and later resold for 6.7 million dollars.
Beeple's big moment was when the legacy auction house Christie's announced the auction of his piece of NFT art. This made Christie's the first major auction house to sell art purely in the form of NFT. This was also the first time Christie's accepted payment via ETH. The auction house had previously sold Block 21, an NFT that was accompanied by physical paintings for about $130,000 in October 2020.
Beeple's piece of art was called "Everydays – The First 5000 Days" and was sold for more than 69 million U.S. dollars. The piece of art looks like a collection of pixels, but it comprises 5000 pieces of individual images created by Beeple every day for 13 years.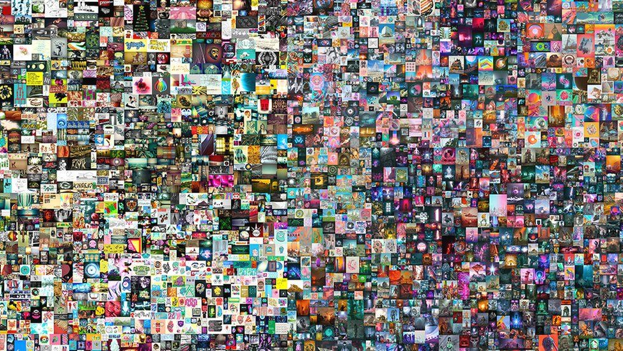 The artist's rise to popularity can be due to his timing. He entered the NFT space at a time when the industry was just starting to gain momentum. Another possible reason could be the socioeconomic changes brought about by the Covid-19 epidemic, which saw people spend most of their time on digital devices, work from home, and get attracted to new digital applications.  Beeple's sale of the Everydays NFT happened at a time when the NFT hype was at its peak. However, just like with any hype cycle, the NFT hype has subsided.
Christie's was also a legitimizing force of Beeple's NFT. The auction house has existed for more than 250 years, and it has sold some of the most famous paintings in history, such as the only known portrait of Shakespeare to the last-discovered paint work by Leonardo da Vinci. When combined with Beeple's experience in NFTs, the auction was destined to set records.
NFTs are unique files stored on the blockchain and they can verify the ownership of a piece of digital art. The buyers are given limited rights to display the digital artwork they represent, but they get bragging rights and assets which they may resell later. NFT technology has exploded over the past few years, and Winkelmann has been at the forefront of this rapid rise.
Commenting on the sale, Noah David, a specialist in contemporary art and post-war at Christie's said, "He showed us this collage, and that was my eureka moment when I knew this was going to be extremely important. It was just so monumental and so indicative of what NFTs can do."
"I do view this as the next chapter of art history," Beeple said. "Now there is a way to collect digital art."
How did Beeple change People's Perception of NFTs?
Beeple has attracted mainstream attention to digital art through his successful NFT projects. For example, the auction of his NFT at Christie's showed how NFTs can be integrated into what has been seen as elite culture. It also proved to people that art can be digital and must not have physical properties. It also raised awareness about the combination of NFTs and blockchain technology and the possibilities that can be achieved.
Many artists began to consider NFTs during the pandemic because they allowed them to earn a living without physical performance. They also provide them with a new way of demonstrating their creative pursuit. Popular celebrities such as Edward Snowden, Paris Hilton, and Eminem also began publishing their NFTs.
For example, Snoop Dogg launched his first NFT collection named "A Journey with the Dogg" to explain his early memories using NFT art. Grimes, a Canadian musician, also created a 10-piece NFT art collection to explore futuristic worlds and made millions within seconds.
With major celebrities joining the NFT space, Beeple's work played a key role in taking NFTs to the mainstream. First, Beeple entered the list of the most highly paid artists in the world and demonstrated that creators can make money without relying on traditional publishers and media. Secondly, his pieces of art showed the world art styles that were only possible in digital form. Beeple had also been creating art before NFTs were known, demonstrating that NFTs were not only about making money but also a new way for artists to showcase their work to the world.
What is the Future of NFTs?
Beeeple gained fame through his NFT art. However, the uniqueness and scarcity of NFTs make them good for other use cases such as music, gaming, and finance. Gaming NFTs, for example, allow players to prove the ownership of in-game items such as avatars, guns, and plots of land. Users can also make money by playing Play-to-Earn NFT games.
With top brands joining the NFT space, it is very clear that NFTs have a bright future. Examples of such brands include Nike, Gucci, Adidas, and Coca-Cola. Recently, Porsche, the German sports car manufacturer, launched its NFT collection, though it has stopped the mint. Amazon, the top retailer, is also expected to launch an NFT initiative this spring, a move that may shape the legal framework of NFTs. Donald Trump, the former U.S. president also launched a collection of 45,000 NFTs last December.
Just like art, you can attach audio to an NFT to create a collectible piece of music. Only a small number of musicians can earn enough income from music to make a living, but NFTs have the potential to make the business model of the music industry more equitable. NFTs can use blockchain royalty tracking or blockchain-based streaming platforms to solve this problem.
NFTs can also act as entry tickets to events and concerts, which creates a secondary market for NFTs depending on the access they provide. This means that although the NFT market slowed down in 2022, the NFT space is growing as new use cases of NFTs are discovered.
Anybody can become an NFT creator. Artists and all forms of creators can earn royalties without the need for a manager or an agency. Additionally, unlike traditional galleries, most NFT marketplaces allow anyone to participate. The blockchain has made NFTs inclusive. The digital nature of NFTs means that you can show them to anyone in the world. When you publish your digital art for everyone to see, you may gain recognition overnight just like Beeple.
Thus, Beeple has demonstrated to the world that NFTs are a viable way of creating and distributing art. NFTs also provide a way to improve industries such as gaming, finance, and music. New NFT use cases will emerge in the future with unique approaches to generating value.
Buy and Sell NFTs for a Profit
You can grow your crypto earnings by buying cheap NFTs and selling them for a profit. NFTCrypto.io has made this even easier for you via their NFT trading signal system. They find profitable flips in the NFT market and share the signal with you in real-time. Join NFT Signals now and become a successful NFT trader. The platform users have so far earned a total group profit of over $1 Billion.